When it comes to creating a great synthesizer, several factors come into play. Of course, sound is a major component, but there is also price point, state-of-the-art technology and a decision whether to make the synthesizer sturdy enough to take on gigs around the country, something that is mobile and lightweight, or both.
The Yamaha MODX (pronounced moe-dee-ex) is a line of compact, lightweight, hybrid synthesizers inspired by flagship Yamaha synth technology, whose main goal is to offer dynamic, expressive music making at an affordable price. This successor to the popular Yamaha MOXF line is available in three models, MODX6 (61 semi-weighted keys), MODX7 (76 semi-weighted keys) and MODX8 (88 weighted Graded Hammer Action keys), to fit the needs of synth players, keyboardists and pianists alike. It can be used in many settings, including at home and as a main component in a band.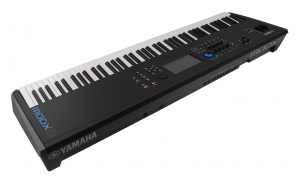 MODX offers musicians unlimited potential to create their own unique sound, stated Yamaha. The MODX sound engine draws on the same technology powering the flagship MONTAGE synth: AWM2 (Advanced Wave Memory 2) sample and synthesis engine, plus a pure FM-X (Frequency Modulation) synthesizer modernized for dynamic synthesis and complex sound design. The MODX also incorporates Motion Control, a highly programmable control matrix for dynamic sound interaction. This gives musicians "unparalleled ability to direct and manipulate their sound by interacting with their performances in fi ne detail," the company stated.
The MODX expands on the MOXF by offering a wide array of control and workflow elements. Seamless Sound Switching has been introduced in the tradition of MONTAGE to allow switching between performances without any sound cutoff. MODX has DSP power with up to 13 simultaneous dual-insertion effects and three system/master effects. MODX polyphony has been increased to 128 notes of stereo AWM2 (sample based) plus 64 FM-X (Frequency Modulation synthesis.) The control panel now includes four faders, a multi-function Super Knob and a touchscreen display.
During a special event in New York City on Sept. 14, French musician and Berklee College of Music student Domi Degalle showed off her synth-playing skills, which fully incorporated the Super Knob.
"The Super Knob is something I never saw on a keyboard before, so it's something I really wanted to try," she said.
Degalle, who appeared on "The Late Show with Stephen Colbert" in August, noted she is also impressed by the Graded Hammer Action offered by the MODX8, noting it is "really responsive."
The MODX comes bundled with Steinberg Cubase AI DAW software for creating and producing music on the computer. "We launched the MONTAGE a couple of years ago, which was a change from a very successful line of synthesizers, the Motif," Nate Tschetter, marketing manager, Yamaha Synthesizers, told the Music & Sound Retailer. "Yamaha is always about innovation and creating better tools for musicians. As technology advances, we can have a better price point, making our technology available to more people. Our thought process was to modernize our entire synthesizer line."
Launched on Sept. 27, the Yamaha MODX6 offers an MSRP $1,649, the MODX7 carries an MSRP of $1,899 and the MODX has a suggested retail price of $2,399.
Tschetter stressed that price point is not the only thing that makes the MODX unique. "What makes it different than the MONTAGE is mobility," he said. "The MONTAGE is made to be taken on the road with its rugged, aluminum chassis. It's meant to be put in the back of a semi [truck]. MODX is lightweight, mobile and has a smaller form factor that you can carry under your arm. It's great for someone playing gigs around town. You can have it home, pick it up easily and bring it to a gig. And if you already have a MONTAGE, you can put a MODX6 or MODX 7 on top of it."
Mobility is a big reason well-known, Atlanta-based musician and sound designer Richard Devine, who also performed during the New York City event, likes the MODX. Not only is the MODX lightweight, it is "the perfect size for me," he said. "It's really awesome."
Regarding the origin of the MODX name, Tschetter recalled a meeting where different ideas were floated. "One of the things Yamaha is famous for is FM synthesis," he said. "We previously had the MOXF and we thought, Why don't we add DX, so that people know it is a FM synthesizer as well as a great sample playback synthesizer? So, we just put the two together. And it's fun to say. Moe-dee-ex."