As has become an annual tradition, this year's NAMM Show saw Yamaha turn an Anaheim Marriott ballroom into a massive showroom for its latest product releases. When entering the space, it is easy to think of it as a party for all of the company's new products, plus much more. Hence, it was a monumental task to pick just one of these new products to feature in this story. But, since this is the guitar issue, we are focusing on one of Yamaha's most significant guitar launches: the NX Series of nylon-string acoustic-electric guitars. The NX Series features six guitars with contemporary body styles, along with proprietary preamp and pickup systems.
"The new NX Series of acoustic-electric nylon-string guitars is the answer for nylonstring players who want live performance capabilities with excellent plugged-in sound, and electric and acoustic players who are looking to branch into nylon for creative and experimental purposes. At Yamaha, we wanted to fulfill that need with a guitar that would surpass expectations in sound quality and overall design," Shannon McKee, product marketing manager, Yamaha Guitar Group, told the Music & Sound Retailer.
The series comprises the NTX models (NTX1, NTX3 and NTX5), designed to make it easy for electric and steel-string acoustic guitar players to add the warmth and beauty of nylon-string sounds to their tonal palettes. NTX guitars have slimmer bodies, shallower neck profiles and narrower fingerboards than classical guitars, providing a more familiar playing experience. The 22-fret (NTX1 and NTX3) and 24-fret (NTX5) necks extend their range beyond that of standard nylon-string instruments. Also introduced were the NCX models (NCX1, NCX3 and NCX5), which have classical-style neck profiles and fingerboards and were designed primarily for experienced nylon-string players in search of superior amplified sound. All include strap pins.
Yamaha certainly took into the account the importance for guitarists to play live, which for many artists now comprises a majority of their income. "The original NX series, launched in 2009, was built based on the needs of professional guitarists and live performers. For example, unlike most nylon-string guitars, all NX models have always had a cutaway and come equipped with strap pins and a pickup. With the new NX series, we are supporting the growth of the live performer with some additional defining features, namely, adjustments to bracing for improvements to body resonance, and the addition of our proprietary Atmosfeel pickup and preamp system," noted McKee.
The NTX3, NTX5, NCX3 and NCX5 guitars incorporate the Atmosfeel pickup system. "Atmosfeel is a three-way pickup system that provides unparalleled amplified sound even at performance-level volumes. An under-saddle piezo pickup with individual string sensors captures the low-to-midrange frequencies, eliminating the characteristic brittleness of piezo pickups, while a unique contact sensor captures the highs. An internal microphone captures overall body resonance and 'airiness.' The sound from these elements is blended within the Atmosfeel preamp, and adjusted using the Mic Blend, Treble EQ and Master Volume controls," said McKee.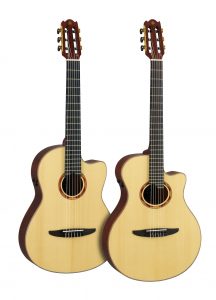 "The microphone adds a dimension and depth that particularly complements solo performers and chord melody players, while a lower mic blend may be preferred by fingerstyle players and guitarists who need more immediate response and cut in a full band," she added. "The treble knob combines several EQ adjustments to change the tonal focus to suit all musical contexts. The tone can be tuned from a warm and deep thump to a crisp and shimmering punch and everything in between. A core competency of Yamaha is that we build the guitar and the electronics. This allows us to fine tune both until we arrive at the ideal balance. With the NX Series, the preamp is specifically voiced for each body shape. That means that, right out of the gate, you're going to get great sound without having to tweak the settings, that the full range of each knob is us able and that there is less risk of feedback. The simplified controls mean that performing guitarists are able to dial in their desired settings more quickly and with out the need to actually see the controls, which is invaluable in a live stage setting."
Before designing the NX Series, Yamaha sought plenty of feedback, McKee confirmed. "We surveyed various professional musicians to divine their needs, and then worked with many of them in individual sessions to improve acoustic body resonance and to fine tune the voicing ranges of the pickups. We've also been collaborating with the Latin guitar duo, Rodrigo y Gabriela, for many years. Their style is incredibly dynamic and percussive, and working with them has proven invaluable in honing the Atmosfeel system," she said.
Thus far, the NX Series has been received well both dealers and end users alike. "The new NX was launched in early January, and we had the opportunity to display the series at NAMM," relayed McKee. "The feedback we received from dealers, distributors and musicians alike was amazing. We do have an overview video already out on the series that features six emerging and high-profile artists performing and talking about their first impressions of the NX, with more interview and demo videos in the pipeline for later this year."
NX Series guitars are expected to ship shortly. MSRPs are as follows: NCX5: $3,020; NTX5: $3,020; NCX3: $1,700; NTX3: $1,700; NCX1FM: $910; NCX1: $740; NTX1: $740.
For more Under the Hood features from the Music & Sound Retailer, click here.