In honor of our lesser-publicized-product cover story feature, we take a longer look at an instrument that perhaps receives less press, but is nonetheless showing impressive growth and demanding coverage: ukuleles. We spoke to Michael Schear, president of Amahi Ukuleles, to learn what's going on, both at his company and in the ukulele market. Here are his responses.
The Music & Sound Retailer: Please take us through your career and your time at Amahi and parent company Amati's Fine Instruments.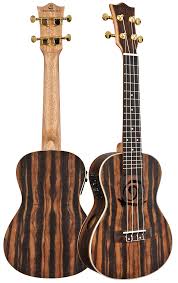 Michael Schear: Do you have time for a novel? I started the company 30 years ago when I noticed that computers were going to alter the photography business that I was running at that time. I sold photographic supplies, including paper, chemistry and fi lm, at the time. The movie "Blade Runner" had come out, and in the movie, computers and digital photography where shown in the future. I changed directions and started studying violin making and restoration under a master violinmaker. After opening three retail stores and having a wholesale business in the orchestral strings market, my wife asked me if I could fi nd some ukuleles for her students when her school was starting an after-school ukulele program; the rest is history.
The Retailer: Please tell us about your responsibilities and what your average day looks like.
Schear: First thing every morning, I respond to approximately 20 emails received from my suppliers overnight, then I send wire payments to my vendors overseas. Next, if my staff is at a convention or traveling on sales trips, I will enter orders placed through our website from late yesterday or overnight; some of my customers on the West Coast place orders near midnight pacific time. On an average day, I call approximately 20 to 30 customers to make sure that their needs are being met. I also check inventory levels daily and place new orders to keep our supply chain afloat. My suppliers allow me some flexibility to adjust quantities, as long as it is at least 30 days before production begins. Near the end of the day, I check over the invoices, and sometimes, I check orders in the warehouse before they are picked up. Then I go home, have dinner with my wife, one of my daughters and one of my granddaughters, and watch the news.
The Retailer: You have an interesting story about why you founded Amahi. Please take us through that entire process.
Schear: As mentioned before, my wife was in need of ukuleles for an after-school program. Since orchestral orders tend to be slow at the end of the year, ukuleles were an ideal fi t to keep business fl owing, especially during the holidays. I was looking for a new product line that would extend my selling season. Orchestral string instrument sales are seasonal, with sales peaking in July, August and September. Ukulele sales peak in November and December and are very stable the rest of the year.
The Retailer: Prior to Amahi, consumers perhaps thought of ukuleles as something manufactured in Hawaii. How did you overcome that stigma when trying to grow your business in Cincinnati?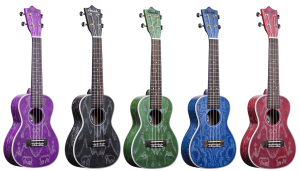 Schear: We've yet to encounter that issue. By the time we entered the market in early 2012, it was widely available and known that there were distributors other than Hawaiian manufacturers. The ones that consumers buy affordably — student, intermediate and some step-up models that sell for less than $500 — were mostly being made in China.
The Retailer: Ukuleles have seen strong growth in the past few years. Please tell us about where the growth is coming from. Is it coming from older adults and weekend warriors looking to play an "easier" instrument than guitars? Is something else at play?
Schear: My perception is that what is happening in the public schools is that children aren't learning to play the recorder anymore. They are learning to play ukulele. So now many of our larger orders are actually for class sets. The biggest growth we are seeing is in student ukuleles.
The Retailer: In our "Independent Retailer Roundtable" cover story appearing in our September issue, both retailers Allen McBroom and Gordy Wilcher specifically mentioned Amahi as a tremendous brand for MI retailers to sell, both in terms of profit margins and customer service. Please tell us about your philosophy when comes to working with MI retailers.
Schear: If you buy our monthly specials, you will typically double your cost, at a minimum, when selling at MAP. Profitability and ease of sales, as well as no-hassle returns for defective merchandise, are extremely important for MI retailers. In short, I treat my customers the way I like to be treated! Our customers' needs are priority No. 1.
The Retailer: Any other tips you can provide MI retailers when selling your products?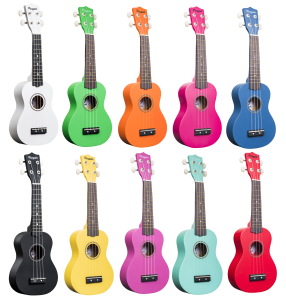 Schear: Make them available and easily accessible to consumers. We find that the closer the consumer is to the display and can easily grab the ukulele and start playing, the easier it is to make the sale. If a customer has to ask you to bring the ukulele down from a shelf or reach behind the counter, it's less likely you will make a sale. It's an impulse purchase for many people. They see it, they pick it up, they play it. It's fun, it's cute, it's easy to play, it's affordable — and they buy it!
The Retailer: Which of your ukulele models has shown the best growth?
Schear: Our printed designs, what we call our DDUK series 1-10 and our Penguin solid colors. Also, our entry-level mahogany models, which are the UK120, 210, Penguin Mahogany soprano and now our new DDUK11, which is a mahogany soprano at an affordable MAP of $49.
The Retailer: Are accessories for these products also selling well?
Schear: We do offer straps, tuners, hard cases and bags. Most of our dealers are buying strictly the instrument from us. However, every ukulele we sell includes a gig bag, and every intermediate-level ukulele we sell also includes a handmade leather pick.
The Retailer: What can you do to make sure ukuleles continue to sell well and become a staple in MI stores in the future, as opposed to being a craze?
Schear: What I do is develop new models that improve the sound, intonation and playability. Every year, we introduce several new models. I find that a lot of people collect ukuleles and that they'll buy several models. So, the more models we can create that are attractive to the consumer, the greater the chances that they are going to buy them. Ukulele is an easy instrument to learn to play, and we are working on developing tools to make learning easier. As long as it's easy to learn, affordable and fun, I think it will continue to grow!