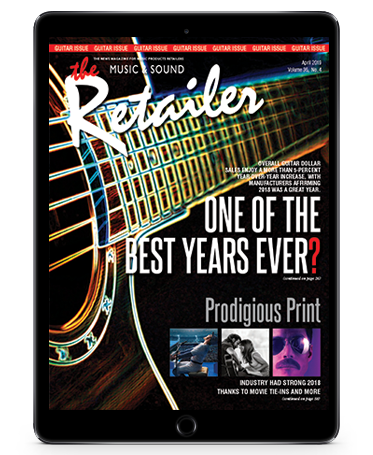 COVER STORIES
Overall guitar dollar sales enjoy a more than 5-percent year-over-year increase, with manufacturers affirming 2018 was a great year.
Industry had strong 2018 thanks to movie tie-ins and more.
FEATURES
We take a long look at Sonarworks Reference 4 and Sonarworks SR sound-calibration software.
INTERVIEWS
April Samuels, founder of Breast Cancer Can Stick It!, talks about her charity, her love for drumming and MI manufacturers who have helped her along the way.
Could C.F. Martin's Chris Martin IV have been a marine biologist? It easily could have happened. Plus, find out how sales were at the company in 2018 and 2019 thus far, and much more.
Brad Price, Product Marketing Manager for Audinate, cites two guitars as his most prized possessions, says Dire Straits was the best concert he has ever seen and much more.
MISSION REPORT
MI Spy talks music stores, hockey and even acai bowls on Long Island in this month's edition.
COLUMNS
Gig Gear's Daniel Shatzkes joins us to talk about health and safety in music, a crucial but widely underreported part of our industry.
What does DNA have to do with your business? A lot, explains Will Mason.
"Source diversity" is a popular topic these days. Allen McBroom explains why it matters for your business.
"I don't just own the store, I live and breathe music. I have for most of my life." That's why David Locke and Brenda, his wife of 33 years, decided to launch LAWK STAR Guitars in 2013, and it's a great recipe for success.
Curating inventory isn't a futuristic topic. Yet for the future of the brick-and-mortar landscape, a curated inventory isn't just advisable, it's a survival solution, states Dan Vedda.
BUZZ