Billie Eilish has taken the world by storm during the past few years. Fender teams up with the "bad guy" singer for a signature ukulele.
Fender Musical Instruments Corp. (FMIC) hopes end users get "everything they wanted" with the release of the Billie Eilish Signature Ukulele. It represents the first artist signature model for the 18-year-old behind the smash hit "bad guy" and embodies Eilish's preferred specs and aesthetic with her distinct "blohsh" symbol patterned across the ukulele.
The Los Angeles native first gained attention in 2015 at the age of thirteen after uploading the song "Ocean Eyes" to Soundcloud, which was written and produced by her brother Finneas. In the past year, Eilish has exploded onto the music scene with her debut album "When We All Fall Asleep, Where Do We Go?," earning her five Grammy wins, including Song of the Year for "bad guy" and Album of the Year.
The ukulele was designed in collaboration with Eilish herself. She can be seen on videos playing the Fender ukulele with her adopted pit bull puppy, Shark.
"The ukulele was the first instrument I learned," said Eilish. "It's where I started writing, and where I found new ways of writing that I had never tried before. It inspires a different kind of writing. The rules of the ukulele are simple, and basically if you know three chords, you can play almost any song. I hope my Fender signature ukulele inspires people to start playing, and start writing; anyone can do it."
The Billie Eilish Signature Ukulele is a stage-ready concert-body ukulele built with a sapele top, back and sides featuring a black matte finish and Fishman Kula preamp for those looking to plug in. Additional specs include a walnut fingerboard, white dot inlays and nickel hardware. The ukulele can be enjoyed by players of all skill levels, stated Fender.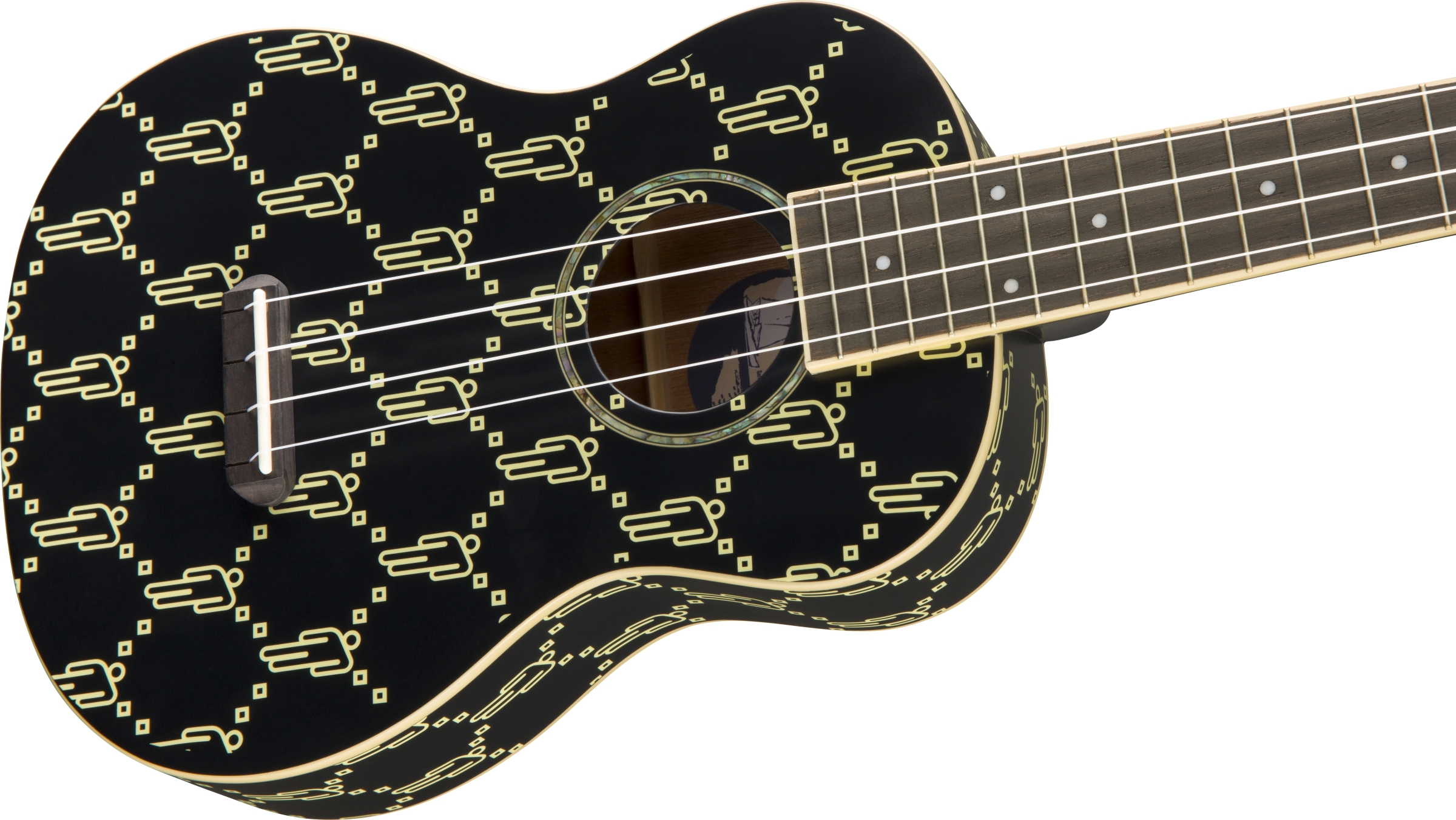 "We are extremely honored to collaborate with Billie on her debut signature Fender ukulele," said Billy Martinez, vice president, category manager, acoustic and Squier divisions. "She's inspired a new generation of players, and now this uke gives her fans around the world a new reason to get excited about playing. Billie established herself at a young age, transforming the music industry and inspiring people both young and old. She is unconditionally herself, and the ukulele she designed is a perfect reflection of her spirit and iconic style."
Added Matt Watts, Fender's vice president of marketing, "Billie is a once-in-a-generation talent who has been on a meteoric rise since releasing her first song to Soundcloud in 2015. It's no secret that Billie moves millions of people and has a unique approach to creating. The output of this instrument is no different, as it celebrates that freedom of self-expression through Billie's lens. We hope her genre-defying blend and this ukulele inspires others to start expressing themselves creatively."
In recognition of Eilish's connection to the ukulele as her first instrument and the history of the ukulele in Hawaii, Eilish and Fender are making a gift to the Aloha Mele Fund, a newly-established fund of the Hawaii Community Foundation. The funding will be distributed to nonprofit organizations who are working to support COVID-19 relief efforts for Native Hawaiian and Pacific Islander communities in Hawaii. People are invited to donate to this effort in any amount their situation allows by clicking here.
"All of us at Hawaii Community Foundation are extremely grateful to Billie Eilish and Fender for this meaningful contribution to our Native Hawaiian and Pacific Islander communities," said Micah Kane, CEO and president of Hawaii Community Foundation. "In Hawaii, we practice aloha, which among many things, means that we take care of one another. This gift is a reminder of the generosity and kindness that all of us can show at this critical time."
The Billie Eilish Signature Ukulele is available now.
To read more "Under the Hood" features from the Music & Sound Retailer, click here.