Michael Schear didn't set out to be a music store owner back in 1991, when Antonio Violins opened its doors. By trade, he worked in sales, distributing paper and chemicals to large and small businesses that developed film. But outside of work, Schear's true love was violins. He was a musician and an avid collector of rare vintage violins, in addition to studying finer repair and violin making under the tutelage of an award-winning luthier. So, when film began to be eclipsed by digital, Schear saw the writing on the wall and decided to follow his passion.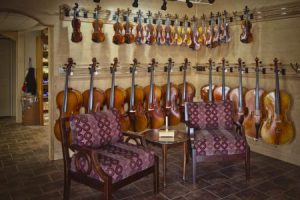 "In the beginning, we were busy focusing our time on designing our personal line of instruments in a warehouse business district to try to develop the most responsive sounding student-level orchestral instruments in the U.S. market," Schear explained. "While still in the midst of perfecting our line, a private violin teacher found us and asked if some of her students could rent our instruments. We came up with a rental agreement and slowly grew word of mouth, which says a lot because we were not doing business out of an area that was easy to find by consumers. You really had to want to find us."
Not only was the store tucked away in an area that lacked regular foot traffic, but Antonio Violins was also competing with three other stores in the greater Cincinnati area that focused solely on orchestral stringed instruments. "So, it said a lot that customers and teachers were going out of their way to find our store," said Schear.
Having made such a strong impression on local teachers and customers alike, Antonio Violins began to grow, pushing Schear to knock down walls in the warehouse to increase space and eventually move into a true retail location. Today, Antonio Violins operates three stores in Ohio — two in the greater Cincinnati area and one in Columbus, Ohio — with 20 employees between them. The store offers rentals and sales for orchestral string instruments and accessories, as well as a recent expansion into folk instruments and ukuleles, which, "has added so much," said Shawna Wingerberg, who came on board nine years ago as retail manager. "We now never truly get out of busy season!"
From the beginning, Antonio Violins has focused on fostering a love of music within their customers and providing the greatest opportunities for growth. In order to make the rental process as simple as possible, the store provides renters with a fully outfitted instrument, including the case, bow, rosin, cleaning cloth, shoulder rest or rock stop, and a spare set of strings. "For new renters we also provide a method book and music stand, all included in their rental fee," said Schear. "We also provide a care and maintenance overview, which allows the staff to sit down with the player one on one and get to know them, giving the player a jumpstart to learning their instrument and focus on having fun."
There is a team of experienced luthiers on staff who repair all of the rental instruments and also take the time to work with the customers, explaining what needs to be repaired, how it'll be repaired and how long the repair will take. While the rental is being repaired, the store provides a loaner instrument so that the players can keep practicing.
In addition, the store is merchandised in a way that is designed to inspire customers to stick with and excel at their instruments. "We pride ourselves on having a large selection of orchestra solo and small ensemble music in the store," Wingerberg continued. "It's important to encourage players, especially beginners. Having all their books they want to play — like "The Greatest Showman," "Disney Songbooks" and "Black Violin" — increases rental retention and overall knowledge of the full musical possibilities."
Since joining the company, Wingerberg has helped Antonio Violins make the NAMM Top 100 Dealers List for four years in a row. She has also made it her mission to reach out to the local community, making Antonio Violins an integral part of the Ohio music scene.
"It is a major passion of mine to get outside the store and promote the love of music making and appreciation," said Wingerberg, who estimates that the store's participation in local and tri-state events this year has reached 180,000 people.
"I might be the only one who gets excited about 2,000 young kids swarming me at one time handling fragile and very expensive instruments," she said. "Breaking the mindset that they can't do it can take some practice, but I have so many fond stories of parents saying their kid has no talent and then watching their jaws drop as they play and love it. All defenses come down, laughter starts and learning happens."
Wingerberg has spearheaded the store's involvement with Major League Baseball, resulting in a presence at many events involving the Cincinnati Reds, as well as with MYCincinnati, a local non-profit orchestra that provides daily after-school programs for children in the Cincinnati area. For seven years, Antonio Violins has provided the repairs for their orchestras free of charge, and its staff also serves as volunteers for the program. The store was nominated by MYCincinnati for a Cincinnati Museum Difference Makers Award 2018 and won in the business category. "We are grateful for this prestigious award and what it represents, something that we've known all along, music truly makes a difference," she added.
Over the past 27 years, Schear, Wingerberg and everyone at Antonio Violins have worked hard to foster a love of music, both inside and outside the walls of their stores, and they hope to continue that mission far into the future.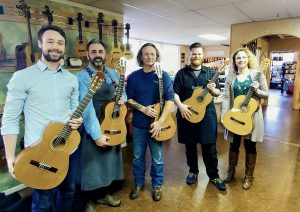 "Our goal at Antonio Violins is to be the best in customer service by establishing an emotional and personal connection to music for our customers through education, engagement and experience," said Schear. "Exemplified in our slogan, 'Life, Liberty and the Pursuit of Music,' we believe that this connection has the power to transform both the community and the individual."