Just a few years ago, Guitar Center Inc. was a different retailer. Simply stated, it had some issues it needed to fix. But today, under the expert tutelage of president and CEO Ron Japinga; senior vice president, chief marketing and communications officer Jeannine D'Addario; several other executives; and its associates, Guitar Center is now firing on most cylinders. The future looks bright for Guitar Center in many ways. Perhaps more importantly, Guitar Center's success could be a great sign for the MI industry.
"We are no longer a company trying to fi nd its way. We are a growth company," Japinga told the Music & Sound Retailer.
"Three and a half to four years ago, we began the process of making the hard decisions to set up the company so it would be financially stable, and we did that," he added. "We have continued to spend on the business. We've been opening up to eight stores a year. We've invested in technology to make sure we are relevant, and we've invested in Music & Arts, which opened 37 stores in the last year. We also refinanced the business a year ago. Lessons are also now in all of our stores. We've continued to invest in the business aggressively, and we've done it all within our financial means. We are very happy where we are financially. We will continue to invest as we move forward and as we see fi t. … We believe we can double the size of the Music & Arts business in the next three to five years. We believe we can double our business solutions business even more during the same time frame."
Strategic moves include Guitar Center opening stores in Hawaii and Alaska early this year. "Also, something we did in [our] Hollywood [flagship grand reopening] was some experimental displays," noted the CEO. "Now that we're seeing the results of those, we will be expanding those that resonated with consumers the best into other stores. The rapid expansion of our business-to-business offerings and Music & Arts we expect to continue for the foreseeable future."
These considerable investments — particularly regarding brick-and-mortar stores — are all the more impressive, considering the threats the internet has imposed upon physical locations. D'Addario confirmed however that retail is not dying. It is changing. "What consumers are looking for today are quality experiences, brands that understand their needs and great service. Retailers that will be successful — which we believe we are one of — are those that figure out how to be the experiential retailer in the space."
Experiences go beyond just selling instruments and include rentals, repairs and lessons, the latter of which Guitar Center will continue to expand, confirmed D'Addario. "We are adding new students daily to our lessons program," she said. "We have an opportunity to not only add students in areas like guitars, pianos, drum and vocals. We can explore other curriculum opportunities like DJ, sound recording and songwriting."
This lessons expansion provides two opportunities for Guitar Center to grow, she added. "One [opportunity] is we bring more people into learning to play music, which sustains the business for the long term. It also diversifies our business, because people coming in for lessons could be [demographics] that were underserved before. We see seniors coming in for lessons. More women are taking lessons. More diverse students are taking lessons and looking for opportunities in music. We think the more people we can get to play music, the better it is for the industry overall. And all of the other benefits that playing music provides are great for our consumers."
How It Got Here
To rewind a bit, how specifically did Guitar Center get from what consumer music magazines and mainstream media claimed was a difficult financial position to a point where it's exhibiting robust growth? Japinga noted it's been about two and a half years since he was named CEO of Guitar Center. "One of the first things we did at the time was to refocus the company and its associates on the customer. We weren't as focused on the customer as much as we should have been beforehand. We also focused on our associates and made sure we took care of them the right way," he said.
Guitar Center zeroed in on its customers by continuing to open stores, remodel stores where appropriate, and spend a lot of time and energy making sure the customer has a great experience when they walk into its stores, said Japinga. This included associates possessing the skill sets, including all necessary product knowledge, that customers need, but also means much more.
"If you go to a Guitar Center store now, you will see what we call entertainment sections, or stations in a store," the CEO noted. "So, guitars are plugged in to an amp with picks next to them. Keyboards are ready to operate. Drum sets are set up with sticks on top of them. So, customers can come in and enjoy a much more fun and exciting experience.
"What we're here to do is allow the customer to interact with the brand any way they want to," he continued. "One of the best things we have in our stores is the great sales associates we have. Talent and expertise we have in the stores helps consumers purchase the right product, use the product in the way they are trying to do, support the product through lessons, repairs or rentals. We take a holistic approach to ensure we support the customer."
This is only one of six initiatives Guitar Center put forth. Another initiative was the retailer's digital experience. "We have reinvested in technologies to ensure our omnichannel experience, which is GC.com," noted Japinga. "We wanted to make sure a customer could buy from a store, have it delivered to their house, buy online and have it delivered to their house, or buy online and deliver it to the store. Any combination a consumer would want to interact with the brand and be serviced, we are able to do that."
D'Addario shares Guitar Center's goal to make the customer's experience as good as it possibly can be. "We talk more overtly now about what does the customer need? What is the experience they want? What tools do we need? What assortment do they need? What content do we need to share? Looking at everything from a consumer's perspective is a major lesson we've learned here," she explained. "We continue to ramp that up. We've done a lot of work looking at our consumer data, have developed a better understanding of when to engage with the customer, the frequency to engage with the consumer and what we are looking for.
"This is not a business like grocery, where you go in every week because you need eggs, bread and milk. This is an industry where we may see a customer twice a year for a purchase, but they are on our website a lot, and they are in our stores a lot," she continued. "We need to think about every touchpoint with the customers and ensure we give them the best experience possible. So, that moment a transaction happens, we are right there as a trusted resource. In the end, it's all about what does the customer want, what do they need and how do we work to satisfy it."
In the digital space, Guitar Center also has Musician's Friend, which Japinga acknowledged had seen sales decline since it purchased the company in 1999. "We pinpointed exactly what that brand is supposed to be for the consumer," he said. "We again focused on the customer, repositioned it and turned that business around."
Stepping into a different arena, Guitar Center set forth another goal of entering the aforementioned business solutions business-to-business category. In the past year, Guitar Center acquired AVDG and TVTI. "We are using our supply chain/logistics brands that we carry to be able to do installs in studios, restaurants and bars and high-end consumers' homes. That is also a significant part of our growth strategy."
The path to becoming the retailer Guitar Center wants to be is certainly not complete. Japinga couldn't reveal exactly how far along the retailer is toward completing all of its goals, but he did say it will continue on its current journey, citing a baseball reference. "I kind of hesitate to give you an 'inning,' [regarding how far along we are toward reaching our goals]," he said. "But we are no longer in the first couple of innings of the game.
"We are very confident our strategies are the right strategies," he added. "We are very happy with our performance. We have had five positive comp quarters in a row. We believe these strategies will continue to be successful over the next three to five years, and we will continue to move our initiatives forward."
Hooray for Hollywood
Those who still feel Guitar Center's renaissance is not taking place in full force need only to look at Guitar Center's redesigned flagship Hollywood store location, which encompasses 30,000 square feet on Sunset Boulevard. This store was backed by an investment of over $5 million.
The remodeled store features a large assortment of musical instruments, a 15-foot-long interactive pedal display, a 24-foot-wide snare drum wall, interactive brand displays from manufacturers such as Fender and Gibson, and the retailer's largest standalone vintage guitar room featuring exclusive and rare vintage instruments. Music memorabilia is showcased throughout the store, including Eric Clapton's "Blackie" Fender Stratocaster and other influential artists' gear from BB King, Slash, Johnny Cash, Eddie Van Halen and St. Vincent.
The flagship store is significant for several reasons, stated D'Addario. "It's a statement that we absolutely believe brick and mortar is critical in this space. It's a testament to all of our associates that we have this flagship store getting a lot of attention. The excitement and enthusiasm is permeating throughout all of our stores."
That's not the only statement being made. "It has all of the makings of telling the Guitar Center story," D'Addario said. "The work that went into remodeling the store was profound. The store is unusual in that it is a bunch of buildings that have been cobbled together over time. As the store was remodeled, there were surprises found along the way. But more importantly, it was a moment in time for us to tell the branded Guitar Center story. It is a location for customers to come in and interact, see more product than they can see anywhere [else], and engage with products across a wide spectrum. The level of activity that's in that store is mind-blowing. There are interactive microphone displays, interactive headphone displays and a 15-foot, fully operational pedal wall. There is a line of people waiting to get to that pedal wall, where they can plug into any pedal and try them out."
When you walk into the flagship store, the wide assortment of products takes your breath away, D'Addario added. But the location does not simply serve as a "candy store" for musicians. Lessons, rentals and repairs, all areas of growth for MI retailers, are widely available as well. "We are adding services the customer can't get online," D'Addario said. "We've turned the store into the mecca it needed to be for the industry. For the [Guitar Center] chain, [it] was paramount."
As for the music memorabilia, Guitar Center wanted to pay homage to the many celebrities who have walked through the Hollywood location, as well as Guitar Center stores as a whole. "Slash bought his first guitar in that Guitar Center store," said D'Addario.
The outside of the store features a mural of all-time great Jimi Hendrix, as well as an unknown artist finding her sound. "Why Jimi Hendrix?" asked D'Addario. "It's not only our love for him as a guitar player. Also, a studio he rehearsed in literally sat on the site of the Guitar Center Hollywood store. And his sister, Janie, is part of Guitar Center Foundation board. We wanted to honor that relationship by putting him on the outside of the building."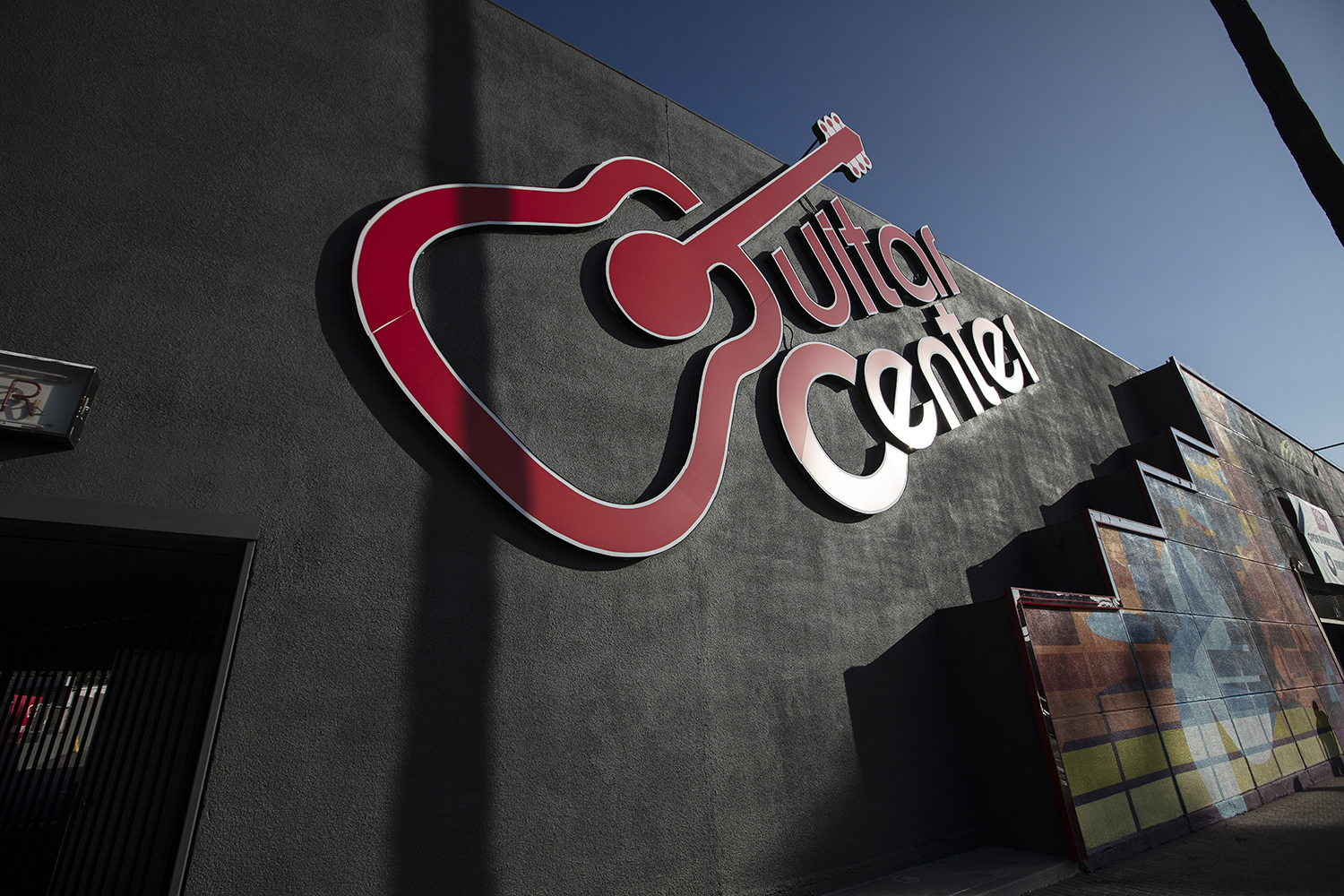 Ripple Effect
Importantly, for the industry, a healthy Guitar Center could mean a healthier MI industry as a whole. Right now, Japinga said when he looks beyond his company, he is optimistic about the MI industry in general. "I think the industry has done a good job responding to all the challenges it has had," he responded. "The opportunity is to continue to be innovative and produce new and exciting products for the consumer. I think that was something that wasn't going well back when the industry was struggling. We've seen some improvement there in the past couple of years. We need to see that continue for the industry to continue to grow and be healthy."
Another positive for the industry is a "return to instruments that produce electronic music," said D'Addario, citing Anderson Paak as a great example of this trend. "I think this bodes well for the industry," she said.
MI is also becoming more diverse, D'Addario concluded. "We saw a study that more women are playing guitars. We are seeing that, too. Our data shows that more women and younger women are picking up guitars and other instruments. We are also seeing opportunities for growth within Latino consumers who are interested in playing music. The more diverse the populace is, the more people playing music. [It] bodes well for the industry overall."