In the MI industry, the word Yamaha can connote images of so many instruments, which perhaps can only be properly visualized at the NAMM Show. The company dates all the way back to 1887, with an impressive 130-year history. Also impressive is the growth of its drum products division, which celebrates its 50th anniversary this year.
The company, which celebrated the occasion on Sept. 30, during a seven-hour event at the Musicians Institute in Los Angeles that featured performances by Larnell Lewis, Tommy Aldridge and Dave Weckl, first entered the drum market in 1967 with the launch of its D20 drum set, featuring the revolutionary Air-Seal System.
"One impetus for Yamaha going into the acoustic drum market back then (and the guitar and bass market around that same time, for that matter) was the great number of combo instruments Japan was importing during the 1960s," Steven Fisher, marketing manager for Yamaha Drums, told the Music & Sound Retailer. "Yamaha wanted to compete for that combo-instrument business, armed with our knowledge of wood-processing technology as applied to the crafting of fine musical instruments, like acoustic pianos. We also knew that with our knowledge of wood-processing technology, we could not only compete but succeed with making a better product."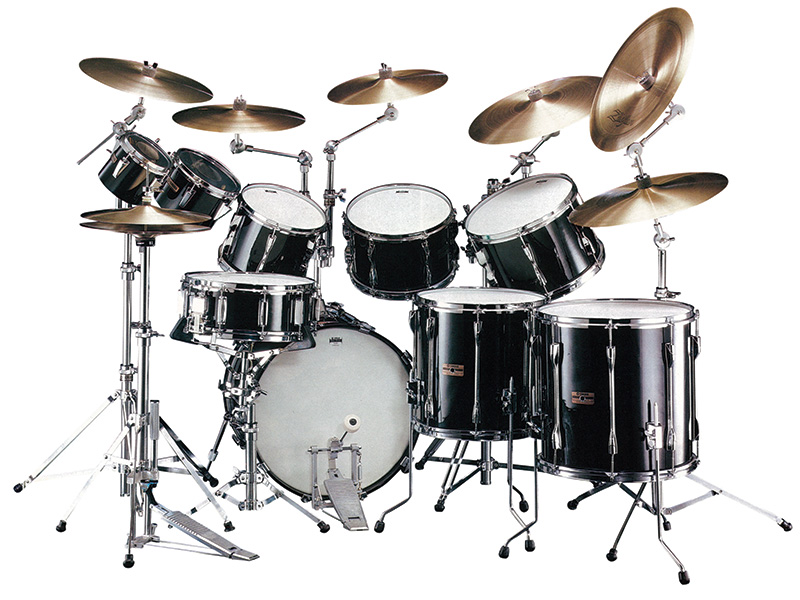 Yamaha was the first drum company to pioneer acoustic drums and hardware, as well as produce ground-breaking electronic percussion products that integrate seamlessly with its acoustic counterparts, creating a new generation of hybrid products. "From research and development to design and manufacturing to sales and support, Yamaha goes to lengths that are simply beyond the capabilities of most drum makers," Yamaha said in a statement to the Retailer. "However, an underlying dedication to music and the creation of fine musical instruments forms a steadfast foundation; one that values the pursuit of quality above all."
Here's a look, in chronological order, at some of the milestones Yamaha has achieved since its first drum set debuted in 1967.
1972: Al Foster becomes the first signed drum artist.
1975: Yamaha introduces the industry's first hideaway boom stand.
1976: Yamaha launches the System Drum and System Hardware concept.
1977: Yamaha introduces the innovative tom ball mount, along with the YD9000 drum set, the precursor to Recording Custom.
1986: Yamaha launches its first electronic drum set, the Electronic Percussion System.
1988: Yamaha launches the Super Rack System.
• 1989: Yamaha presents the Rock Tour Custom drum set.
• 1991: Yamaha introduces the Maple Custom drum set and small-body lugs placed at the shell's nodal points.
1993: Yamaha unveils the YESS mounting system, along with locking hi-hat clutch system.
1996: Yamaha launches the Stage Custom series, redefining entry-level value.
1998: Yamaha debuts the Absolute series.
1999: Yamaha unveils the HipGig series, creating a working drummer's compact kit without sacrificing sound.
2002: Yamaha manufactures the first 100-percent oak shells for the Oak Custom series.
• 2003: Yamaha releases the innovative Nouveau Lug, the precursor to the Hook Lug.
2008: Yamaha introduces the PHX series, the pinnacle of drum craftsmanship and sound.
2011: Yamaha launches the 100- percent kapur Club Custom series.
2016: Yamaha redefines the iconic Recording Custom drum set in collaboration with legendary artist Steve Gadd.
2017: Yamaha celebrates 50 years with limited-edition anniversary drum sets inspired by its Absolute Maple drum set.
"After the modern drum set configuration took form in the 1930s, manufacturers began refining the concept. The number of drums, cymbals, and the different materials, sizes and colors were the most visible changes, but huge innovations have taken place since then that have made a significant impact on the modern set," said Fisher. "Remo Belli was responsible for a major invention: the synthetic drum head in the late '50s that gave drummers more consistent tonal and resonant qualities. Yamaha drums came into the picture in 1967, and, from the beginning, pioneered processes to manufacture drums that would give drummers more of that same consistency and quality. The staggered diagonal seams and air seal system resulted in remarkably solid and round drum shells; a process we still use today. We've also had other innovations like the hideaway boom cymbal stand, locking hi-hat clutch, YESS (Yamaha Enhanced Sustain System) for open, organic shell resonance and the tom ball mounting system. All of this works toward improving the sound, feel and functionality of the drum set. Overall, throughout Yamaha's 50-year history, we've pioneered significant drum and hardware advances that the larger drum industry has since adopted."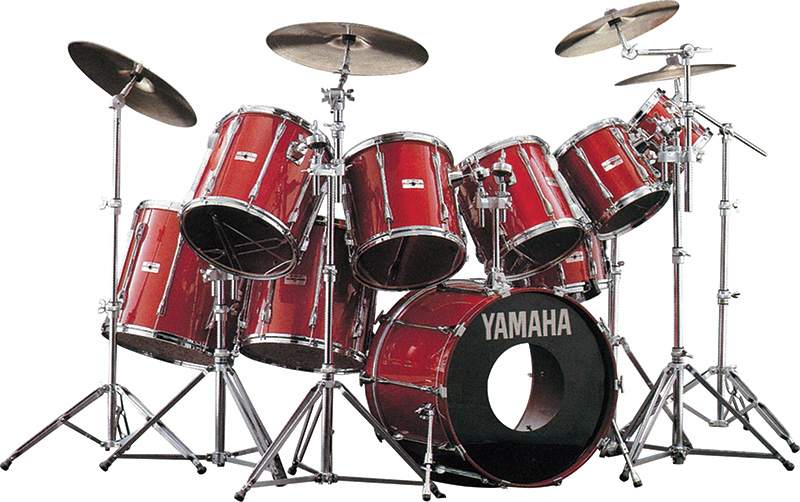 Of course, as with anything, Yamaha Drums has been presented with challenges during the past half-century. "One of our biggest challenges is outdoing our own technological advances on a regular basis. We've developed fresh, new drum and hardware products for 50 years, and it's not just about innovation for its own sake or passing off new colors as 'innovation,' but improvements and inventions that benefit the player," noted Fisher. "With our priority always being sound, we continually make improvements in our quality and consistency with the goal of creating an expressive instrument.
"We have a lot of great artists demanding an instrument to express their individual voice," continued Fisher. "When you have Yamaha Drum Artists like Steve Gadd, Dave Weckl, Larry Mullen Jr. and the rest of the hundreds of artists in between on our roster, all looking for an exceptional and reliable sound, that's a challenge. In a more general sense, there is the task of creating the whole drum set system, including hardware. Yamaha believes that to create 'one total sound' from the instrument, you need to consider the whole drum set, including the hardware, which is something that a lot of other drum companies don't even consider.
Fisher added, "Another big undertaking for us was the move of our manufacturing operations for our higher-end drums to our Xiaoshan factory, where we now make the Absolute Hybrid, Live, Custom and Recording Custom series drums. The PHX line is still handcrafted in Japan, but our goal was to use those manufacturing techniques we developed with the PHX line and vertically integrate them into the other drum series. That's something you can only do in your own factory with your own specialized equipment and your own skilled workers. We also needed to be able to increase our production capacity to make sure we could reach the production volumes we need."
In addition to designing innovative products, artists have been a huge part of Yamaha Drums' success. Here are just a few of the comments artists made about Yamaha Drums' 50th anniversary.
Anton Fig: "The Late Show with David Letterman," Joe Bonamassa, session great, Yamaha artist since 1985: "Yamaha drums sound great and are consistent from drum to drum. The groove is up to you, and these drums will help you sound your best."
Matt Cameron: Pearl Jam/Soundgarden, Yamaha artist since 2002: "I am very honored to be a member of the Yamaha family. I bought my first Yamaha drum set in 1979. I was a huge Steve Gadd fan in my late teens (still am!). After watching him play on TV with Paul Simon, I was shocked to see a Yamaha logo on his kick drum. I knew they made pianos and my dream motocross bike the YZ125, but I had no idea they built drum sets! I was determined to have a Yamaha kit … Thank you, Yamaha drums, for being a huge part of my musical life."
Shannon Larkin: Godsmack, Apocalypse Blues Revue, Yamaha artist since 2002: "Fifty years of Yamaha Drums! I'm so proud and honored to have been a part of the family for the last 15 years. In all honesty, it's not only because the drums are simply the best in the world for tone, variety of woods, and innovative ideas, hardware, pedals and craftsmanship … but it's just as important to me to feel a personal attachment to the spirit and soul of the companies I love, and to feel as if I'm recognized and accepted, as well … Yamaha Drums is the best on all levels, and I'm proud to be part of the family, representing the best drums, the best people and the sacred art of drumming. Happy 50th, Yamaha Drums!"
Tommy Aldridge, Whitesnake, Ozzy Osbourne, Yamaha artist since 1980: "I've been fortunate enough to have spent the majority of my professional career behind Yamaha drums. To say I depend on them would be a huge understatement. The sound and beauty of a Yamaha kit is unmistakable … matched only by their bullet-proof quality. Though I cherish each and every one of my Yamaha kits, I also subject them to some serious abuse. Day in and day out, city after city, and they're still there. Thank you, Yamaha Drums, and happy 50th anniversary."
In the future, Fisher relayed the industry will continually change depending on artists' needs and wants, as well as music styles and trends. "In general, we see a lot of growth opportunities at Yamaha through providing creative musical solutions for drummers."
He concluded, "With our broad and deep resources in acoustic and electronic drums, hardware, DSP technology, and sound reinforcement, we are uniquely positioned to present drummers with the products that will inspire them for new musical applications. You will see evidence of how we're addressing drummers' changing needs in the coming months."