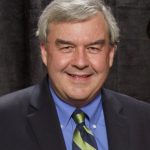 Effective June 30, Rick Young will retire from Yamaha Corp. of America following a distinguished, 30-year career. Young has most recently served as one of three Senior Vice Presidents for the company, as well as Senior Vice President and Director of the Yamaha Music and Wellness Institute. Over his career in senior management, Young has been responsible for the company's Piano, Band & Orchestral (B&O), and Pro Audio and Combo Divisions, as well as the Music Education Department. In addition, he was President of Yamaha Artist Services, Inc., in New York NY and responsible for Yamaha Corporate Artist Affairs, Inc., in Nashville TN and Yamaha Artist Services in Hollywood CA and Indianapolis IN.
"Leaving my daily work with the Yamaha family will be bittersweet," Young said. "After 30 years, I can truly say I thoroughly enjoyed working with everyone at Yamaha, both in Buena Park CA and in other areas of the world. I have learned that, with each additional responsibility, it becomes more about the people: the ones you have hired, mentored and guided in their careers. Having a positive influence on people's lives is the most important outcome, and I hope that I have made some small impact on the culture here, helping others find the same success that I have enjoyed."
Among his many accomplishments at Yamaha were leading the B&O Division's move to Buena Park; helping to institute the company's Customer Sales and Marketing Group, an initiative designed to seamlessly align Yamaha Corp. of America with the needs of a broad base of select dealers, top artists, performance venues, and academic and institutional facilities; and driving One Yamaha organization changes over the last decade.