Although nothing can replace an in-person show, NAMM's Believe in Music Week was the best a virtual event gets.
By Anthony Vargas and Brian Berk
Gone were the in-person meetups, the glitz and glamour of parties and the excitement of live musical performances. These were all sorely missed from what an in-person NAMM Show provides. "Anyone who thinks The NAMM Show will not be back is sorely mistaken," NAMM president and CEO Joe Lamond said to the audience, as well as his NAMM TV co-host, "Pensado's Place's" Herb Trawick, on Jan. 22 during Believe in Music Week. "If there is a world where we don't have a physical show, I don't want to be part of it."
Most manufacturers and retailers alike that the Music & Sound Retailer spoke to agreed with this sentiment. However, many said NAMM did everything it could to make Believe in Music Week, which took place Jan. 18 to 22 and drew 93,226 registered guests, a great event. Many manufacturers told the Retailer that the goal of Believe in Music Week was not specifically to write tons of MI retailer purchase orders. Instead, it was to support NAMM and the industry.
Lamond also mentioned the positives that a virtual show like Believe in Music Week can bring and has suggested the likelihood that future NAMM Shows will be in-person, but complemented by a virtual component. "We are 10 months into a global pandemic that has seen the entire world [turned] upside down. This is the first [non in person] NAMM Show in nearly 80 years," he said. "We have more than 180 countries registered for Believe in Music Week."
Although Believe in Music Week kicked off on Jan. 18, it really hit its stride on Jan. 21. That's when, just one day after his electrifying performance of "Amazing Grace" during President Joe Biden's inauguration, country music star Garth Brooks was honored with NAMM's Music For Life award. Lamond, stationed at a San Diego studio, asked Brooks what he was thinking about when he took the stage in Washington, D.C. on Jan. 20. "Keep your gut sucked in," responded Brooks, who added he would have taken his whole family to the event if he had known how special the inauguration would be. "I got to hug four presidents in 15 seconds," said Brooks. Lamond shifted the focus to Brooks' band and crew, and what makes them so special. "They are my family," stated Brooks. "Nothing is below them. Nobody has a bigger heart or works harder than [drummer] Mike Palmer." Brooks added that Palmer, who has played with the country music legend since 1989, is also a great entertainer with his 360-degree drum kit, as is the rest of his band.
Post-pandemic periods often bring on periods of music renaissance, Lamond noted in a shift of topics. He expects this to be the case again when the world gets to a post-COVID-19 era. Brooks agreed. "There will be a gratefulness you never knew was there," relayed Brooks. "There will be a passion like you have never seen from the artist, crew and audience."
Grammy and Academy award winner Melissa Etheridge received NAMM's second 2021 Music for Life award on Jan 22. Upon acceptance of the award, Etheridge discussed a number of topics. "When the pandemic started, I decided I wanted to do a free concert every day until it ended, thinking it would not last that long," Etheridge said. "That stopped in May when my son passed away." Etheridge, along with wife Linda Wallem, a producer and writer for TV shows such as "Nurse Jackie" and "That '70s Show," decided to create Etheridge TV, a paid subscription service. "Five days a week, we bring music to my fans," said Etheridge. "We make music three days a week, have chats one day and on Friday, we show old bootlegs of past concerts."
Etheridge has even performed live concerts with 20 to 40 people watching from a separate location. This model has proven effective enough that Etheridge is looking into livestreaming her concerts post-pandemic in an effort to reach fans in countries in which she has never toured. However, Etheridge acknowledged livestreaming technology needs a lot of improvements. "We cannot replicate the experience of everyone together," she said. "A lot needs to be done to make streaming better."
The Grammy winner was also asked about her childhood growing up in Leavenworth, Kans., and her musical influences there. She recalled getting her first guitar at 8 years old and visiting both Urban Music Store and Tune Shop. "My first live concert was Buck Owens," relayed Etheridge. "He was amazing."
Lastly, Etheridge was asked about her widely acclaimed version of Janis Joplin's "Piece of My Heart" that she performed with Joss Stone at the 2005 Grammy awards. Etheridge recalled receiving a chemotherapy treatment for cancer the morning of the performance and the warm reception she received from fellow musicians. "That is one of my top performances I ever did," she said.
"We [musicians] have a gift. The gift needs to be given," Etheridge added. "I am blessed to share it." Etheridge concluded the interview with a version of her hit song "Come to My Window."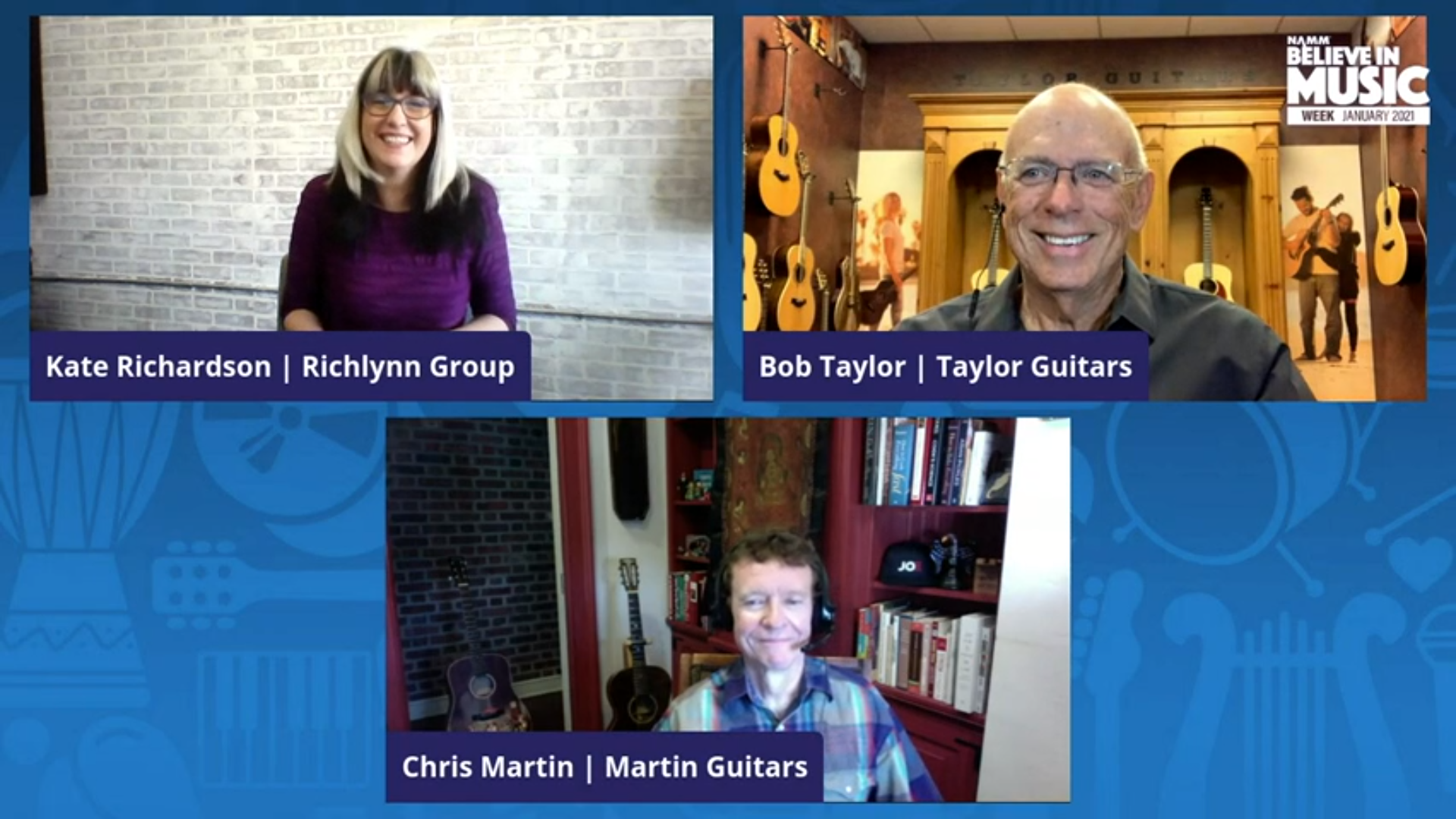 Remember These Titans
Lloyd Baggs, CEO of L.R. Baggs, does not sugarcoat how bad 2020 could have been. "I thought we would be in a soup kitchen," he said during Believe in Music Week's "Titans of the Industry Part I: 2021 Outlook and Beyond," which was presented on Jan. 21, with interviews by Kate Richardson of the Richlynn Group. "But it is mind blowing how well the guitar industry seems to be doing. People are out there buying guitars like crazy."
Baggs added that he is "Blessed beyond logic for this to be happening. We did have to downsize. But with fewer staff and a lot of safety precautions in place, we have been able to stay open. I am amazed at the resourcefulness and creativity of our suppliers and partners."
Baggs was also asked to provide advice for those getting started in the MI industry today. He cautioned that money cannot be your primary goal, although you can earn a living. "I remember seeing an interview with Bill Gates. Even being the richest man in the world, the one thing he always remembered was being frightened all the time," he stated. "Music has to be your oxygen. I love owning a business, but it is not for the faint of heart."
Baggs added his philosophy when it comes to business and life: "Give more than you get."
Jerry Goldenson, president and CEO of KHS America, was the second subject interviewed during this NAMM session. He noted that KHS has nearly 20 brands, and it is focused on what it calls a "stimulus package" for retailers.
Although Goldenson did not go as far as Baggs did when talking about how bad business could have been last year, he did relay that 2020, of course, brought many challenges. "But it also presents opportunities," he said. "Times of crisis often bring us together."
KHS' CEO was also asked about advice to MI newcomers. "You have to understand your 'why,' and you have to understand [the job] is a huge part of your life. Talk to people both in and out of the MI industry." Goldenson concluded with his business philosophy: "You have to be true to yourself," he said. "You need to know you are making a difference."
In "Titans of the Industry, Part II: 2021 Outlook and Beyond," Taylor Guitars CEO Bob Taylor and C.F. Martin CEO Chris Martin IV joined Richardson to offer their perspectives on the future of the MI industry and the guitar market in particular. The session also took place in the midst of Believe in Music Week on Jan. 21.
Richardson started by asking both CEOs what products they were most excited about releasing in 2021. Martin responded that he is most looking forward to trying to "re-engage with the ukulele community," which he estimated is a $150 million global market. According to Martin, his company only currently has a one-percent share of the global ukulele market, and he joked that his team hopes to double that number.
Taylor responded that his company released its American Dream and Grand Theater lines this year to "really try and help out our dealers." However, he said that his main priority for 2021 is meeting the surging demand for his company's existing products. "We're always excited about what we're putting out new, but at the exact same time, we have so many orders that we don't know how to make them. So […] in 2021, we're going to try and introduce stable production. And that right there is going to help dealers."
Martin agreed, adding "We aggravate the situation by making more new products on top of the products that we can't make enough of right now."
Both Martin and Taylor attributed the current high demand for their company's products to an ongoing "guitar boom" the likes of which they have only seen three or four times before in their 40-plus-year careers.
The two then shared some perspective on how the guitar market and the art of guitar making have evolved in that time, attributing that growth to the camaraderie of the MI industry and the contributions of many great guitar makers over the years. Both agreed that cooperation between competitors is healthy for the industry as a whole.
Richardson then asked what the biggest challenge each company had to overcome this year had been, especially with the COVID-19 pandemic still looming large.
Taylor pointed to supply chain issues, although he added that when it comes to guitar "Traditionally, a guitar-maker always measured their wealth by the amount of wood they had on the shelf in the shop when they died,"
Taylor said.
Richardson then asked Martin and Taylor to offer their predictions for the future and how the current boom in guitar sales will affect the market going forward. Taylor responded that "We think that the market will certainly ratchet up, but in some cases I'll admit that we could be selling tomorrow's lunch today. Guitars are going crazy, and we're delighted about that, but pro audio is not. So, it could happen that, 18 months from now, people go 'I need a PA system and some amplifiers and microphones to use those guitars I bought in 2020 and '21,' and there could be a trimming back." However, he added that he has never seen a boom as large as this one in the guitar market before, and that "I think we could hold onto a 20-percent increase in what was there before [the pandemic]."
"A lot of people that never got closer to a guitar than dreaming about it now have one, and they're trying to make it work," Martin said. "Some of those people will stick with it. So those are new customers." He added, "And it's easier to learn today, particularly because you're going to have to learn digitally, virtually anyway. You're doing it over the internet, and there's plenty of opportunity out there."
Both Martin and Taylor were extremely optimistic that the current health of the guitar market will bode well for future sales. "We look at our sales stats every week, and we [say] 'It's another world record!'" Taylor said. "We wrote orders for more guitars than Martin and Taylor wrote in a year in 1980, and we've done that in three days, or four days."
Martin added that "We're bigger than we've ever been, and [Taylor] is as big as us, so the market is bigger than it's ever been!"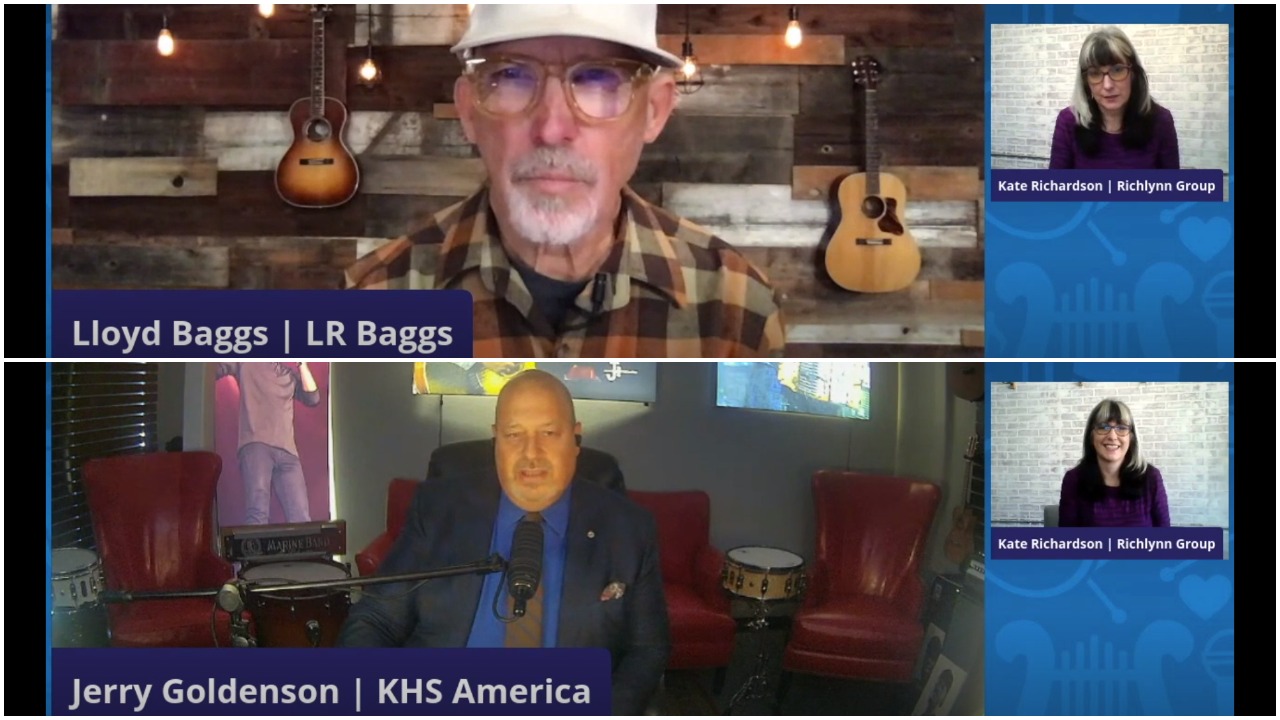 The Retail Doctor Is In
In order for MI retailers to continue to grow their businesses, they must do three things: 1) court the new "leisure class," 2) serve to sell and 3) make it personal, not transactional, stated Bob Phibbs, founder, The Retail Doctor. Phibbs offered these insights on Jan. 21 during his Believe in Music Week educational session, titled "Music Retail: The Game Has Changed — It's Better."
Regarding the leisure class, Phibbs defined this group as consumers who have much more free time due to the COVID-19 pandemic. "The average commuter got back two hours a day, which equals three months a year. This leads to a new leisure class," said Phibbs.
As for "serving to sell," Phibbsnoted: "You're not selling a widget. You're selling a promise to find confidence, and money is part of that transaction. Service is very important."
Making an MI sale personal, not transactional, can be more difficult than before due to online sales now being a crucial source of revenue for retailers. "Shoppers are more likely to become loyal buyers not from their use of technology, but from human interactions," stressed Phibbs.
Music has been a big beneficiary of the leisure trend, leading to increased guitar sales during the pandemic. Retailers are motivated more than ever to be successful. But Phibbs cautioned that they must know where to aim and what the target is.
"We have lost sight of our real goal," he said. "It is the ultimate 'why.' It has to be worth the struggle." The Retail Doctor offered the example that nobody in their right mind would enter a burning building to retrieve a $20 bill, but they would risk life and limb if a child or loved one were stuck in that same burning building.
"Go deep and come up with your 'why," stressed Phibbs. "It should not be 'I want to increase sales.' A much
better 'why' is you want to set up your kids for a successful future without a mountain of debt." He added, "Write down your 'why' and put it where you can see it. The deeper you get into your 'why,' the more successful you become."
Once your "why" is established, Phibbs advised doing two other things. The first is to write down three things you wish could have gone better at your business in the past year, putting these in a bucket, (physically or metaphorically) and lighting them on fire (safely of course). "You need to empty the garbage and negativity," he said.
The next step is the opposite: Ask yourself what you did well in your business in the past year, and then make a goal for this year. "The goal should be, 'This year, I want to …' It can be about business or your personal life. Then, you need to write down the three things that are needed to achieve that goal," Phibbs relayed. "Do you need to hire more people? Do you need to stop looking at your smartphone?"
Once this goal is determined, think about something you did that day to advance the goal, Phibbs advised. "When you wake up and get out of bed, think of one thing you will do that day to move toward your goal."
"Yes, the world has changed," concluded Phibbs. "Now is our time. In hope, we are fearless."
Simply the Best
Also on Jan. 21, the MI industry virtually gathered at Believe in Music Week to celebrate the spirit of the independent music retailer via the Top 100 Dealer Awards. Announced were the following winners:
Five Star Guitars — Dealer of the Year
Santa Monica Music Center — Best Community Retail Store
Amro Music Stores, Inc. — Best Customer Service
Heid Music Company, Inc. — Best Marketing and Sales Promotion
Andertons Music Co. — Best Online Engagement and Customers Choice Award
Drum Center of Portsmouth — Best Store Design
Royalton Music Center — Innovation Award
The Candyman Strings & Things — Music Makes a Difference Award
Stated Lamond, "As we've experienced, it was an unprecedented year for businesses across the world, but these stories of hope, resilience and service to others to continue to advance music-making are truly inspiring. Our members are the heart of our industry, and as we heard today — even in the face of a pandemic — continued to bring people joy through music."
One such story comes from The Candyman Strings & Things, winner of the Music Makes a Difference award. The company detailed the power of music for a one student named Arnold who suffers from a developmental disability. Arnold began taking weekly drum lessons at
The Candyman approximately four years ago and has continued taking lessons ever since. On his lesson day, he walks into the store and brings the brightest light with him. Arnold's teacher, Andy, said, "Arnold always stays focused and always gives his drumming his best. His positive attitude is an example for everyone."
Vanessa, his case manager, echoed his role as a leader: "When I heard that The Candyman was nominating Arnold for the Music Makes a Difference Award, I couldn't help but think that not only has music made a difference in Arnold's life, but through his example, he is now paving the way to make a difference in the lives of other special needs individuals."
In their live-streamed acceptance, Cindy and Rand Cook, owners of The Candyman, shared their secret. "It's our staff; it's because of them. It's a team that's also a part of our family. They are warm and welcoming to Arnold and to all individuals. If you spend some time with someone who is struggling with a disability, you'll find amazing heart inside, and that enriches our heart and our experience. So, we dedicate this award to all of our staff, and to Arnold."
Beaverton, Ore.-based Five Star Guitars, 2020's Dealer of the Year, also changed lives through music, which was a theme across its entries. The company spotlighted one special young student, Brady, who found his voice and a way to communicate with the world.
As the COVID-19 pandemic spread, the world around Brady was forced to observe social distancing and quarantines. All gatherings larger than 25 people had been banned by government decree. Brady found a way to bring his neighborhood back together … through music. On March 17th, 2020, as every music venue in Oregon was silent, Brady performed on the front steps of his house to entertain his neighbors. The response was overwhelming and resulted in a local news station documenting the performance.
Geoff Metts, owner of Five Star Guitars, accepted the award and relayed, "We're truly honored. It's thrilling. It's been a year that's been so full of turmoil … I'm just at a loss for words. I would like to thank [our] staff and everyone who has supported our business. This award means a great deal to all of us."
For more of the Music & Sound Retailer's Believe in Music Week coverage, click here.