Nothing, not even a global pandemic, will get in the way of Illinois-based Tobias Music's success.
Paul Tobias was in high school in October 1978 when his parents — Margaret, a guitar teacher at the local high school, and Ken, a mainstay of the Chicago coffeehouse circuit to complement his career at a scientific company — opened up a 600-square-foot music shop four blocks from the home he shared with his five siblings.
All six Tobias children grew up hanging around Tobias Music, and a few even worked in the store over the years, but it was far from assumed that one of them would take over the store when "Mom" and "Pops," as Tobias affectionately calls them, were ready to call it a day. In fact, Tobias was in the midst of a successful multi-decade career at Campbell's Soup and Pepperidge Farm when the succession conversation began in 2005.
"I certainly wasn't the 'chosen one' to carry on with the family business," said Tobias, "But none of the other siblings had an opportunity to switch healthcare coverage for their families if they were to take over at the shop, while my wife, Pat, was having a successful career in healthcare and also had access to some great benefits. Since I was able to have our family healthcare covered through my wife's company, I decided to take a stab at a new career."
While his years spent writing procedure, preventative maintenance and training manuals hardly prepared him for the ins and outs of running a music store, Tobias was able to lean on his memories of watching his parents run Tobias Music in those early years.
"Since it was a relatively small shop, I had a chance to see how Mom and Pops formed their business model," said Tobias. "I absorbed a lot just hanging out in the shop."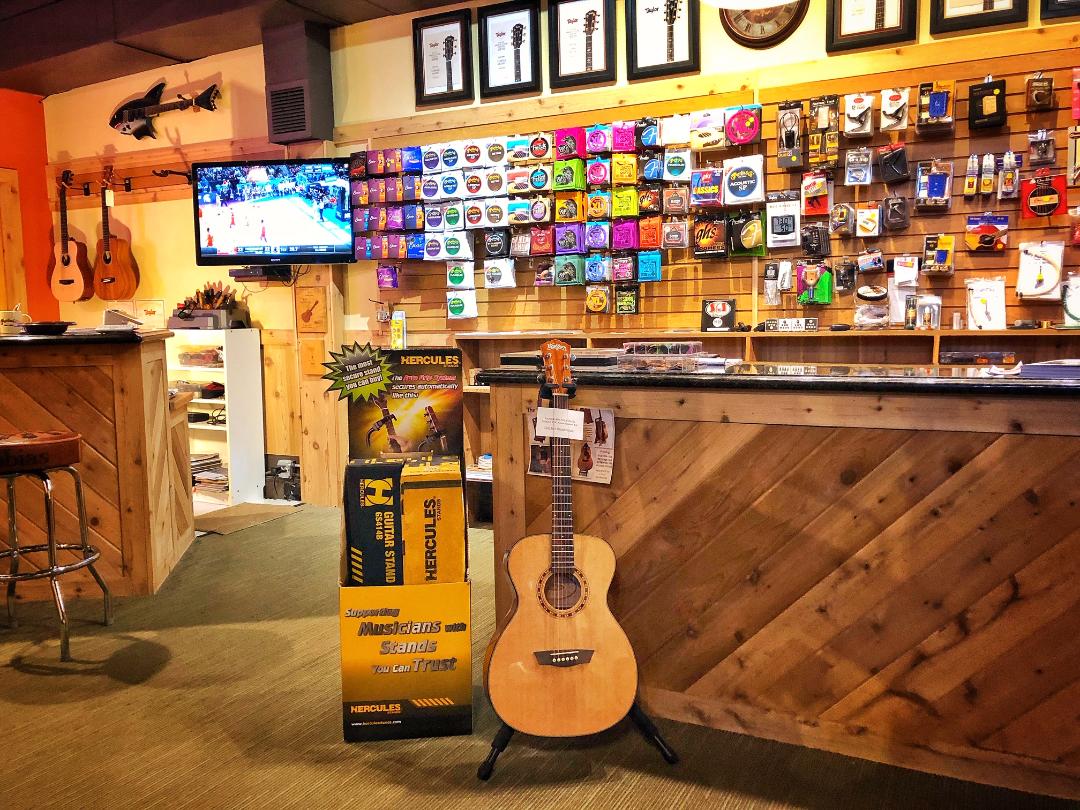 It also doesn't hurt that his parents still maintain a presence at the store. Margaret comes in on Saturdays and Ken still works every day. "Our shop started with Mom and Pops, and now it's just Pops and I," said Tobias, who added that he and his father are the store's only full-time employees. "Though I own the business, you can probably guess who still runs the show," he joked.
Tobias works hard to maintain the "living-room atmosphere" that has defined Tobias Music for more than 40 years. That description is not only apt because everyone who has come into Tobias Music is treated like family, but also because the business literally began in the Tobias family living room.
"The shop was a few weeks away from being ready for business when the delivery of the first group of Martin guitars came, and my parents had all the guitar boxes in their living room waiting for the shop to be ready," recalled Tobias. "A family friend came by the house to look at all the Martins. He ended up falling in love with a Martin D28, and he bought it right there in the living room. That was the first official sale of Tobias Music and a great start to our family business."
Tobias Music
5013 Fairview Ave.
Downers Grove, IL 60515
(630) 960-2455
www.tobiasmusic.com
Mon., Tues., Thurs. Noon – 8 p.m.
Wed., Fri. Noon – 6 p.m.
Sat. 10 a.m. – 6 p.m.
Paul Tobias, Owner/President
Tobias Music remains a C.F. Martin dealer to this day, in addition to carrying brands such as Santa Cruz, Eastman and Taylor, which the store has carried for more than 35 years.
"My parents met Bob Taylor and Kurt Listug of Taylor Guitars very early in their careers, and they brought Taylor Guitars in our shop at a very early stage," said Tobias. "We now have a large Taylor Guitars boutique showroom in front with more than 60 Taylor Guitars on display, and we are one of their top dealers in the country."
Over the years, Tobias has expanded the shop as adjacent space became available, with the sales area now comprising upwards of 2,000 square feet of inviting space that includes couches, comfy chairs and a flatscreen TV. "Not bragging," said Tobias, "but it's a cool shop. Everyone wants to hang out here."
One of the most popular aspects of the shop is the whiskey bar, which currently contains 10 to 12 whiskey bottles that have been donated by regular customers over the years.
"Honestly, we don't drink all the time here," Tobias joked, "but if I see a customer getting ready to pull the trigger on a high-end guitar, I offer them a little taste of a high-end scotch. Then, bam, the charge card comes flying out of their wallet!"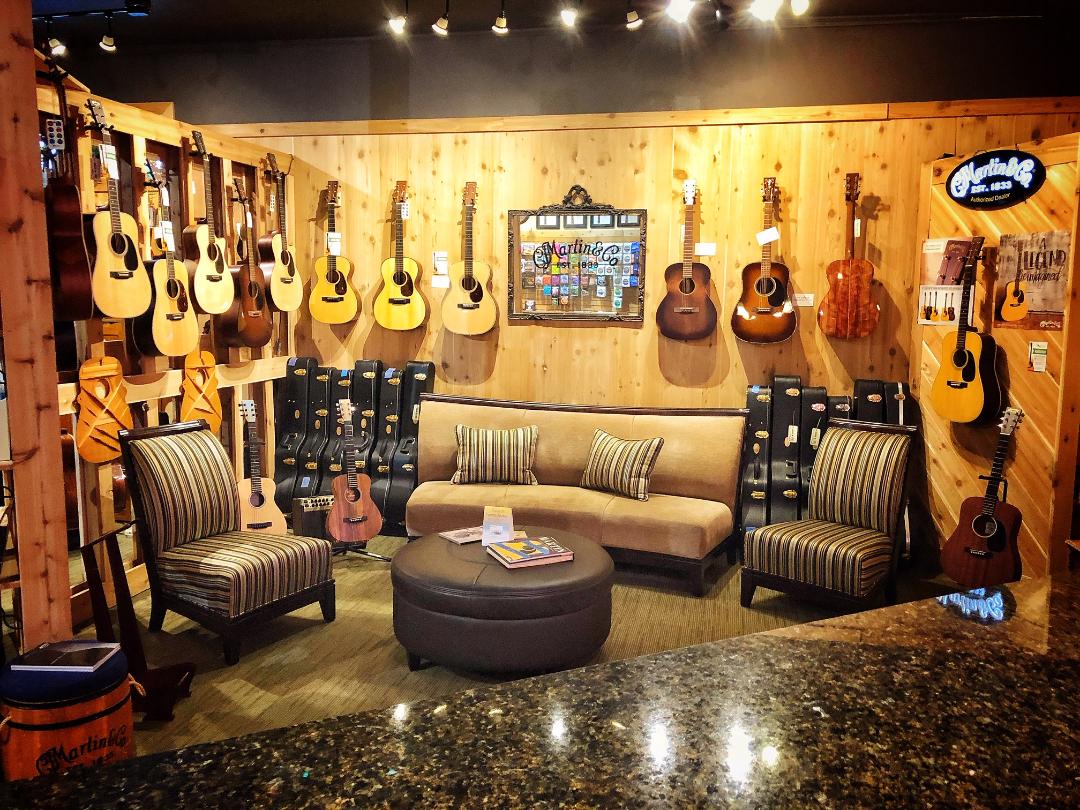 The store has also grown to include an 80-seat live music/events room where it hosts live music, open mics, workshops and vendor events, in addition to renting out the space for private events. "The events room brings in large crowds, creating a sense of community while exposing our cool guitar shop to many new faces," explained Tobias.
"Twenty years ago, our No. 1 goal was to sell the guitar hanging on the wall, but in this internet age, the No. 1 goal for brick-and-mortar shops is to get people into your store, while the No. 2 goal is to sell them the guitar on the wall," Tobias continued. "So we have to be creative in getting people in the door, and the three areas that we have concentrated on have been the live music/events room, our lessons program and our repair service. We figure that the internet doesn't create much competition in these areas."
Of course, everything changed with the onset of coronavirus, but Tobias isn't going to let that get in the way of four decades of multigenerational success.
"I will not let 42 years of our family business go down the drain because of the pandemic. Whatever it takes, we will get through this," said Tobias. "With help from some of our suppliers, especially Taylor Guitars, we have seen a nice boost in online sales. Our online traffic, as well as our curbside service and home deliveries, have been just enough to pay the bills. We have been blessed. Fingers are crossed that it continues."
For more columns from the Music & Sound Retailer, click here.