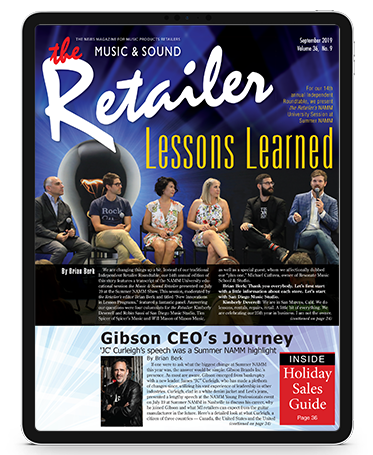 COVER STORIES
For Our 14th Annual Independent Roundtable, we present the Retailer's NAMM University Session at Summer NAMM.
'JC' Curleigh's speech was a Summer NAMM highlight.
FEATURES
Ukulele sales continue to ascend. We take a lengthy look at Amahi Ukuleles' Classic and Exotic Wood Series.
INTERVIEWS
Rob Hanson, sales and marketing director, John Packer Ltd., discusses the band and orchestra market, the differences between the U.S. and British markets, and much more.
Growing up for Joe Castronovo, president, KORG USA Inc., featured family car trips set to the soundtrack of Don McLean's "American Pie."
MISSION REPORT
It's been 50 years since Woodstock! MI Spy heads to the region to see if service is groovy.
COLUMNS
Backstage Music Allen McBroom's heartfelt tribute to Fishman.
Speaking of McBroom, he explains why it is so important to be prepared.
There is a unique way to connect to your customers and the musician community as a whole. Gabriel O'Brien explains.
Ninety years is a long time for any retailer to be in business. Alamo Music reveals its secret sauce.
When the dust settles, we'll see a blend of shopping tactics, and the split will be defined by intent, states Dan Vedda.
BUZZ