I discovered EarthQuaker Devices (EQD), which are made in Akron, Ohio — practically in my own backyard — at the Summer NAMM Show. A few customers had asked about them in store, but, like many in the industry, I was a little skeptical early on about boutique effects pedals, when we were coming off the tail end of the digital modeling all-in-one multi-effects-unit craze. I initially found it difficult to believe guitar players were going to move into buying pedals, some of which cost as much as those multi-effects units. But curiosity drove me to EarthQuaker's booth, and what I found there made me a believer. That same curiosity drove me to visit EarthQuaker HQ in downtown Akron.
You'd almost expect the home of a company that's known for such experimental sounds to be housed in something punk rock or psychedelic in appearance, but it's in an unassuming industrial park with minimal signage. In fact, I nearly missed it. There's no fancy reception area, just a simple entrance right onto the assembly floor and a stairwell heading upstairs to the offices and conference room. The assembly floor itself is a large, open space, quieter than you'd expect, with some workers choosing to listen to music on headphones while they work diligently. There's a second, somewhat smaller space where pedal bodies are screen printed with graphics. Trays filled with pedal bodies line racks, awaiting electronics to be installed before being shipped to dealers.
I spoke with Jamie Stillman, founder of EarthQuaker, in his office workshop. I call it that because it has a desk and the normal things you'd expect to find in an office, but I get the impression that Stillman spends most of his time at the large workbench experimenting on a breadboard, searching for the next unique sound we all can't live without and don't even know it yet. Founded out of Stillman's basement in Akron, EarthQuaker has done for the pedal category of MI retail what the first craft beer companies did for that industry. EarthQuaker has gone from being a small, do-it-yourself, one-man show to a pedal powerhouse that's jumpstarted a once-stagnant category in MI retail, which has resulted in increased profits for indie dealers and has inspired guitar players to go back to their local music stores and get weird again.
I asked Stillman about the importance of attending The NAMM Show.
"I think it's very important," he said. "I listen to other people talk about it who say, 'Oh, The NAMM Show is worthless. It's stupid.' If you're going to be in the industry, participate in the industry. If there's [something] you don't like about it, change it."
I've always been a big advocate of Summer NAMM, as it's convenient for smaller East Coast stores who can't afford the trip to Anaheim, but also because it's so conducive to face time with vendors. Stillman agreed, and further credited Summer NAMM as a key component of early EQD success.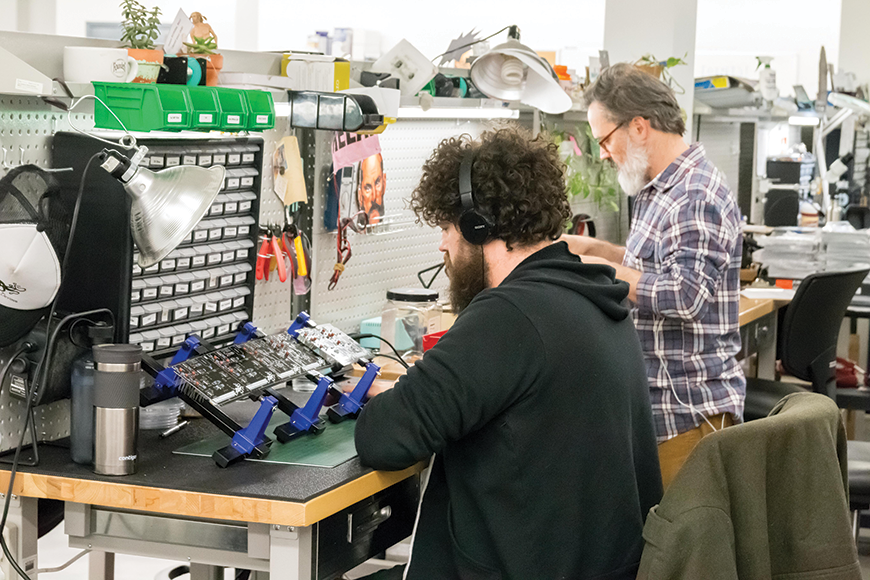 "Summer NAMM was the first show that we did. I think it played a big part in how we became successful. That first show, it was just me and one other guy. Most of the dealers we met at that first show are still dealers, and we got even more attention at [The NAMM Show in January] that year."
There's a certain amount of luck in being successful in any field, but, as any successful person will tell you, it's also mostly hard work and dogged determination. Those qualities are built into the Rust Belt, where economic ups and downs have played an outsized part in the history of the area and the cultural psyche. I wondered if that had an effect on Stillman's work ethic and how he approaches what he does.
"This is the only thing I've ever done that got successful," he said with a laugh. "There are people who look at [having a successful company] and say, 'That looks cool, I'll start a pedal company.' When I hear someone say, 'I'm going to start a pedal company' in today's market I'm like 'Why?' Unless you're going to do something interesting and different that's useful, why would you do that? It feels like it would be more difficult today than when it was when I started EQD."
Stillman added, "All the people I've talked to who are successful at anything didn't set out with the goal of being successful in mind; it was just a thing they liked to do and cared about, and they wanted to put their time into. They worked until something caught on, and kept working. They didn't start off saying 'I want to be huge.'"
Accidentally on Purpose
One of the most interesting characteristics of EQD pedals is how many of its origins are accidental. Stillman, who still personally designs every Earthquaker pedal, says many of his discoveries come from attempts at other things that fail, but that those failures often reveal something of interest that sprouts a better idea than what was individually intended. As such, he's a big collector of his own failed ideas, and doesn't mince words when talking about them.
"Most of the days that I work here, I go home disappointed that whatever I'm trying doesn't work. Eventually I'll find a thing that does [work] and I'll be excited again. I think this attitude comes from living in the Midwest. This piece of Ohio — Northeast Ohio — has this certain bizarre attitude. All the people I know around here work really hard and really care about the things they do, but we can never sit around and say, 'Everything's great.' We always downplay or second guess everything.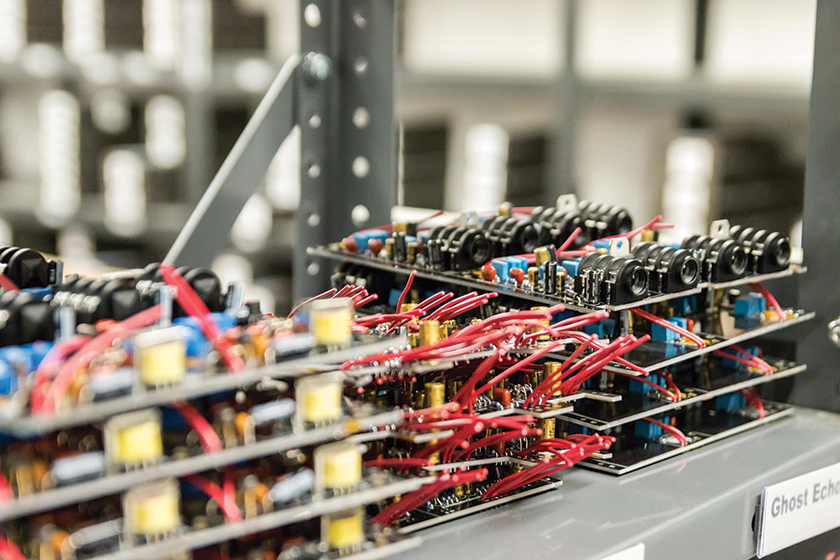 "I've discarded so much stuff because I'm not really a trained electronics engineer. Actually, I've always said that, but I've been doing it for 12 years professionally, so I've started to accept that maybe I actually am one now. I save my failed ideas, because sometimes I go back and look at something and say, 'Oh that was cool, now I know how to make that work.' Most things I make didn't work how I was expecting the first time. I've been disappointed by things that ended up being really cool. Rainbow Machine was one of them, where I thought something wasn't cool and everyone else loved it. Now I love that pedal and think it's great."
The pedal market is still booming. As independent dealers have said goodbye to some of the marquee brands whose demands had become overbearing, they began to look for alternative categories in which they could generate revenue without committing to big buy-ins. Stillman believes large manufacturers' stocking requirements and the effect they had on small music stores played a "huge role" in the success of EQD, who spends, admittedly, tons of time on analytics and understanding the way the industry is working. Stillman's wife, Julie Robbins, runs the "business side of the business."
"What all those big brands did to stores is a huge reason why pedals are wildly successful. Pedals are cheap, they're small and it's a way to change your sound. Guitar players are crazy about changing their sound, but they aren't going to buy a new amp or guitar every week, so pedals are literally the perfect in-between. And you can stock a billion of them and not go under. So, when all those big companies are forcing everybody to carry train cars full of guitars, all these stores finally started to say [no]. A lot of other brands have gotten smart and figured it out."
EQD has recently partnered with Yamaha to distribute its pedals in the Japanese market, and Stillman credits Yamaha for being a great partner company, full of "really nice people who really know what they're doing."
This led me to wonder if, in a sense, trying something and failing becomes more valuable than an instant success, and if that is part of what keeps driving Stillman and the staff at EarthQuaker to push boundaries and keep searching for new sounds, when many companies would simply sit back, enjoy the success and keep making the things that have been successful forever.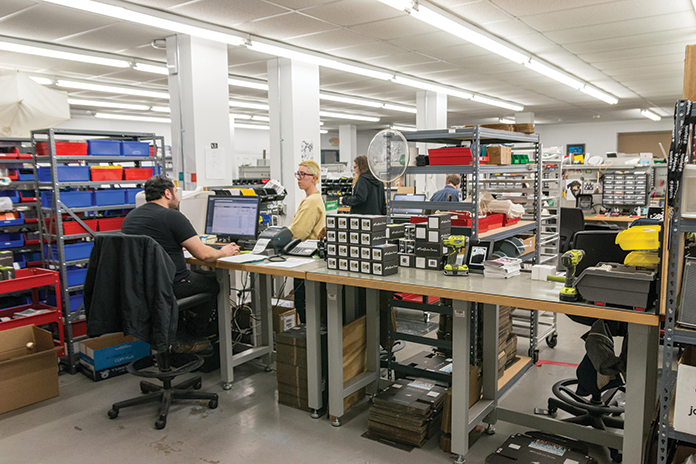 "We've started to identify when a product runs its life cycle and we have been discontinuing more of them more frequently," said Stillman. While they do discontinue plenty of things, EQD is also known for bringing new SKUs to market regularly. It's not uncommon to see half a dozen new pedals announced on the same day, particularly around The NAMM Show time.
Market Reverb-erations
EQD has also partnered with Reverb to market pedals, sometimes giving Reverb exclusive access to new pedal releases.
"I think Reverb is amazing," said Stillman. "They just know how to do what they do, and anything we have worked with them on has been wildly successful. I can't believe somebody didn't think of it before. They're all customer service, and super helpful."
While it encourages Reverb use, EarthQuaker also closely monitors its strict adherence to MAP, and is quick to reach out to dealers when it sees violations. Stillaman spends a lot of time and capital building the brand, as well as keeping manufacturing in downtown Akron, and feels that keeping pricing controls strictly in place keeps the company from becoming devalued and subject to price wars online. Dealers are offered pre-order opportunities before they come out, so they can have new pedals in stock and ready to sell on the release day. While many dealers remain cautious about placing orders for a new, unproven pedal, it's starting to catch on.
"When dealers are unsure of a new product, they'll usually play it safe and order one or two pedals," said Stillman, "And they usually sell through those the day they're announced and want to add 20 to the order."
The manufacturing process is also controlled, and kept to a weekly timetable to make sure everything is delivered in an efficient manner. Once again, Stillman cites analytics and planning with keeping them on top of the manufacturing process.
"Julie [Robbins] has done a great job making sure our company is very nimble and our manufacturing process is very mapped out," said Stillman. "That sounds easy, but to manage 50-some people and make sure the work is done by Friday isn't. It would be really easy to send [manufacturing] out to China and order 50,000 of something, but because we're lean and nimble, we're able to get it done and make adjustments when we need to."
When it comes to the viability of MI retail, Stillman expressed a hope for the future that is characteristic of the Ohio Rust Belt, having seen economic downturns and recoveries before.
"I think all the companies and magazines have started to realize the business is a partnership. The economic collapse [of 2008] wiped out many of the stores that weren't great; it thinned the herd. People have started realizing you can run a small successful local music store by creating a cool atmosphere, being nice, being knowledgeable and having interesting things in stock. Curating cool places people want to be, wanting to have a nice-looking storefront people want to visit, is a simple concept, and stores are starting to figure that out. People want to come shop at their small local store again. In the last five years, there are more and more retail locations opening up and actually succeeding, which is awesome," he concluded.