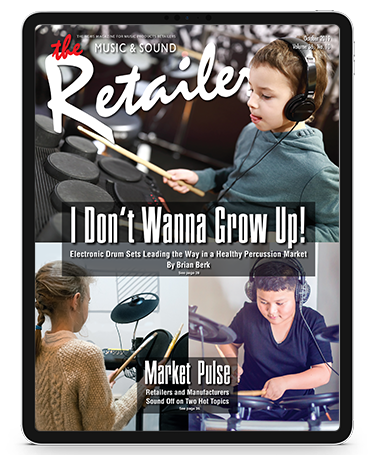 COVER STORIES
Electronic drum sets leading the way in a healthy percussion market.
Retailers and manufacturers sound off on two hot topics.
FEATURES
Yamaha's Live Custom Hybrid Oak Drum Sets have turned heads since being launched at The NAMM Show in January.
INTERVIEWS
David Salz, President, Wireworld Cable Technology offers plenty of tidbits about his 27 years in business, provides advice for MI retailers selling its products and more.
Ricky Mannion, owner/analog designer, M House Studios, also serves as an engineer in the aerospace industry.
MISSION REPORT
When it comes to rock music, few cities are more connected than Cleveland. How did MI stores there rock the MI Spy's world?
COLUMNS
Want to take your lesson program to new heights? Tim Spicer has all the answers.
No, there's no good way to fi re a customer. There's no reliable method that will result in the customer going elsewhere and still thinking you're a great store owner. So, what can you do?
Being a great leader and team player is easier said than done.
It has been almost 100 years since Mil Averwater, a classically trained pianist, and his friend Frank Moorman decided to open their fi rst piano studio in the heart of Memphis, Tenn. 100 years! It's time to learn much more about AMRO Music.
Done well, you can keep a service problem from becoming a goodwill destroyer.
BUZZ