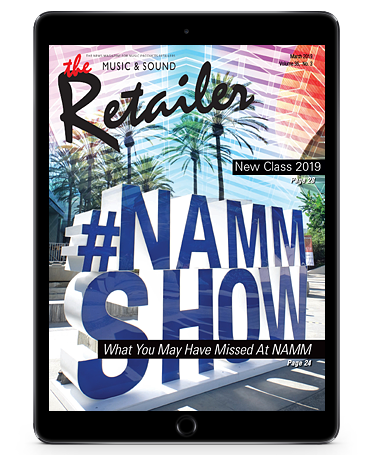 COVER STORIES
Two NAMM University Breakfast Sessions, press conferences and the She Rocks Awards are among the items that made the list of this all-encompassing story that follows up last month's The NAMM Show cover story.
The NAMM Show had many first-time exhibitors ready to take the MI industry by storm. We feature eight of these companies, all of whom bring innovation and passion to the show floor.
FEATURES
For those seeking a powered loudspeaker that is lightweight and provides performance, quality, reliability and an ultra-compact form factor at a value price point, QSC's CP Series is definitely an option.
INTERVIEWS
Odyssey Innovative Designs will be celebrating its 25th anniversary in just 10 months. We get the latest about the California-based company from CEO John Hsiao.
Suzanne D'Addario Brouder, executive director of The D'Addario Foundation, has led a group that has won the Music & Sound Award for Outstanding Community Service an incredible six consecutive times. Find out what she thinks about this accolade, her greatest influence and much more.
MISSION REPORT
San Francisco has a tremendous amount to offer, including top-notch MI stores.
COLUMNS
Being an excellent retailer requires more than taking in great NAMM University sessions. Creating the proper work-life balance can prove to be a significant challenge.
Your suppliers are of course critical to your success. Here's how to strengthen your relationship with them even more.
According to one of Allen McBroom's vendors, there are three types of MI retailers. McBroom knows at least one retailer who fits into each group.
There's no doubt that posting social media content regarding your store takes a lot of time and effort. Using a social media management platform is a great answer to this problem, explains Gabriel O'Brien.
In 2001, John Fowler was "doing hard time in corporate management." But then he was presented with the opportunity to purchase Colorado's Shoreline Music.
"Vetting" is a word often bandied about. But Dan Vedda explains why it's so important for your business.
BUZZ