Ever since the first gigging musician threw his back out trying to load a speaker into his buddy's van, the music products industry has been obsessed with delivering high-quality sound in a lightweight, portable package. Driven by this obsession, portable PA has come a long way over the years. And, thanks to recent advances in wireless and battery technology and the science of sound reinforcement, portable speakers now pack more power and functionality in a smaller footprint than ever before.
The latest portable speaker offering from LD Systems, the MAUI 5 GO, is the beneficiary of many of these technological advances, and it stands as a prime example of the state of speaker technology today. "The MAUI 5 GO provides a super-lightweight, ultra-portable PA solution for a wide variety of applications that can be used anywhere, anytime," said Steven Savvides, president of Musical Distributors Group, the American distributor for LD Systems. "With its onboard four-channel mixer, Bluetooth audio streaming, wide sound dispersion and outstanding feedback resistance, it serves as the perfect music playback system for live performances, recorded music or speeches … and now it can go where power outlets are not available."
The MAUI 5 GO boasts a wealth of features that make it easy to set up a high-quality sound system in a wide variety of indoor and outdoor settings, and for a range of use cases. "It's great for small-to-medium-sized gatherings, either as a full music playback system, an instrument amplifier, or for announcements and speech reinforcement," offered Savvides. And the MAUI 5 GO is especially well-suited to satisfy the needs of touring musicians on the road. The system weighs 29 pounds, and, according to Savvides, can be set up and powered on in less than 12 seconds. "Musicians will love how easy this system is to transport and how amazing it sounds for its size," said Savvides. "As a gigging keyboard player in my past life, I hated the setup and teardown process, not to mention carrying and loading and unloading gear from vehicles, in and out of venues. I wish I had this system when I was playing five nights a week!"
The MAUI 5 GO is a column speaker with an integrated subwoofer that serves as the unit's base. Each MAUI 5 GO unit comprises four parts: three column speaker elements with a line-array driver configuration, plus the subwoofer/base. All four pieces can be assembled in seconds using their custom multi-pin connectors. "The sub cabinet and mid/high columns are made of high-impact, tough ABS plastic, which contributes to the lightweight design," said Savvides. "The subwoofer magnet is an eight-inch ferrite with a two-inch voice coil, delivering very punchy low end. The mid/high column is comprised of 4×3-inch neodymium speakers with one-inch voice coils."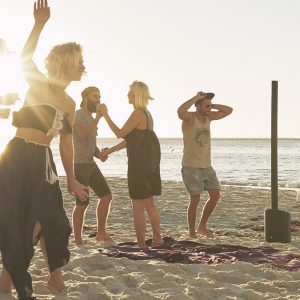 The column speaker elements' line-array driver configuration enables the MAUI 5 GO's wide dispersion pattern, allowing the relatively small unit to cover a wide area with sound while minimizing reflections. "The long throw and wide dispersion characteristics of a line-array system are part of the fundamental design of the MAUI 5 GO," explained Savvides. "The 120-degree horizontal dispersion pattern provides very wide coverage, filling the room with sound. The 20-degree vertical dispersion keeps sound from bouncing off the ceiling and floors. This improves intelligibility and delivers a consistent listening experience to every audience member. In addition, the height of the system may be adjusted by removing one of the speaker columns to accommodate a seated audience and further fine-tune the vertical dispersion."
The MAUI 5 GO is even more road-friendly than its predecessor, the MAUI 5, thanks to a rechargeable lithium-ion battery that is housed in one of the column speaker elements. "The battery charges automatically while you are playing, if you are plugged into an AC outlet," said Savvides. "The main battery, or a spare battery, can also be charged in a separate charging station. Through our patented 'Quick-Swap Technology,' the battery can be replaced in between songs within seconds. And it takes only three hours to fully recharge the battery." The rechargeable battery allows the MAUI 5 GO to be used outdoors, but the system is not designed for use in extreme weather environments, such as rain or snow.
Battery life is determined by three different performance modes, which are tied to the system's current volume settings. "The high-capacity LG Chem lithium-ion battery element in the MAUI 5 GO provides up to 30 hours of uninterrupted operation. We call this extended life 'Lounge Mode,' and it will give you the maximum battery operation for playback up to 96 decibels," said Savvides. "If you are using the system up to 104 decibels, we call this 'Live Music Mode,' and this provides a battery life up to 10 hours. If you need to crank up the system to 120 decibels, we call this 'DJ Mode,' and you can get six hours of full output at this level. The system switches between these modes automatically depending on how loud you set it."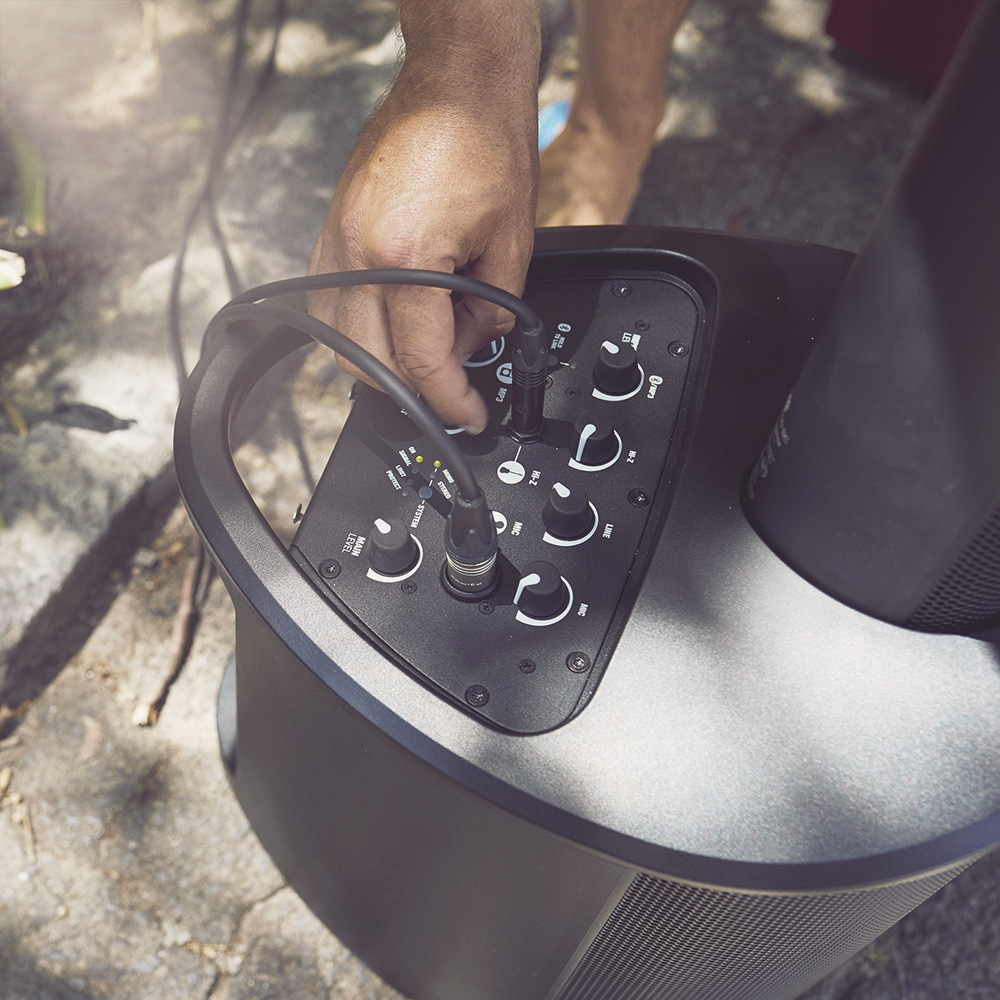 A variety of inputs allow the MAUI 5 GO to be used for just about any application users can dream up. "LD Systems covered all the bases with connectivity for the MAUI 5 GO," said Savvides. "With XLR inputs for microphones; Hi-Z inputs for electric and acoustic guitars; stereo line-level inputs for keyboards, electronic drums, external mixers, DJ mixers, and wireless mics; and a 3.5-millimeter jack for iPods, mobile devices, etc., there is an input for virtually anything you would want to plug in. In addition, there is a Bluetooth channel where you can pair your music playback device and wirelessly stream your music or backing tracks."
The MAUI 5 GO also features its own built-in, four-channel mixer, allowing the unit to provide tailored sound reinforcement for a variety inputs. "The four-channel mixer, with its myriad of inputs, provides a lot of flexibility for performers or anyone using the MAUI 5 GO," explained Savvides. "A typical single or duo setup might be an acoustic guitar in the Hi-Z input, with a mic in the XLR input and backing tracks coming in via Bluetooth from a mobile device, or via the line-level inputs. A DJ could plug a DJ mixer directly into the stereo line-level inputs, and use the mic input for announcements and the Bluetooth channel for background music when they are not performing. There are many ways that the four channels can be utilized, based on the application." In addition, the MAUI 5 GO boasts LD Systems' proprietary LECC DSP technology. "LECC is an acronym for Limiter-Equalizer-Compressor-Crossover," said Savvides. "This is a proprietary DSP circuit that utilizes a multi-band limiter and a three-way crossover that insures optimum performance and amazing audio quality, with no distortion, even at maximum volume levels."
Two MAUI 5 GO units can be combined to offer stereo coverage, and, for applications in which larger areas need to be covered, multiple units can be daisychained together. "When one MAUI 5 GO is simply not enough, it is very easy to add another, or as many more as you like, to your setup," explained Savvides. "Just connect the line-level input of your additional MAUI 5 GO to the XLR jack labeled 'System Output' of your master MAUI 5 GO, and you are all set for stereo or dual-mono operation. There is a 'Mono/Stereo' switch on the top-panel mixer that allows you to switch between the two. For larger events where you want to spread multiple MAUI 5 GOs over a wide area, you can daisychain as many as you need for a quasi-distributed-mono system that's perfect for block parties, corporate gatherings or any event without regular power outlets."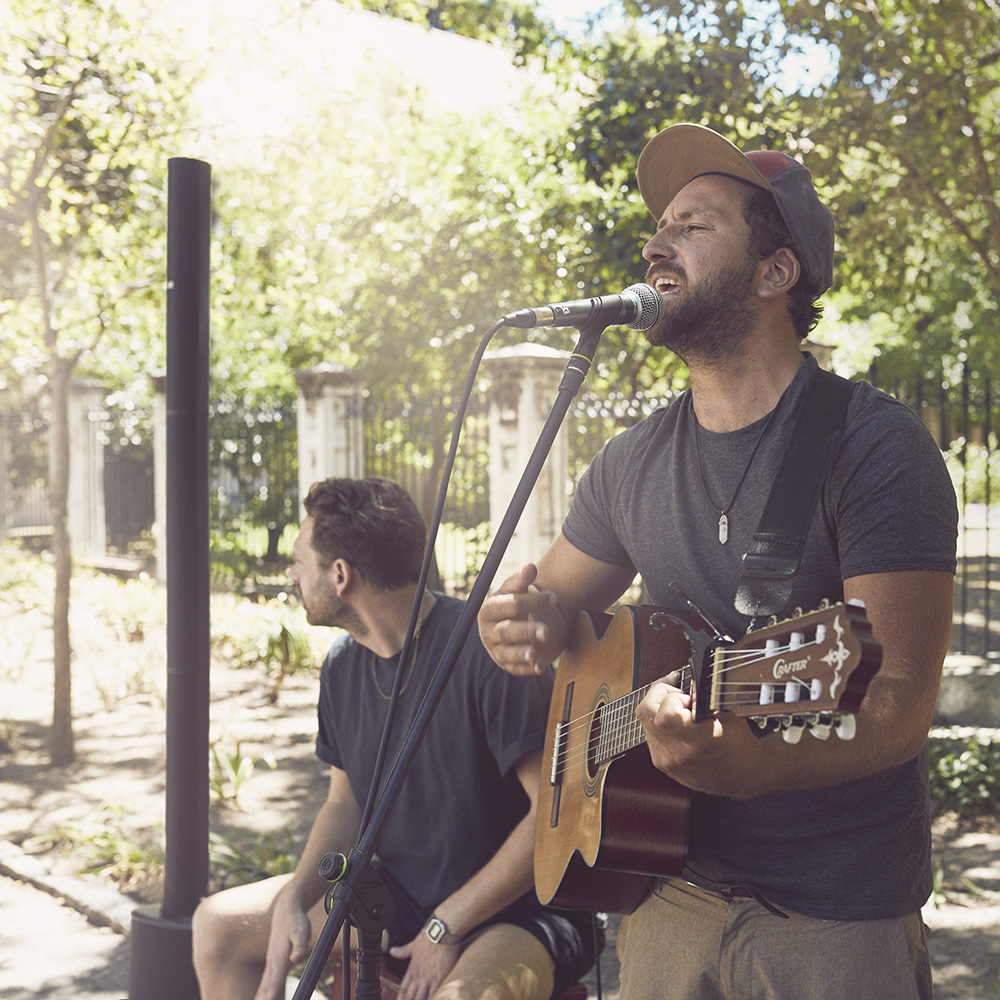 LD Systems and Musical Distributors Group have already prepared a variety of initiatives to spread the word about the MAUI 5 GO among dealers and end users. "LD Systems has a wide variety of marketing assets available for retailers to promote and introduce the MAUI 5 GO to its customers, including video content, graphics and a web portal dedicated exclusively to the MAUI 5 GO at maui5go.ldsystems.com," said Savvides. "We work directly with all LD Systems dealers on marketing initiatives that couple with each retailer's individual business. In addition, we have a series of ads in the pipeline that will inform our industry about the MAUI 5 GO, plus we are directly targeting organizations such as The Busking Project, which speaks to street performers, as just one example of our outreach to musicians looking for this sort of product."
The MAUI 5 GO will be released next month. It is available in black or white, and carries a street price of $899.99. Additional rechargeable batteries are sold separately. The non-battery version, the MAUI 5, is also available.