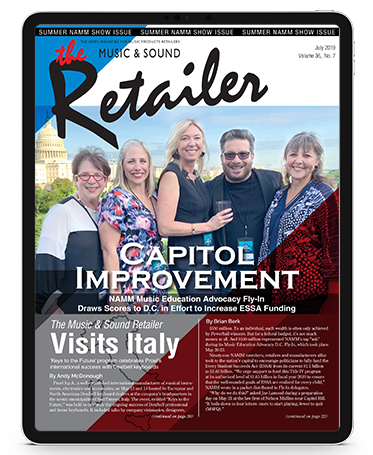 COVER STORIES
The NAMM Music Education Advocacy Fly-In drew scores to D.C. in an effort to increase ESSA funding.
'Keys to the Future' program celebrates Proel's international success with Dexibell keyboards.
FEATURES
Check out 19 products being featured at Summer NAMM this year.
There's a new kid in town. Debuting at Summer NAMM, Kepma Guitar Co. is the No. 1 brand of premium acoustic guitars in mainland China in terms of unit sales, selling more than 25,000 guitars per month, according to JD.com. It will now be available in the United States.
INTERVIEWS
Casio's Mike Martin has plenty to share about his 11 years with the company, including what Summer NAMM attendees will find at its booth.
Tom Sumner, president of Yamaha Corp. of America, always offers a tremendous amount of fantastic information in any interview he does. Did you know he could have been a songwriter though?
MISSION REPORT
MI Spy searches for pedals in western Massachusetts.
COLUMNS
In honor of our NAMM Advocacy Fly-In cover story, Kimberly Deverell offers her "Four Simple Steps to Get Started With Advocacy."
For MI retailers, there is perhaps nothing more important than customer service. Will Mason offers guidelines to live by.
Allen McBroom discusses Aristotle in his latest column? Yes, he does. Find out why.
The Candyman Strings & Things celebrates 50 years at a time when it is clearly at the top of its game. Learn all the details about the Santa Fe, N.M.-based store and its history, as well as how it reached its zenith from co-owner Rand Cook.
The Candyman Strings & Things isn't the only one enjoying an anniversary. Dan Vedda, owner of Skyline Music, has now been with the Music & Sound Retailer for 21 years. He talks about hope.
BUZZ