QSC may be the new kids on the block in the digital mixer category, but the company has been hangin' tough in the face of some stiff competition and, step by step, carving out a nice niche for itself. QSC's first foray into digital mixers, the TouchMix Series, has been making major waves ever since its debut at the NAMM Show just three years ago. And the company is confident that it will cement its place in the mixer market with the release of the latest TouchMix model, the TouchMix-30 Pro. As QSC's Vice President of Professional Product Development, Gerry Tschetter, put it, "Certainly, we're the new guys in the mixer category. Of course, I remember when we were the new guys in the powered loudspeaker category, and that worked out pretty well for us."
With an eye toward maximizing its digital mixer market share, QSC has designed the TouchMix Series to appeal to novice users, while also offering experienced users plenty of options to play around with. "We set out from the very beginning to put a tool in the hand that, whether you're an experienced sound-reinforcement professional or a novice, you'll be able to get terrific results," QSC's Senior Director of Marketing, Ray van Straten, said. "TouchMix delivers results for users at any level of experience, and that is a key differentiator for us. We set out to do that from the start, and all the feedback thus far indicates that it's resonating with our customers, both pro and novice."
The TouchMix-30 Pro is no exception to that general design philosophy. It offers all the signature TouchMix features that streamline and simplify the mixing process, along with several additional features intended to offer advanced users more control over the mix. "There's an expanded feature set on the TouchMix-30 Pro, with some of the features aimed at professional-level users and some of them aimed at the users that are going to just use it as a mixer," QSC's Senior Technical Sales Engineer, Jon Graves, said. "So, it bridges that gap pretty elegantly, we think, because it doesn't talk down or talk up to anybody."
The TouchMix-30 Pro also offers the highest channel count of any TouchMix model, with 32 total mixing channels (24 Mic/Line, six Line, plus Stereo USB) and the highest number of outputs, at 16. It also retains the TouchMix Series' innovative "touch and turn" interface, which features a main control dial that is used to fine-tune settings and a large touchscreen that offers users hands-on control of the mixing channels in addition to a wealth of onscreen information. And, like all TouchMix models, the TouchMix-30 Pro allows for remote control via tablets or smartphones running on either Android or iOS.
In addition to its distinct user interface, the TouchMix Series is known for its live instrument, microphone and audio source presets. The TouchMix-30 Pro packs more than 120 of those presets, each one designed by Graves and QSC's team of experienced audio engineers. QSC plans to release additional presets for even more instruments in future firmware updates.
"All of the presets were done in live settings, in live rooms, with live PA, open microphones and monitor systems running, as opposed to being done in a studio," van Straten explained. "We had Jon, a guy with 30-plus years of live sound experience, saying, 'When I go to a gig and I show up on a stage, if I see this instrumentation and if I see these microphones, then I have a list of steps I'll go through to set everything up.' And Jon and our team built those steps into the presets." Van Straten continued, "Jon was explaining that to some of our customers, who are Grammy-winning, top global touring band sound engineers, and their response was, 'Well, hey, that's exactly what I do, too, and that's on a button? You just saved me two minutes per channel!'" Graves added, "By the way, I've also had a couple of them say, 'What the hell are you doing, dude? This is how I make a living! This stuff is magic for us, and now you've given the secrets to people!' But I've also heard, 'I was at a gig and they threw me a curve, and man, those presets saved my butt.'"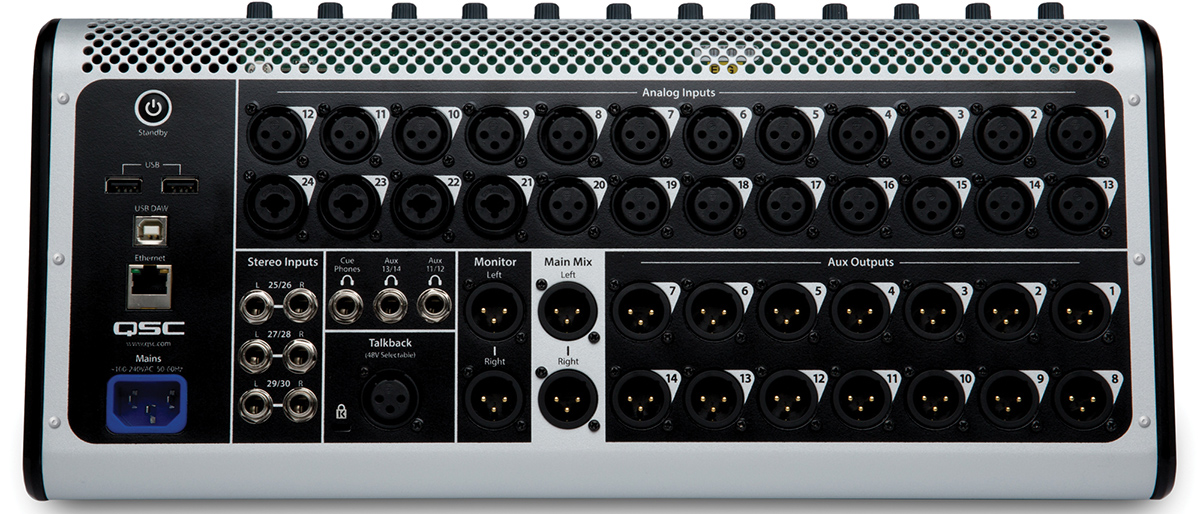 In addition to input presets, the TouchMix-30 Pro also features a number of presets for outputs, many of which are dedicated to optimizing interaction between the mixer and QSC's loudspeaker and amplifier offerings. "One of the things we try to do very consciously is make sure that our mixer has synergy with all of the QSC products," Graves said. "So, if you have a K Series speaker and select an output in the touchscreen display, the mixer shows you where you should set the knob on the K Series to make it work the best it can. Essentially, we're just helping people set the proper gain stage. If you have a GXD amplifier, the TouchMix-30 Pro will tell you where to set those settings. Or, if you have the new E Series, the EQs for the E Series are built into the output presets on the TouchMix-30 Pro."
A number of effects are also available on the TouchMix-30 Pro. According to Tschetter, "There are six different processing engines on the mixer, and any one of them can be one of two different types of reverbs, stereo or mono delay, chorus or pitch change." Graves added, "And there are some presets for each effect. So, for instance, there's a reverb effect that sounds like one of the big, famous reverbs, and it has a number of presets that are related to that brand of reverb. So, there are six processing engines, with six potential effects per engine, plus the presets for each effect. And there's also a Pitch Correct effect that can be assigned to any channel."
The TouchMix-30 Pro also offers a host of "Wizards," which help users through various aspects of mixer operation using a simple onscreen interface. For example, the FX Wizard helps users apply effects using the TouchMix-30 Pro's six processor engines, and offers suggestions as to which effects are appropriate for which instruments. "Say someone is setting up a live band, and they want to, for instance, put reverb on the kick drum," van Straten explained. "They can call up the FX Wizard and select Drums and Percussion, then select Kick Drum to see the effects they can apply. Now, because we have Jon as the product manager, and other really smart people who know from experience that no one should ever, ever put a hall reverb on a kick drum, that option is blacked out in the Wizard, because it's just not something that's typically done."
However, there is also the option to bypass the FX Wizard. "If an experienced sound engineer knows he's trying to make a special effect, he can still send the channel to the effect, and the mixer has all those provisions to make that possible," Graves said. "We didn't limit users, so if they know what they're doing, they can add whatever effects they want. But we figured, if you're using the Wizard, you should have someone helping you out, so we went to great lengths to test literally every preset that's available. So, the snare drum has a lot of different reverbs that you can pick, because snare drums have a lot of potential sounds. However, there are fewer effects for the mandolin, and you don't get to put, say, a large hall on the mandolin through the FX Wizard, because it wouldn't make sense."
"We also have a Gain Wizard, which shows you, if you're clipping during your performance, how many notches to turn down on your input gain," Tschetter said. "We also have in the FX Wizard a matrix that helps people get the right effect into the right person's monitor. I know how to do all that stuff the traditional way, but I'll still use the Wizards because they're just really fast."
Other Wizards available on the TouchMix-30 Pro include the Room Tuning Wizard, which helps users set speaker equalization for the room, and an Anti-Feedback Wizard, which helps users eliminate feedback from the mix. "When we were looking at features for the TouchMix-30 Pro, I did a lot of research, and the market did seem to want an Anti-Feedback Wizard and a Room Tuning Wizard that did those things for the user," Graves said. "Speaking as a front of house guy, we can get pretty arrogant and think, 'Dude, if you can't EQ a room and you can't figure out how to get rid of the feedback, you need to back away from the mixer.' But, that's not how the real world works." Indeed, many venues that tend to rely on sound engineers who are less experienced, such as houses of worship and schools, should find those user-friendly features indispensable.
Two real-time analyzers are available on the TouchMix-30 Pro. "One of them is tied to the channel equalizer, whether it's an input or output channel. So, while you're doing the equalizer, you can be looking in real time at the energy distribution of the signal that you're working with," Tschetter explained. "The second real-time analyzer is sort of standalone, and gives you the ability to select what its source is. The source can be any of the outputs, or it can be the cue, so whatever you've cued up on the cue bus will be displayed on the real-time analyzer. Or it can display the signal from the talkback microphone input, so you can see the acoustic tonal balance in the room."
The TouchMix-30 Pro also offers the option to record multi-track audio direct to an external USB hard drive in a 44.1-kilohertz or 48-kilohertz WAV format, without the need for a computer. It also allows for 32 channels of DAW interface with Apple computers for bidirectional I/O with workstation software, such as Cubase and Pro Tools. "You just plug one end of a USB cable into the TouchMix, the other end into your computer, the computer recognizes the TouchMix, and now you have a high-quality, 32-channel I/O to your DAW," van Straten explained. "You can record into the computer, and you can play back from the computer, live or in the studio, with super-high-quality, studio-grade preamps."
The TouchMix-30 Pro, which is available now, has an MSRP of $2,359.99. For more information, or to view a series of tutorial videos on the TouchMix-30 Pro's features, visit qsc.com/touchmix-30-pro.