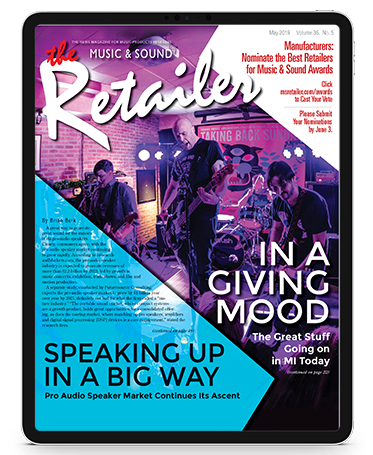 COVER STORIES
We feature 10 companies doing great things for both charity and their communities.
Pro audio speaker market continues its ascent.
FEATURES
AMI Musical Instruments LLC is celebrating its 35th anniversary this year, carrying a rich history. Since 1984, the company, founded by German luthier Günther Lutz, has offered quality fretted instruments worldwide.
Graph Tech's Ratio Tune-a-lele, Ratio Bass and Ratio Guitar solve problems musicians perhaps don't even know they have.
INTERVIEWS
Andy Rossi, senior vice president of sales and marketing, Korg USA, talked to us for much longer than five minutes to discuss his storied career, why he joined Korg USA, the state of the MI industry and more over four pages worth of material.
Mitchell Nollman, vice president, global sales and marketing,  C.F. Martin & Co., has two great loves: music and cooking.
MISSION REPORT
Charlotte, N.C., is certainly known as a financial hub, with Bank of America, LendingTree and Wyndham Capital some of the household names that call North Carolina's "Queen City" home. MI Spy finds out the music scene can match Charlotte's financial wherewithal.
COLUMNS
Danny Shatzkes returns with part two of his discussion on the topic of health, safety and wellness as it relates to music.
Handling returns has always been a component of retail. How you handle this process can make a significant difference for customers.
In honor of our "In a Giving Mood" cover story, Robin Sassi, owner of San Diego Music Studio, pinch-hits for Kimberly Deverell this month and describes a topic near and dear to her heart.
It may take some time to create a solid Facebook video, but there are huge opportunities for re-purposing content across multiple platforms in a variety of ways, and you should be embracing all of them, states Gabriel O'Brien.
Long- and medium-term planning are still important. The time is here to review your plans you've laid out for the year now, to ensure you are still on track.
Red Dragon Guitars keeps roaring, being named one of NAMM's Top 100 Dealers for three years running. Learn the story behind its success.
Dan Vedda describes how to navigate choppy waters during the "Amazon era."
BUZZ