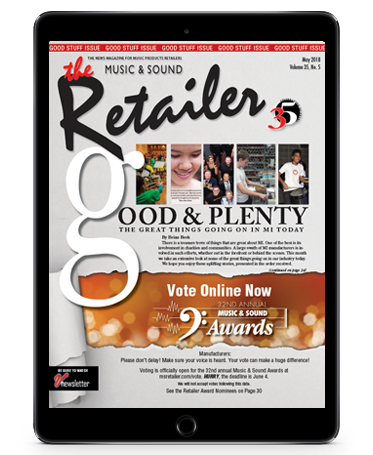 COVER STORIES
Good and Plenty: The Great Things Going on in MI Today
Tons of manufacturers are making huge efforts to support charities and local communities. We take a look at some of these special efforts.
And the Retailer Nominees Are…
For the first time, the Music & Sound Retailer will hand out its Music & Sound awards to retailers at Summer NAMM in Nashville. Here's a complete list of the nominees.
INTERVIEW
Five Minutes With
We spend some time with Jamie Mann, who recalls his 10 years at the company, big 2018 product launches and looks forward to the company's Experience PRS event.
MISSION REPORT
MI Spy
The Iowa-Illinois Quad Cities region may be overlooked by some, but not any longer. MI Spy traveled to the region rich with MI stores.
COLUMNS
Shine a Light
In a slight twist to the usual column, the Retailer presents a Q&A with Music & Arts president Steve Zapf, who provides information about the retailer's explosive growth.
Retailer Rebel
Gabriel O'Brien recounts the many lessons imparted upon him by his mentor, Jerry Lambert, the king of
customer service and dealer relationships.
In the Trenches
Allen McBroom discusses some of the many fees MI retailers must accept and offers advice on
how to add some money to the bottom line.
Not Your Average Column
Tim Spicer explains when it comes to your store — as well as any retail location — first impressions are everything.
Veddatorial
It's uncertain if a "trade war" will actually come to fruition, but if it does, Dan Vedda opines that it is bad for MI.
Retailing Better
We are in a fun industry. Let your passion shine through and have fun, explains Robert Christie.
The Final Note
We go 20 questions (actually 21) with Terry Platt, CEO of Crush Drums. Find out why A.I. could change MI soon, why snorkeling in Florida is the best and learn about the secret power of karaoke.