KRK Systems, part of the Gibson family of brands and designer and engineer of products that enable musicians to take music creation into their own hands since the 1980s, introduced ROKIT G4, its fourth generation of studio monitors.
The ROKIT G4 product range, which includes five-, seven-, eight- and 10-inch models, incorporates many of the advanced features of KRK's professional-grade V Series 4 monitors. The new G4s are a solution for turning project studios into professional music-creation environments through an onboard DSP-driven Graphic EQ with 25 settings to help condition any acoustic environment, stated KRK. ROKIT G4 monitors are designed and engineered with advanced drivers made with Kevlar, efficient Class-D power amplifiers and a front-firing port, which collectively extend accurate and tight bass reproduction and improve audio integrity while minimizing listening fatigue.
The KRK ROKIT G4 Studio Monitors feature a systematically designed low-resonance enclosure for minimal distortion and colorization, and a high-density ISO foam pad that decouples the speaker from the surface, which minimizes vibration transmission for improved clarity. The bi-amp G4 range includes RP5 (five-inch), RP7 (seven-inch) and RP8 (eight-inch) models for excellent near-field monitoring. An additional tri-amp RP10-3 (10-inch) version incorporates a 4.5-inch mid-range woofer and one-inch tweeter for mid-field monitoring. The RP10-3 can also be arranged in horizontal mode by allowing the user to rotate the mid-range woofer and tweeter by 90 degrees for more precise listening accuracy and versatility. All G4 models feature a built-in brick-wall limiter, which automatically engages at maximum amp level to maintain a balanced sound, protect the system, and offer better and wider dynamics.
"In our opinion, the creation and playback of music has changed dramatically in just the last five years. Synths are fatter, guitar tones are more present, air-EQs on vocals are more open, etc.," Jimmy R. Landry, global director of marketing, pro audio division, Gibson Brands Inc., told the Music & Sound Retailer.
"We also believe that, with quick and easy access to exceptional educational websites, tutorials, and videos for production, mixing and mastering, a greater number of skilled music creators are becoming prevalent. With that sentiment in mind, we wanted to create the next generation of ROKITs from scratch, in order to provide the most cutting-edge solution possible. Borrowing technological concepts and advancements from our development of the critically acclaimed V Series 4 (with users like Ben Grosse, Steve Marcantonio, John Fields, FKi 1st, just to name a few), we created the newest ROKIT line.
"This latest ROKIT series of professional studio monitors provides exceptional performance that stands out from others in its price class. KRK ROKITs have always been at the forefront of pioneering the DIY recording revolution, but now the company has created something that really gives music creators an edge," continued Landry. "With built-in DSP-driven EQ and the KRK Audio Tools App, which helps users acclimate their EQ in any environment, mixing and mastering in a project studio has never been more accurate."
In addition to the latest ROKIT's features, retailers can take solace in KRK's long history of producing ROKIT products. "KRK has several generations of ROKIT history to draw on, so we take those experiences, along with decades of customer feedback, to find improvements for the world's already greatest-selling studio monitor. Unlike some other manufacturers, KRK Systems is fortunate to have a multidisciplinary research and development team, based in Nashville, that uses the latest simulation, design and analysis tools to develop its monitor solutions. Our team combines research, data and scientific methodologies to determine the best interface, acoustical, mechanical and electrical improvements that can be made. Once the enhancements are decided upon, the R&D team incorporates 3D printers, Klippel acoustic-analysis systems and the latest electronics-development software to develop every piece of the speaker system," noted Landry.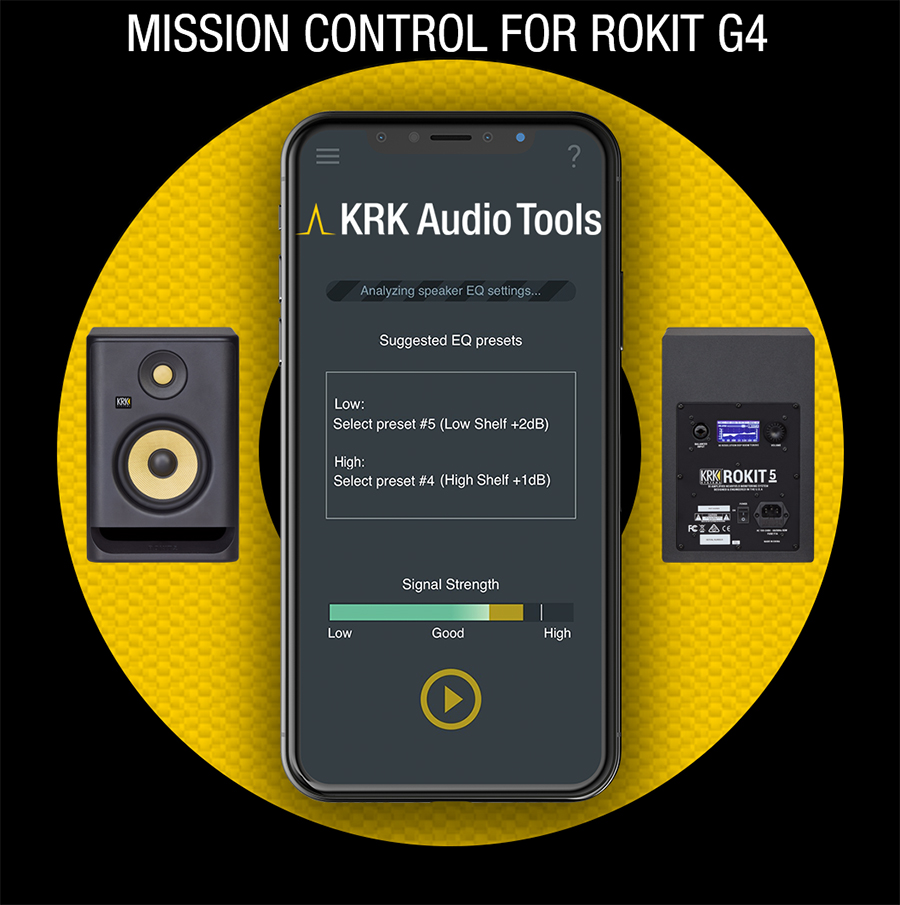 KRK Audio Tools App
In addition to the EQ Recommendation tool, the accompanying KRK Audio Tools App includes a Spectrum Real Time Analyzer (RTA), Level Meter, Delay and Polarity Analyzers, as well as a Monitor Align tool that helps users set their monitor positioning more accurately to their listening area. Within the app is a sound generator giving the user sound-analysis options of sine, continuous sine sweep, white noise and pink noise, all of which can help the analysis process in different conditions.
"Simply put, the KRK Audio Tools App is a workhorse whether you own KRK monitors or not," stated Landry. "We wanted to make something truly useful, with no frills. Five of the tools work with any monitor setup, and one is specifically tailored to the ROKIT G4s to help manually set the DSP-driven EQ on the back of the monitors and acclimate them to any environment. To achieve this, pink noise is dispersed through the user's system and room, and the app subsequently provides feedback as to which EQ settings best fit the environment. These features improve the music-making experience for the consumer and, quite frankly, there's nothing else on the market like it."
Added Landry, "Among the app's functions is the Monitor Align tool, which helps users get a perfect 30-degree equilateral triangle of audio by simply placing their smart device on the top of each monitor and tilting them inward one at a time. A built-in Spectrum Real Time Analyzer, Level Meter in dB, Delay Meter, Polarity Checker and the above-mentioned EQ Recommendation tool have game-changing qualities both individually and cohesively. This very useful app is also free, which makes it great for music creators on any budget."
Feedback for both the ROKIT G4 and Audio Tools App has been "overwhelmingly positive across the board," said Landry. "We take our customer feedback seriously and love to receive the daily messages from users who tell us they have been going back to old mixes (produced on previous monitors) and fixing them because they can now identify problems they could not hear before. We have also been receiving a lot of positive comments about the low-end extension and how it seems more 'accurate' and 'defined' compared to previous generations of ROKIT monitors."
Regarding MI retailer feedback, "We have received incredible feedback from sales reps on how 'solid' they sound in their price class when A/B'ed to other monitors (including the ROKIT G3). Dealers have specifically noticed a big improvement in the accuracy of the low-end extension, along with the openness of the new tweeter and waveguide design. The KRK Audio Tools App, and its added benefits for the monitors, has been a big story within retail stores as well. Many sales reps are even purchasing these for use in their own studios around the world," concluded Landry.
The ROKIT G4s come standard in black and are available in limited-edition White Noise variations. MSRPs are as follows: ROKIT RP5 G4: $179; ROKIT RP7 G4: $239; ROKIT RP8 G4: $299; ROKIT RP10-3 G4: $499.