Students can learn to play without any music theory experience thanks to a bundle including a book written by Korg EDU's Tiffany Stalker and Guitars in the Classroom executive Jessica Anne Baron.
The package also includes The Aquila KIDS strings, as well as a new Tanglewood ukulele, a gig bag and a Korg tuner. The book includes a "Play by Color" tutorial, helping to visualize finger placement on the color-coded strings to create chords. The Smart Start method also introduces students to a more modernized way of tuning their ukuleles; shying away from the traditional method by making a mundane aspect of learning an instrument fun.
"Once in a while, we collaborate with forward thinking partners who seek to expand markets and open up music to a whole new generation, and that's what we believe Korg USA are doing through the 'Learn to Play Ukulele' education bundle," said Tony Flatt, CEO of Tanglewood Guitars. "Providing first timers with a quality instrument, a groundbreaking tutorial and associated accessories to make their musical journey as satisfying as possible is wonderful to be a part of."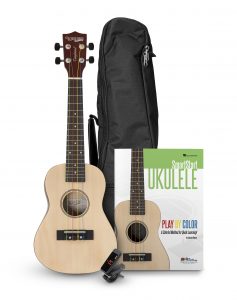 In addition to providing schools this unique package, every bundle sold will donate a portion to Guitars in the Classroom, a non-profit organization that trains classroom teachers to incorporate music into all curriculum subjects.
"This special method supports total beginners to learn in a way that feels natural and easy," said Baron. "We've seen everyone from preschoolers through veteran classroom teachers who've never taken a music lesson succeed at learning to play the 'uke' with the SmartStart method. The proceeds from each book sold are donated to create free music programs in schools across the country, bettering the lives and futures of students everywhere."
"Working alongside so many teachers who long to incorporate music into their lesson plans but work on a tight budget inspired me to coordinate this dream team to create this ukulele bundle," added Stalker. "Providing a cost effective and simple package that can teach a student to master an instrument has been a truly rewarding moment for Korg EDU and I'm grateful to Tanglewood, Aquila and Guitars in the Classroom for making it happen."