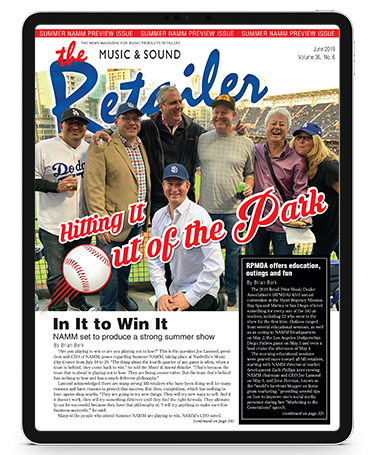 COVER STORIES
The RPMDA Annual Convention offered education, outings and fun.
NAMM is set to produce a strong summer show in Nashville next month.
FEATURES
The hottest show of the spring had to be HBO's "Game of Thrones." We take a look at Fender's Game of Thrones Sigil Collection.
INTERVIEWS
Gator Cases CEO Crystal Morris offers plenty about the company, advocacy efforts and being one of the founding members of Smart Women in Music.
When not at Celestion, Ken Weller, head of marketing, loves watching motorsports, whether it's Formula 1 or Banger Racing, at the local oval track.
MISSION REPORT
MI Spy searches for pedals in western Massachusetts.
COLUMNS
Danny Shatzkes concludes his trilogy of articles exploring health and safety in MI.
Donovan Bankhead returns for part four of his "Keeping Your Pipeline Moving" series.
Need to host a promotional event? Tim Spicer has all the answers you need.
Allen McBroom handles a similar theme of planning a store event.
Summer can be a tough time for sales at MI stores. Gabriel O'Brien offers some tips to keep the register ringing.
Rick Thacker founded Plum Grove Music to be one of the industry's premier destinations for stringed and band and orchestral instrument rentals, lessons and repairs.
An explosion of house brands and boutique or distributor lines of combo products means it's not unusual to walk into a store that carries unfamiliar brands. These are often more profi table, less plagued by counterfeits, and generally offer equal or better value than similarly priced name brand goods.
BUZZ