Last year, we posed the question of whether 2018 guitar sales enjoyed one of the best years ever. We declared that the answer to this question was a resounding "yes," when overall guitar sales increased by 5.3 percent compared to 2017. 2019 guitar sales were also quite strong, holding their own compared to 2018, and then some. Last year saw another strong year, showing the strength and resiliency guitars have. Overall, guitar sales rose 5.1 percent during 2019 vs. 2018. "Guitar sales continued to surge last year. Electric guitars gained 4.7 percent and acoustic guitar sales increased 5.5 percent vs. 2018," said Jim Hirschberg, president of MI SalesTrak.
Thanks to MI SalesTrak, we also got some preliminary guitar data for January 2020. We should note that the coronavirus had not hit the United States hard yet in January, so data for February and March would likely be dramatically different. But for January, in terms of acoustic guitar color unit-share trends, natural remained the star, comprising nearly 78 percent of all sales, followed by sunburst and black in a distant second and third, respectively, according to MI SalesTrak. Looking at acoustic price-point trends, unit share, more than two of every five guitars sold costs $200 or less. Guitars in the $200-$499.99 range made up nearly one-third of acoustic guitar sales, and approximately one of every seven acoustic guitars sold fell in the $500-$999.99 range, revealed MI SalesTrak. Approximately one in eight acoustic guitars (12.6 percent) sold for $1,000 or more.
Switching gears to electric guitars, the color trend, unit share, was a much closer "battle." Sunburst was the No. 1-selling guitar during January in this category, followed closely by black. Red and blue placed a distant third and fourth, respectively.
In terms of electric guitar price-point trends, unit share, the cheapest guitars were not No. 1 on the sales list in January. In fact, under-$200 guitars placed third behind $200-$499.99 guitars and $500-$999.99. Nearly one-quarter (23.1 percent) of electric guitars sold for $1,000 or more during January.
As can be seen in the charts appearing in this article, all of the aforementioned data is available for 2019 as well. Much of the January 2020 data reflects what happened in all of 2019. However, one noticeable difference was December 2019, when more than half (50.2 percent) of all acoustic guitars sold were in the under-$200 price point, perhaps reflecting holiday purchasing during that period. During that month, these guitars were sold at the expense of acoustic guitars selling for $2,000 or more during December 2019.
Electric guitars also saw sales in the under-$200 category rise during December 2019, accounting for a tick more than 29 percent of all electric guitar sales. However, sales in the under-$200 category still placed second to those in the $200-$499.99 range during that month. During this holiday month, mid-level-priced guitars were also sold at the expense of those selling for $2,000 or more.
To get a perspective on 2019 guitar sales and a look into the future, including how the coronavirus virus may affect the guitar industry, we enlisted the help of some special guests: Scott Miller, communications and marketing specialist, Hoshino USA; Justin Norvell, executive vice president, Fender Products, Fender Musical Instruments Corp.; Jim Cullen, director of sales, PRS; Monte Montefusco, vice president of sales, Taylor Guitars; Ryan Kershaw, vice president, product development and artist relations, D'Angelico; and Yoh Watanabe, director of marketing, Guitars, Yamaha Corp. of America.
Let's start with the aforementioned 2019 good news. We asked our panelists if they agreed with the MI SalesTrak's statement that 2019 was an excellent year for guitar sales.
"[I] 100-percent agree," responded Miller. "Without going into excessive detail, our 2019 was very strong and was very much in line with the rest of the industry. Our sales growth stems mainly from two things, a steady flow of new products, and maintaining a wide range of instruments that appeal to a diverse group of players."
"Guitar sales have been solid for us, yes," noted Norvell. "We equate our success to a combination of compelling new product, compelling marketing and artist engagement."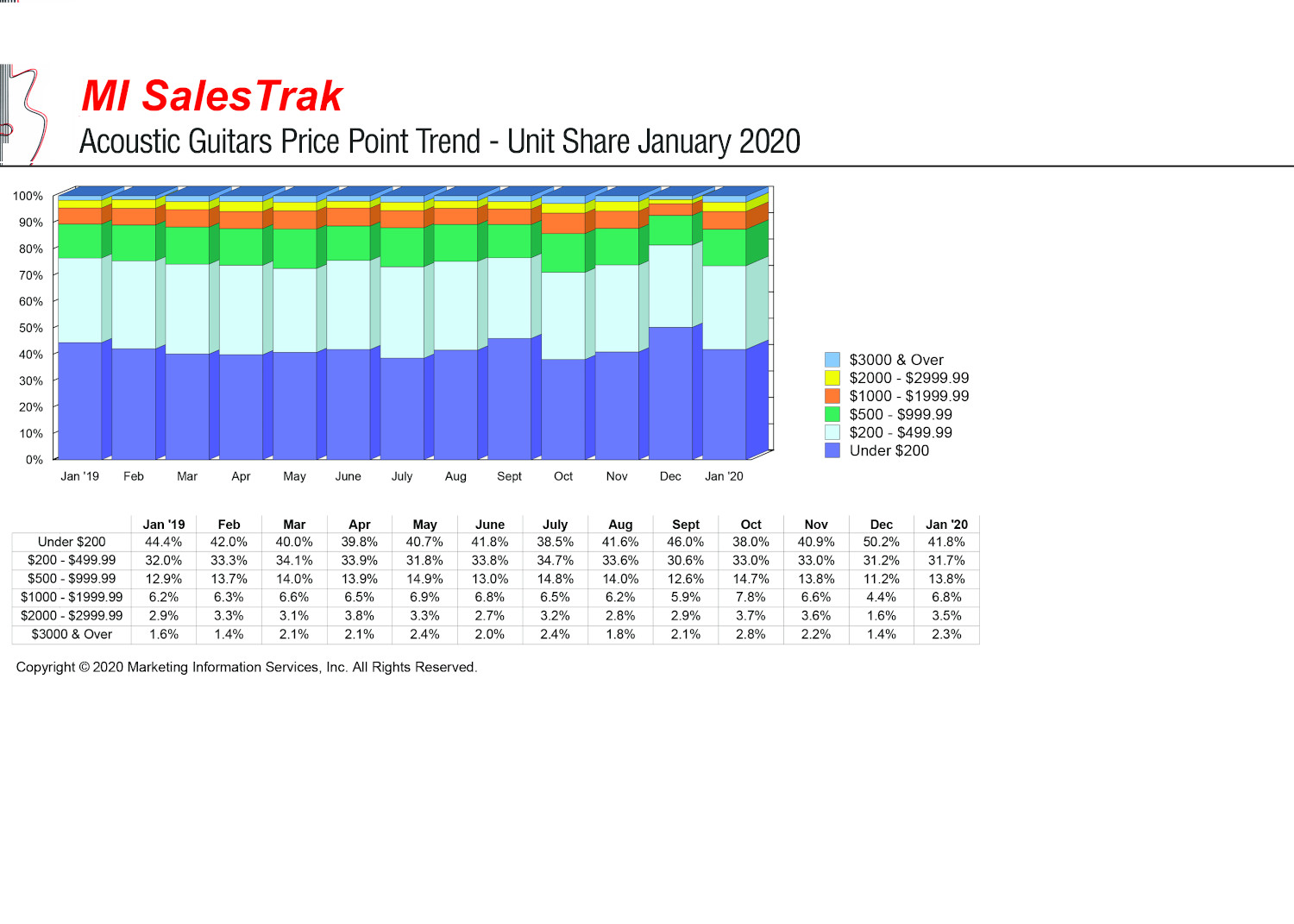 "Over the last three years, PRS has grown [sales] nearly 60 percent. We were up 15 percent in 2019, so yes I would agree with that statement," said Cullen. "All categories were up for us, so it is not any one thing. We have a strong, seasoned and passionate product-development team, and are focused on innovating and moving forward while learning from the past. I've been here 23 years and our current product lineup is the best it's ever been. We're also making the best guitars of our career right now. I say that because the feedback from our dealers, artists and customers is very positive. We have also always had a strong focus on relationships. Whether with our dealers, distributors, vendors, artists, media partners or players, we strive to operate with integrity, and I think that goes a long way in this business."
"Absolutely! In 2019, Taylor experienced another year of record sales," said Montefusco. "Master guitar designer Andy Powers further showcased the versatility of his V-Class bracing design with the introduction of our new Grand Pacific models. Players across the world enthusiastically responded to these award-winning guitars. We've worked hard to craft instruments that inspire players to visit their local music store. We're extremely proud of our current guitar lineup."
"We've seen steadily increasing sales for several years now. Industry-wide, the younger demographic is growing, and we are in a very exciting boom of new female players, as well. Sales in our Premier Series have steadily grown year to year as these younger players move into their first or second serious instrument and recognize the intersection of quality and accessible pricing offered on the instruments in that part of our line," said Kershaw.
"I agree, since the MI SalesTrak data and the Yamaha sales data indicate that this is the case," said Watanabe. "At different points during the year, we've had solid growth up and down our portfolio, especially when it comes to uniquely Yamaha guitars, such as TransAcoustic and SILENT Guitars."
Of course, COVID-19 has changed the world as we know it. Not only is it a major health problem, but on an economic basis, it caused the stock market's bull market run to end, with many also saying a U.S. recession began in March. Hence, sales of musical instruments — as well as sales of everything else other than household cleaning products and hand sanitizer — are sure to be dramatically affected. However, before the virus really took hold, we asked our panelists if electric, acoustic or acoustic/electric guitars are selling best overall, and which of their products have recently rung the most registers.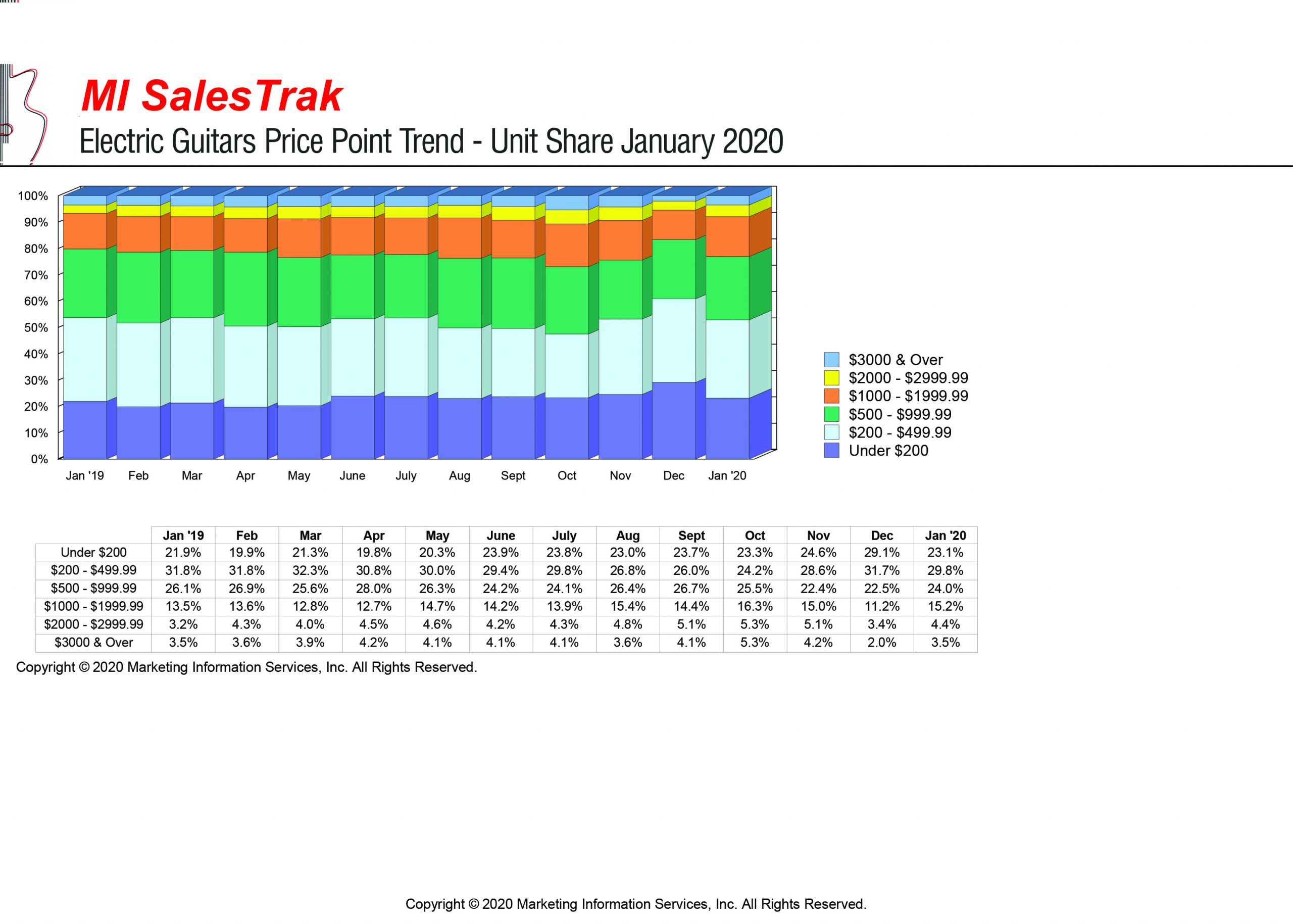 "Yamaha acoustic-electric guitars are showing the most growth because we offer a wide range of instruments that incorporate unique technologies that enable guitarists to produce sounds they wouldn't otherwise be able to create," answered Watanabe. "[Two] of our hottest-selling guitars at the moment are our APX600 and CPX600 models. They are great-looking instruments that come in a range of standout colors and finishes. I have to believe that the way these guitars look is contributing to their popularity. SILENT Guitars also are hot sellers for us. They are so beloved because of their striking cool look, and they provide the practical benefit of playing an acoustic guitar through a PA without the drawbacks of a standard acoustic-electric."
"Throughout 2019 and 2020, we've seen line-wide growth, which is very exciting for us, as it illustrates brand health. We were able to begin a complete revamping of our product line starting in 2017, and as consumers get to know our newest products and they permeate the market, we're reaching new highs of interest and sell-through," said Kershaw. "Whereas we used to see spikes in certain pockets of our product line, we're now seeing steady growth across the board. I think this speaks to the betterment of the entire line and in the diversity of players shopping for D'Angelico instruments.
"This year, we released some special models that we'd been working on for quite some time, and we're thrilled that the response has been tremendously positive," added Kershaw. "The new limited-edition Deluxe Bedford SH, our first thin-line solid body and three-pickup model, is almost completely sold out, and many of the other limited-edition instruments in that line are in a similar position. But the SH is just undeniably unique — it has the articulation and crispness of a threesingle- coil guitar, but with an element of organic acoustic tone and gumption that can only come from its particular pickup combination and thin-line design. Our new Mini DC semi-hollow and the Throwback Collection archtops are also selling extremely well, which we're very excited about."
"Acoustic-electric guitars are leading the way for us. Bob Taylor built our foundation by designing an acoustic instrument that played like an electric guitar. Players took them on stage and made Taylor Guitars a household name. That performance-ready tradition continues today with the majority of our guitars leaving the factory with built-in electronics," said Montefusco. "Our USA models are selling very well. Andy Powers has refreshed the architecture of our entire USA lineup over the past two years. The guitars all offer enhanced sustain and volume, Justin Norvell, Fender along with improved intonation. Both casual and serious players took notice and have expanded their guitar collections."
"Both electric and acoustic guitars are growing for us. We have been in the electric category much longer and that is the majority of what we do, but our acoustic offering is very robust at this point too, and it has been gaining a lot of traction in recent years. We continually focus on being better today than we were the day before," said Cullen. "We're never satisfied with 'good enough,' and we continue to push ourselves and learn every day. I think that translates to our guitars, and people realize it when they pick up a PRS product. We are dream-weavers, and the art we create connects people with more art.
"The Custom 24 is our flagship guitar model that is consistently a best seller," continued Cullen. "The 35th-anniversary version is very popular right now. The McCarty family is also extremely popular. We put a lot of energy into refreshing the Mc- Carty model last year. We updated the pickups, tuning pegs, finish, bridge … everything we have learned is in that guitar. They are amazing guitars: Golden Era vibe with modern-day, dare I say, PRS playability. We also brought the McCarty 594 platform into the S2 Series, and that has had an incredible reception. A lot of guitar for the price. The SE Hollowbody is another recent addition. Previously, you could get a PRS Hollowbody through our Core line, which may be cost-prohibitive for some. Adding this model to the SE line offers a great, versatile piece at a more popular price point. And, of course, the Silver Sky continues to impress; a truly unique PRS.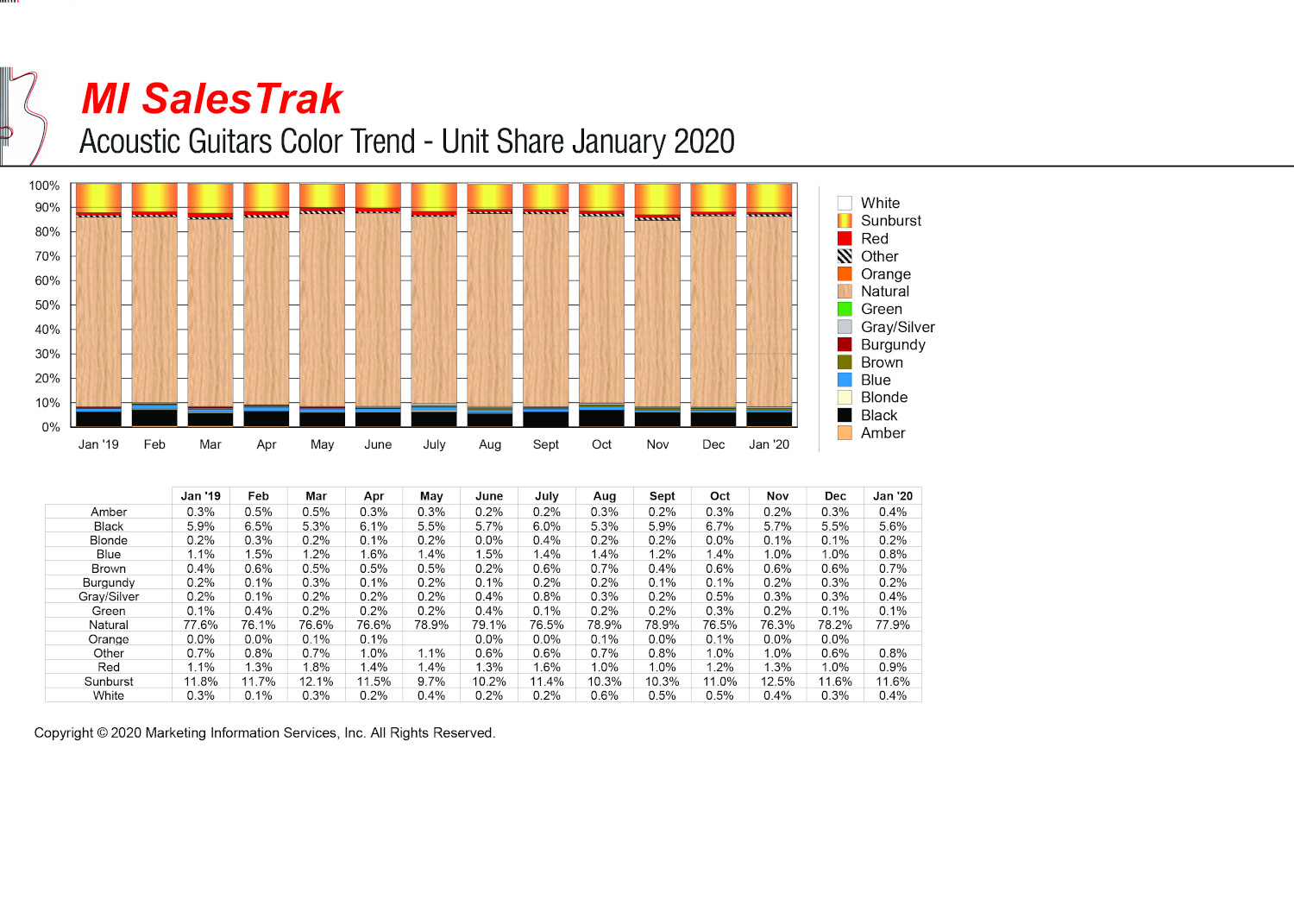 "We're performing well in all three of those categories," answered Norvell. "The American Acoustasonic Telecaster — and now the Stratocaster — really opened doors for us in the acoustic/electric category, and the Ultra Series has performed well on the electric side. We work hard to cover all bases, from the vintage-leaning player to the hypermodern guitarist. On the vintage side, we've added some models to our American Original Series, including reintroducing real CuNiFe-equipped wide-range pickups that haven't been available since the `70s. On the modern side, we've got the American Ultra and American Acoustasonic Series, and on the esoteric side, we've done a new run of "Parallel Universe" mash-up designs, and our new Fullerton Ukes. There's truly something for everyone!"
"Electrics for sure. It's our largest product category, and the swing zone for Ibanez as a brand," relayed Miller. "We've also had several product releases in recent years that have been very well received and contributed greatly to our positive sales numbers. The AZ line has been absolutely crushing it. They've been a hit since they were released in 2018, and each successive year we've continued to expand the lineup, including a total revamp of the Premium and Prestige ranges this year. On the more modern side of our offerings, we continue to get good traction out of our Premium and Axion Label series. Both offer features like figured top woods, specialized electronics packages, and overall, they're just really cool-looking guitars."
What a Difference a Month Makes
Fortunately for all of MI, The NAMM Show went off without a hitch this year, unlike many other trade shows. We got our panelists' takes on the show and if they were pleased overall.
"NAMM was excellent! We had great traffic through the booth almost constantly. I don't think there was a minute I didn't see someone taking pictures with instruments, jamming at one of our demo stations, or a YouTube channel coming through asking about the new gear. We also celebrated the release of Steve Vai's new PIA signature model with a concert at the Anaheim House of Blues. The show was packed and Steve had a number of guests perform with him. It was quite an experience and a great night," Miller stated enthusiastically. "But most importantly, we had great productivity where it counts most: sales. There were dealers in our meeting rooms most of the time, and they were really digging the new products. Long and short of it is, we put in great numbers at NAMM, far ahead of 2019, and we're in position to have a really productive year because of it."
"I believe the strength of our work and quality of our product has put PRS in the best position we have ever been in as far as market acceptance goes," noted Cullen. "Don't get me wrong, we have always been 'accepted,' but we are now a much larger and more important piece of the musical ethos. Sort of like a band only a few knew about that all of a sudden breaks out. We're in the golden era in our business right now. The energy at the show was the most positive I've ever felt, and I've been to more than 20 Winter NAMM shows in my time here. With that in mind, my bet is if you speak to anyone from PRS that had the pleasure of attending the show, we all shared a unanimously positive experience. Our footprint was twice the size of previous years, the aesthetic design was modeled after our new store-within-a-store [SWAS] merchandising packages that director of marketing Judy Schaefer and I have been working on for the past 14-plus months. The booth was packed the entire time, and people seemed genuinely happy with who and what we are."
"The NAMM Show is the place to showcase your brand and new products to dealers, distributors and customers. The show's reach extends far and wide on a global scale to the music market as a whole," said Norvell. "It's one of the key tentpole events that our brand works toward, and we use it as a platform to launch some of our most innovative products, including the new American Acoustasonic Stratocaster. We felt excitement was at an all-time high. You could really feel the tailwind and energy driven by the industry growth!"
The NAMM Show is an early indicator of annual sales results. Traditionally, when dealers are happy at NAMM, the industry has a good year. We kicked off the show with our largest custom guitar event ever. Dealer sentiment could not have been better. More hugs than handshakes and smiles everywhere! 2019 was kind to the guitar business. Every major manufacturer contributed to driving guitar sales for dealers," responded Montefusco.
We followed that up by asking about each panelists' biggest guitar launches at The NAMM Show.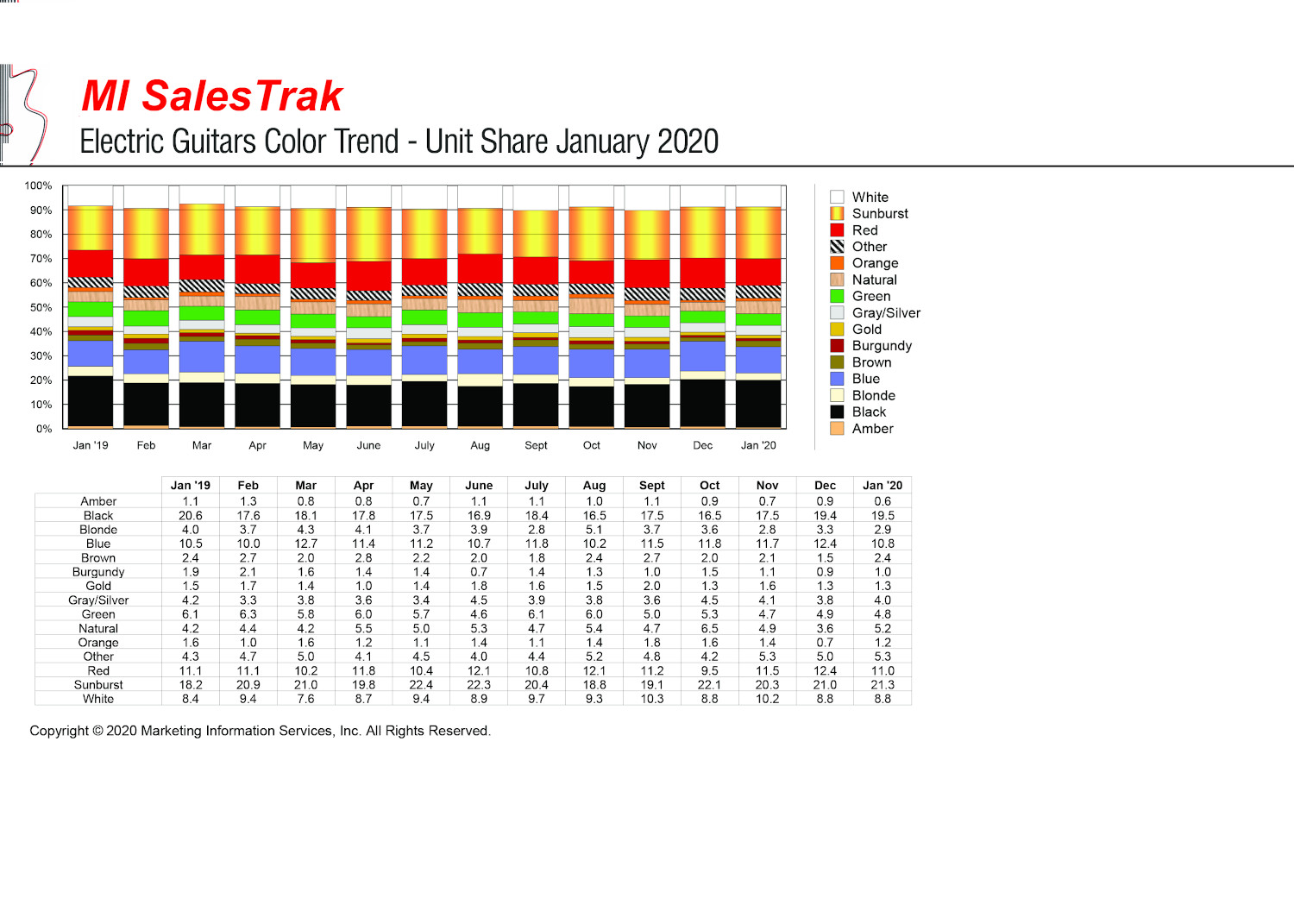 "We've recently released some of our most innovative products, such as the Acoustasonic Stratocaster and American Ultra Series, in addition to Parallel Universe, Fullerton Ukes, and all-new artist models the George Harrison 'Rocky' Stratocaster, Tom Morello Stratocaster and Jim Root Jazzmaster," responded Norvell.
"We launched the S2 McCarty 594 Series, Silver Sky with a maple fretboard option, and relaunched our 35th Anniversary Custom 24s in SE/S2/ CORE, SE Hollowbody models, Dustie Waring Signature CE with a Floyd Rose bridge, and SE Starla and SE Mira," Cullen said. "The most sought-after models at the show were probably the Private Stock 35th Anniversary Dragon (135 pieces) and Silver Sky 'Nebula' Limited Editions (500 pieces). Stirred up plenty of conversation and positive comments and commitments to the brand. I can't thank out retailers, customers, Artists, and employees enough."
"We had a slew of new products when we hit the show floor this year, but there were absolutely some standouts and crowd favorites," answered Miller. "It kind of goes without saying, but this year the PIA was the star of the show for us. Our plan going in was to say nothing and do a surprise release at NAMM, but that got blown up when some catalog images of the guitar leaked out early. In retrospect, I think it may have actually been a good thing. Since we didn't do any conventional press, having the leak and some pre-NAMM chatter seemed to really help build interest. The online back and forth between those who liked the design and those who, let's say, were still warming up to it, really brought a lot of people to the booth early to see what the guitar looked like up close. After seeing it, people were hooked. The detail in the PIA really needs to be appreciated in person; there's a lot of nuance in the design.
"On the guitar side, we also released a new batch of RG Premiums and the new High Performance series, which had a lot of positive comments, especially from dealers, since the High Performance line offers a lot of guitar for well under $1,000," Miller continued. "Another favorite from the show was the EHB series. We thought theses basses would generate interest, but even we were surprised how many people really loved them. The design seemed [to resonate] with players, and we received multiple requests to review them very shortly after returning from NAMM, almost immediately, in fact."
"NAMM 2020 was our best show since returning in 2011," noted Kershaw. "For us, traffic was nonstop. As always, we hosted about five to six artist performances per day that absolutely packed the room, but this year, we incorporated an educational panel stage where customers and media outlets got to interview and spend more focused time with their favorite artists and the D'Angelico instruments they were representing. Both our customers and dealers were very excited by that component of our show. We live-streamed those interviews during the show and published the majority of them on our YouTube channel, as well. And in terms of instrument sales, nearly everything in the room had a 'sold' sticker on it by Day 3. We couldn't be happier with how it went."
Added Kershaw: "We were focused on about eight small product groups, but the Deluxe Bedford SH certainly became our biggest guitar launch. It's a unique guitar, so we knew we were taking a bit of a risk with it, but the reception was overwhelmingly positive. Alongside that guitar, introducing an entirely revamped limited-edition collection to the Deluxe Series was incredibly rewarding because it allowed us to do something truly special for our customers. In 2019, we really focused on responding to customer feedback, which led us to a lot of our new product development efforts. This came to fruition in the aforementioned limited-edition Deluxe Series, the Premier and Excel Series Mini DC, the new Premier Bob Weir Bedford signature model, and the refreshed Premier Series acoustic line. We are so grateful for how our audience has responded to those efforts."
"The YCA (Yamaha Corp. of America) core NAMM team spent 10 months planning and preparing the show. The NAMM 2020 strategy was to make an even more unified Yamaha brand presence, continue making a larger global impact and fine-tune our Make Waves messaging. We showcased our strength, that we are a music brand with immense depth and breadth and are committed to helping people enjoy music, whether that's through playing, listening, learning or teaching. The extra branding paid off as Yamaha booth traffic surged 60 percent vs. the previous year. To reach customers who did not attend the show, we created captivating video content around our new products and our Yamaha artists, which reached tens of millions of people," noted Watanabe. "The NAMM Show has been a major platform to launch key models for us. Over the last few years, we launched the Revstar line of electric guitars and various TransAcoustic models, as an example. This past NAMM Show, we launched the NX Series of nylon string acoustic-electric guitars. We also employ the event as a platform to bring awareness and drive interest in Yamaha guitars as a whole. This is why our booth layouts strongly emphasize the unique benefits of our guitars."
"We added four new exciting models to our Builder's Edition collection, including the updated 816ce Grand Symphony, featuring an innovative sound-port cutaway," noted Montefusco. "The new Builder's Edition 324ce proved to be a runaway success. We received more orders than forecasted and have increased production capacity to meet demand. The GS Mini-e Koa Plus also was well received as the new top-of-the-line GS Mini. Dealers were equally impressed by the Taylor AeroCase, which is included with our new GS Mini and 200 Plus models." Prior to the health and economic crisis, we got everyone's takes on how 2020 looked for their respective companies.
"As of right now, things look very good," stated Miller. "As mentioned, we had a very strong NAMM show in terms of new orders, and this has put us in position to have a very good 2020. So, the short answer is 'yes,' we're optimistic for the year ahead."
"We are optimistic for continued growth and excitement in the categories!" added Norvell.
"We are optimistic," answered Cullen. "We are obviously in a bit of a dynamic time right now as a global community, but we have a superb team of individuals working together here toward a common goal. We plan to continue our growth path this year, and we are off to a strong start."
"While I try to have an optimistic outlook in general, objectively, this year will be challenging. Collectively, we have to pull together and find a way forward," said Watanabe.
We concluded with a question about if there is optimism about the guitar industry in the future, or if outside-the-industry forces, such as coronavirus, are major concerns.
"Guitar is one of the most expressive instruments. It truly allows the personality of the player to come through, which gives it an evergreen nature," Norvell said.
"I am optimistic about our industry," stated Cullen. "Music is a great force in this world, and that truth is not going anywhere. That said, it is a dynamic time, and we are all closely watching as things develop. For now, we continue to work hard building the best guitars we can, and the feedback we have is that people want more PRS. For that, I am grateful!"
"Based on our current sales' consistency and diversity, we're optimistic that 2020 will be our most successful year yet," said Kershaw. "There are always a number of unpredictable factors at play in any industry, and the music instrument industry, with its relatively complex product offerings, is susceptible to such forces. But our need for making music, especially in difficult times, has always prevailed."
"I remain optimistic, because we're seeing a lot of innovation within the guitar category, plus we're experiencing growth in the entry-level segment, which indicates that new players are picking up the instrument," said Watanabe. "However, I'm also realistic and understand that events outside of the industry affect consumer behavior. As a part of the guitar industry, which is part of the larger guitar community, we have to pay attention to certain shifts in consumer behavior in order to service those demands, and we will. We can never lose sight of how we make people feel when they play the guitar, and in turn, how they make their audiences feel. For most, it's very comforting to both performers and their audiences, in all forms of delivery, from the concert hall, to the living room, to online."
"We're on track to exceed our record Q1 revenue from last year," said Montefusco. "At the time of this article, the world is entering uncharted territory with the coronavirus situation. Taylor Guitars has made it through three recessions, disco music and countless news articles predicting 'the end of the guitar.' We'll figure this out too," said Montefusco. "We're extremely optimistic about the guitar industry. There will always be new challenges, yet musicians inherently need to express themselves by writing new songs. Every modern composition has been created on an electronic keyboard, acoustic piano or guitar. Acoustic guitars provide the instant ability to make music when a player is inspired. You don't need to plug it in, and you can take it anywhere. It's your creative partner, travel companion and best friend."
Concluded Miller, "Obviously there are external forces affecting everyone in the industry right now. Last year, companies had to contend with the possibility of new tariffs, and the coronavirus situation is obviously something we're watching carefully. Both situations directly affect the industry in one way or another, but facing challenges is nothing new. CITES was a major disruptive force when it first came into play, but it is something the industry has adapted to and even partially mitigated with the recent easing of restrictions on guitars containing rosewood. So yes, even with all of the global economic uncertainty, we still remain positive about the outlook for the industry in 2020 and beyond."
To check out more features from the Music & Sound Retailer, click here.