This annual feature takes on much more importance than ever before as we include plenty of the great things MI manufacturers are doing to combat the COVID-19 pandemic.
This year's installment of our annual "Good Stuff" feature takes on an extra meaning. Not only do we feature some great things companies do from year to year, but, this year, we also highlight actions companies have taken in the wake of the COVID-19 health crisis. So, look for a sprinkle of both throughout the story.
Editor's note: This is only a taste of what has taken place. Many companies have stepped up and done fantastic jobs during these difficult times.
GIG GEAR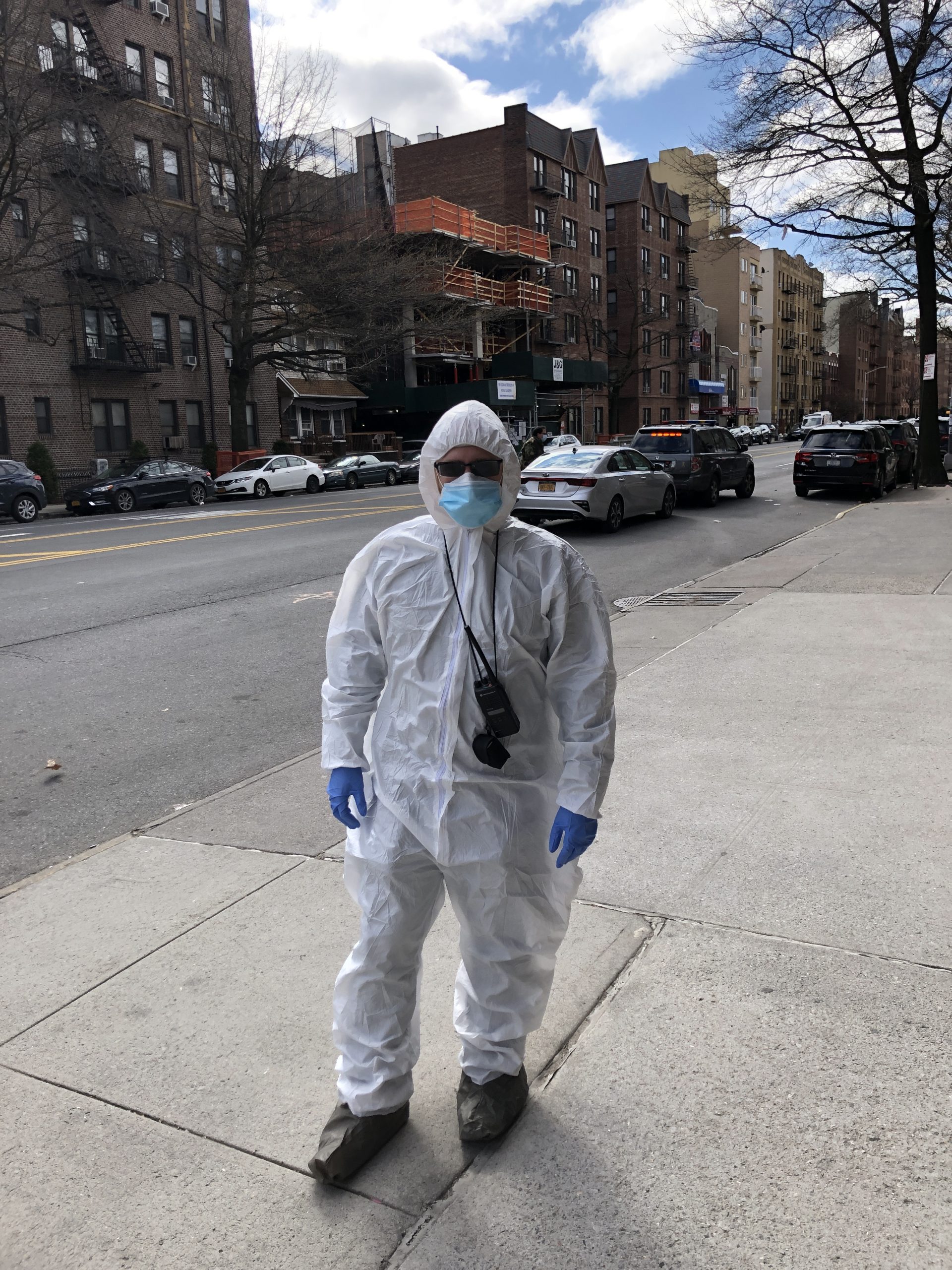 Gig Gear founder and CEO Daniel Shatzkes (left) has literally been on the front line in hard-hit New York City during the COVID-19 pandemic. "I've been a volunteer emergency medical technician for almost 19 years," Shatzkes told the Music & Sound Retailer. "Now is one of those times when the community has needed first responders the most, so I've been putting in quite a bit of time on shifts and taking calls. The attached picture shows how we've had to go out over the last few weeks. It's pretty crazy." To watch a video interview with Shatzkes about his experiences on the front lines of the pandemic and his perspective as an MI business owner, go to msr.io/gig-gear-ceo-talksbeing-nyc-emt.
GATOR CO.
Gator Co. is leveraging its sewn-goods design and manufacturing abilities to help those in need during the COVID-19 crisis. It is answering the call for more masks with a line of fabric masks that include a pocket for replaceable filters and music-themed designs. The masks and filters will be available for retail and online sales, with sales proceeds going toward the donation of masks and filters to those in need. "The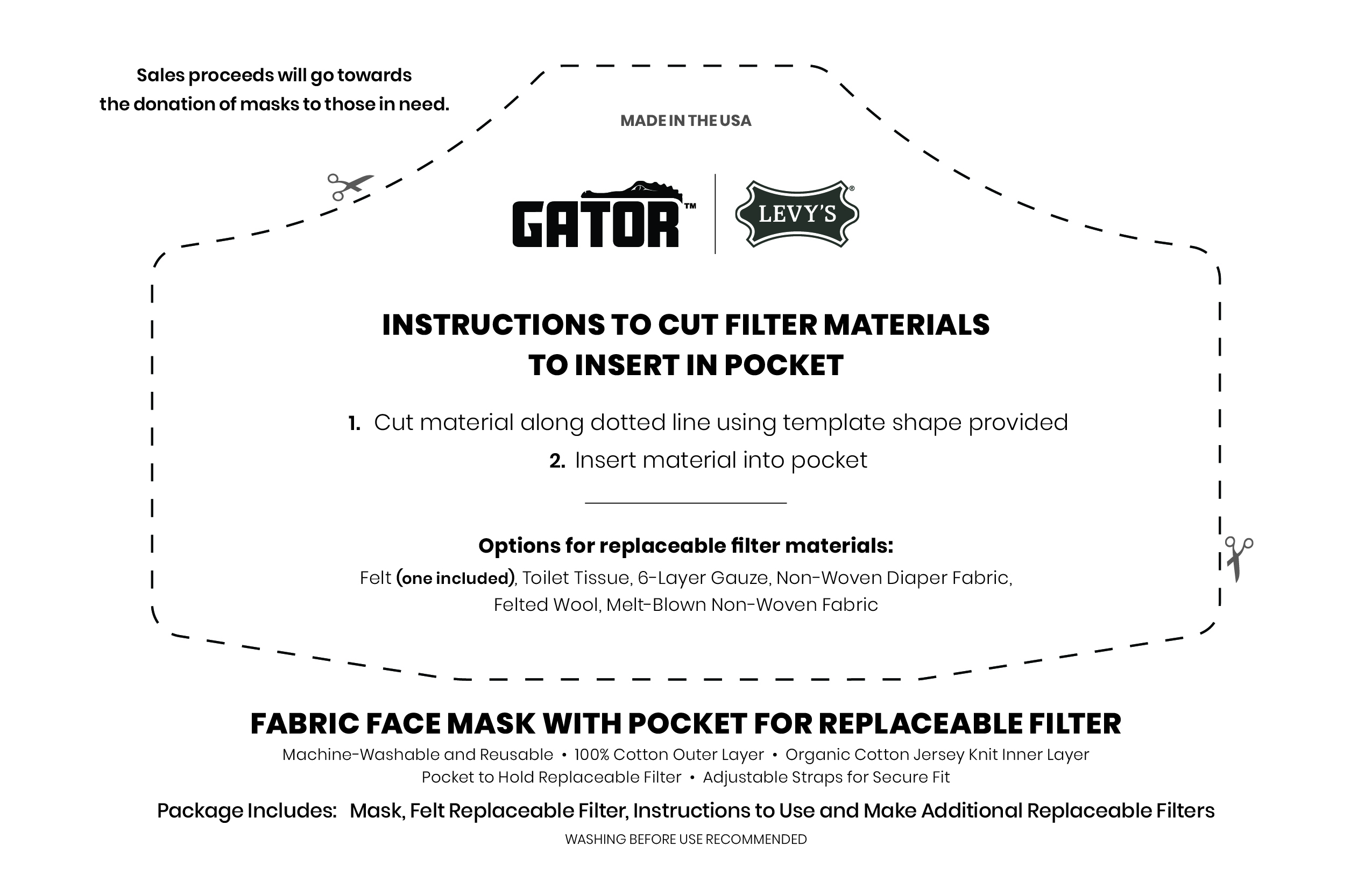 demand for masks is very serious," said Crystal Morris, founder and CEO of Gator Co. "I read the media reports and researched ways we can help with the mask shortage. We needed to respond, and we have the capabilities to make a positive impact. And we wanted to stick to our music roots with a few fun music patterns. We're excited to be able to help in any way as we all rally to get through this." The masks are made from cotton fabric for comfort, with adjustable straps for a secure fit. Each mask will be sold with a felt replacement filter cut to fit inside the mask. Five patterns are available now, including two music-themed patterns. Packages also include die-cut instructions for people to make their own replaceable filters. Felt replacement filters are also for sale in three-packs.
OMG MUSIC
OMG Music offered a free mask initiative for music retailers, their employees and customers. The masks are made using a double layer of blue shop towels, as well as a third inner layer of tight-knit muslin cotton for comfort. They use strap shoelaces as ties and are washable and semi-disposable. "[They] will not last forever, but they keep effectiveness after multiple washes. [They] are non-medical grade [so they are] not meant as a replacement for N95 or other medical grade respirators," the company stated. "[They] help to protect others from droplets/ particles when you cough/sneeze." MI retailers can call or email their rep (or email OMG Music at info@omgmusic.com). Retailers must provide how many masks they need and a shipping address.
GIBSON
Gibson's leadership decided to provide all Gibson hourly factory workers with a $1,000 support payment to help get the team through the difficult health crisis. The company has set up various communication platforms to keep the team informed, including the Gibson DIAL (Direct Information Advisory Line) for all employees.
"At the early stages of this unfortunate and ever-evolving situation, we took a proactive approach to monitoring and prioritizing the health and safety of our entire team around the world," said James "JC" Curleigh, CEO of Gibson. "I am proud of the way our teams have responded, and we now shift our focus to supporting each other to get through this together."
Gibson also formed a partnership with Gibson Gives, Sweetwater.com and Amped Guitar Learning to offer new users three free months of Premium Access Membership to Amped Guitar. A limited quantity of subscriptions are available now on the Apple app store worldwide.
"In these unprecedented and uncertain times, we all could use a little inspiration for each other and for ourselves," said Curleigh. "With Gibson Gives, Sweetwater and Amped, we are literally providing that inspiration and opportunity for anyone who loves music and has always wanted to learn to play guitar."
Amped Guitar is a two-way online learning experience that listens to your playing and instinctively adapts the lesson versus a one-way instructional video. It interacts with the player and creates an additional guitar layer in real time that turns boring old guitar lessons into an empowering and immersive experience.
"Sweetwater was founded more than 40 years ago with one goal in mind: to help our friends make music. It remains our No. 1 priority. This partnership will allow even more people to harness the power that music has to unite, heal and inspire. That's especially important during these trying times," said Sweetwater founder and CEO Chuck Surack.
"For us, this is like one giant love letter to anyone wanting to learn, and we're proud to team up with Gibson and Sweetwater to help people learn guitar. Amped Guitar allows anyone to pick up a guitar and get an energized experience in their first lesson. We teach beginners without making them feel like beginners, which is a very powerful thing," said Daniel Katzenellenbogen, Amped Guitar CEO.
And Gibson did not stop there. It also stepped up when severe storms ravaged Nashville, with Gibson Gives providing support for musicians and those in need. Gibson Gives worked to make guitarists affected by the Tennessee tornado whole again, providing immediate help by giving a guitar to any musician whose instrument was damaged or destroyed.
"Our goal is to get a guitar back into the hands of anyone who has had their guitar damaged or destroyed in the recent Tennessee storm," said Dendy Jarrett, executive director of Gibson Gives. "As a Nashville-based company, we are also engaging with our artists and other partners to provide support across many areas."
Musicians who lost their guitars in the recent storm can reach out to the Gibson Gives Guitar Recovery Plan via donation.request@gibson.com with their story. Guitars will be provided at Gibson's sole discretion based on proof of damage or loss. Replacement guitars may be demo models, prototypes or shop-worn, across Gibson's family of guitar brands.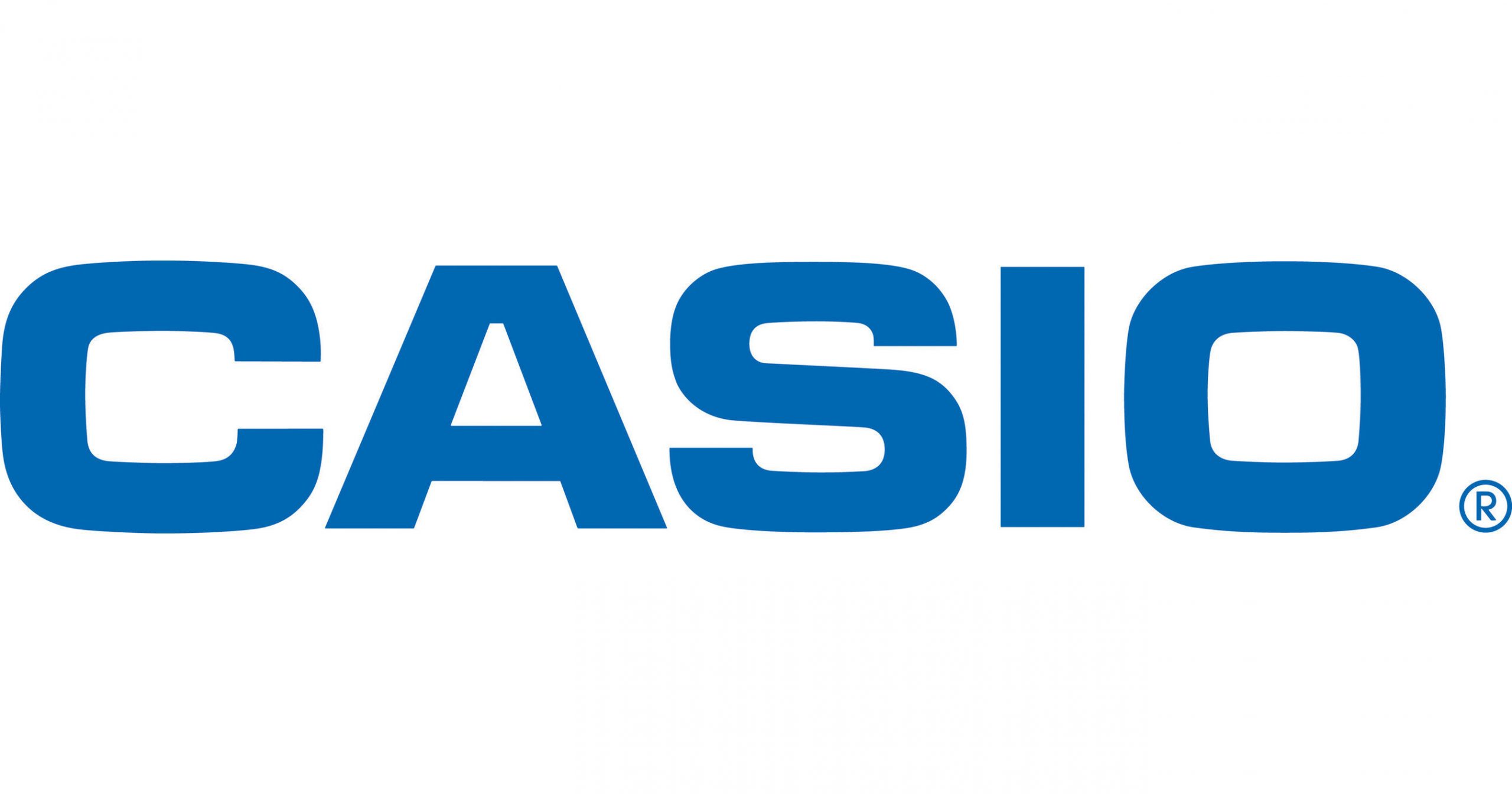 CASIO
Casio is committed to growing music education programs, as the benefits of learning to play a musical instrument at a young age are endless. As such, Casio has partnered with several organizations to help bolster music programs nationwide, including Notes 4 Notes, Berklee City Music Network and the National Dance Institute, all of which received a variety of digital pianos and keyboards. Most recently, Casio partnered with the Keep Music Alive Foundation, which celebrated its sixth-annual Teach Music Week, during which new students at more than 850 schools and stores globally were provided with free music lessons and classes.
D'ADDARIO
Even before D'Addario was forced to close its D'Addario string and Evans drumhead factories in New York, it immediately began devising a way to use its engineering and manufacturing expertise to help alleviate the dire shortage of protective gear for New York and the nation's healthcare workers.
Led by chief innovation officer Jim D'Addario, the engineering team figured out they could fabricate protective face shields using the clear film from its popular Evans G2 drumheads. Working around the clock, three days later, the team had their first prototype. And since the company already produces physical-therapy products through its FDA-approved Dynatomy brand, it was able to work quickly on manufacturing and distribution solutions. The plan is to mass-produce the Dynatomy Face Shield in the Evans Farmingdale, N.Y., drumhead facility, utilizing American-made materials. The goal is a capacity of 100,000 face shields per week.
"We called this Project Excelsior after the New York State motto, which means 'Ever Upward,' because it captured the extraordinary determination and can-do spirit of our small team of engineers and product designers. It also typifies our music company's current credo during the COVID-19 crisis: #wewillplayon," said John D'Addario III, CEO.
"It's our intention to manufacture these shields as long as they're needed in New York or anywhere around the globe. We've watched the incredible efforts of our healthcare and essential services workers all across the world with great admiration. While we cannot match the immeasurable efforts of these selfless heroes, we feel an immense responsibility to do our part in overcoming the COVID-19 crisis," added Jim D'Addario.
Also, for the third year in a row, 501c3 non-profit D'Addario Foundation and Guitar Center worked together to raise money on International Women's Day in support of more girls in music. On March 8, half of the proceeds from all D'Addario products sold at Guitar Center or guitarcenter.com was donated to the D'Addario Foundation's Music Education for Girls Initiative.
In 2019, more than $45,000 was donated to the D'Addario Foundation's Music Education for Girls Initiative, which provides young women with the resources and encouragement they need to study music, fostering both their personal and professional growth. This support not only serves to motivate girls to continue playing, but also to nurture them over the course of their educational journey.
The D'Addario Foundation's Music Education for Girls Initiative helps fund:
instrument instruction programming for females, including Girls Rock! Rhode Island
Continuing education scholarships for females including the Musicians Institute's Women in Guitar Scholarship and the D'Addario Foundation College Scholarship Fund, where six out of the 10 2019 recipients are female
The D'Addario Foundation's direct-service strings education program, which provides free instruments and instruction to youth in the local New York community, where 89 percent of students are female.
"The D'Addario Women in Guitar Scholarship is a life-changer because it shows a young female guitarist what's possible," said Beth Marlis, vice president of Musicians Institute. "The scholarship celebrates the dedication, talent and a job well done, and blows the doors off anything or anybody that says, 'no, you can't,' and instead says, 'keep on going' with your music!"
C.F. MARTIN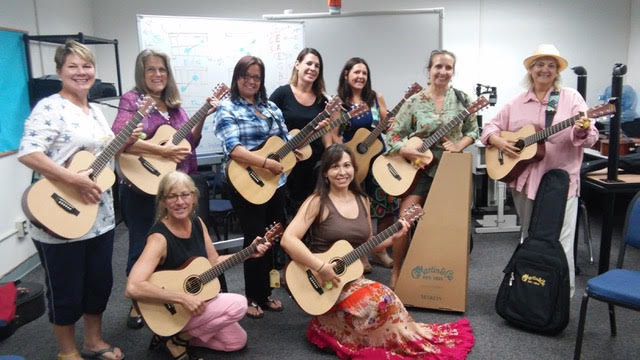 The Martin Guitar Charitable Foundation awarded 52 grants to Lehigh Valley, Pa., and national organizations in 2019. The Foundation was established in 1996 by Christian Frederick Martin IV to serve the charitable interests of the Martin Guitar Co. The Foundation supports 501(c)(3) nonprofit organizations with programs in Foundation target areas. The Martin Guitar Co. provides funds each year to support the Foundation's programs. Since 1996, the Foundation has distributed $3.33 million in grants, including $355,000 in 2019.
The Foundation's core principles are to support Martin Guitar's engagement with nonprofit music, arts, education and environmental action organizations. The Foundation does not fund political or religious organizations or activity. The trustees manage the Foundation's assets conservatively to allow for long-term planning and seek best value from Foundation grant-making for the people and causes that their grantees serve.
Lehigh Valley and regional organizations receiving Foundation support in 2019 were: Allentown Art Museum, Allentown Rescue Mission, Allentown Symphony Association, ArtsQuest, Community Music School, Da Vinci Science Center, Godfrey Daniels, Lehigh Gap Nature Center, Meals on Wheels of the Greater Lehigh Valley, Miller-Keystone Blood Center, Moravian Historical Society, Muhlenberg College, New Bethany Ministries, Northampton Community College Foundation, PBS 39, State Theatre Center for the Arts, WDIY-FM and several other Lehigh Valley charities. In Nazareth, Pa., the Foundation supported the YMCA, Memorial Library, Nazareth Area Food Bank and several other Nazareth-area charities.
The Foundation also made grants to national organizations with a strong arts presence and programs in
acoustic guitar education and research: Guitars in the Classroom (San Diego, Calif.), International Bluegrass Music Museum (Owensboro, Ky.), Metropolitan Museum of Art (New York City), Musical Instrument Museum (Phoenix, Ariz.), Museum of Making Music (Carlsbad, Calif.), Old Town School of Folk Music (Chicago, Ill.), Southern Folklife Collection at University of North Carolina, WHYY (Philadelphia), Woody Guthrie Center (Tulsa, Okla.) and several other organizations.
The Foundation will accept applications for 2020 grants between Aug. 1 and Sept. 1. The Retailer also got a chance to talk to C.F. Martin CEO and NAMM chairman Chris Martin IV about how his company is handling the coronavirus pandemic and what needs to be done to host the 2021 NAMM Show. To watch the interview, go to msr.io/cf-martin-coronavirus-response.
HAL LEONARD
All teachers who have been thrown into the unchartered territory of trying to teach young students from home have challenges, but music teachers may have even more obstacles to overcome than most. A choir depends on multiple voices. A band requires lots of players, all with instruments that may or may not be home with the students. General music education usually involves lots of interaction within a classroom. So, what's a teacher or band director to do when suddenly they have to provide instruction or guidance to their students from afar?
"We understand that school closures have forced teachers worldwide to create online learning environments. While this in uncharted territory for many, luckily music technology and online learning has been a focus of Hal Leonard for years, and we are doing everything we can to support educators in this time," said John Mlynczak, a member of the Hal Leonard's online music education leadership group. "We are offering extended trials and enhanced support for composing and recording music with Noteflight Learn, learning to play an instrument with Essential Elements Interactive, and learning songs in general music with Essential Elements Music Class."
Hal Leonard has multiple online resources that educators have already been using. During these extenuating circumstances, most of the sites have added extra tools or limited free accessibility to get through the next few weeks:
Noteflight Learn: Ideal for K-12 or college, Noteflight Learn allows students and teachers to create, share and record music online for any device. Noteflight is extending this service for free through June 30.
Essential Elements Interactive: Ideal for teaching today's band and string students both in the classroom and at home, EEi is an easy set of technology tools for online learning, teaching, assessment and communication. EEi is already free with the purchase of an Essential Elements Method Book and is now offering enhanced support for existing teachers and students signing up for accounts for distance learning.
Essential Elements Music Class: Ideal for K-5, Essential Elements Music Class allows teachers to access hundreds of songs with activities and lessons. Songs can easily be shared with students to use at home with no login required. EE Music Class is offering an extended 30-day trial period for distance learning.
Hal Leonard has also posted a page of additional resources and FAQs that teachers can use during this time. To view these reseources, go to halleonard.com/distancelearning.
ULTIMATE EARS
Ultimate Ears Pro announced the #MusicFromHome campaign to help address the concerns of working musicians and crew members currently out of work during this difficult time. Ultimate Ears Pro plans to donate $10,000 to the MusiCares COVID-19 Relief Fund via its UE Cares initiative. The donation goes hand-in-hand with highlighting a variety of emerging and established artists through a series of weekly live performances and an online sweepstakes on @UltimateEarsPro social channels.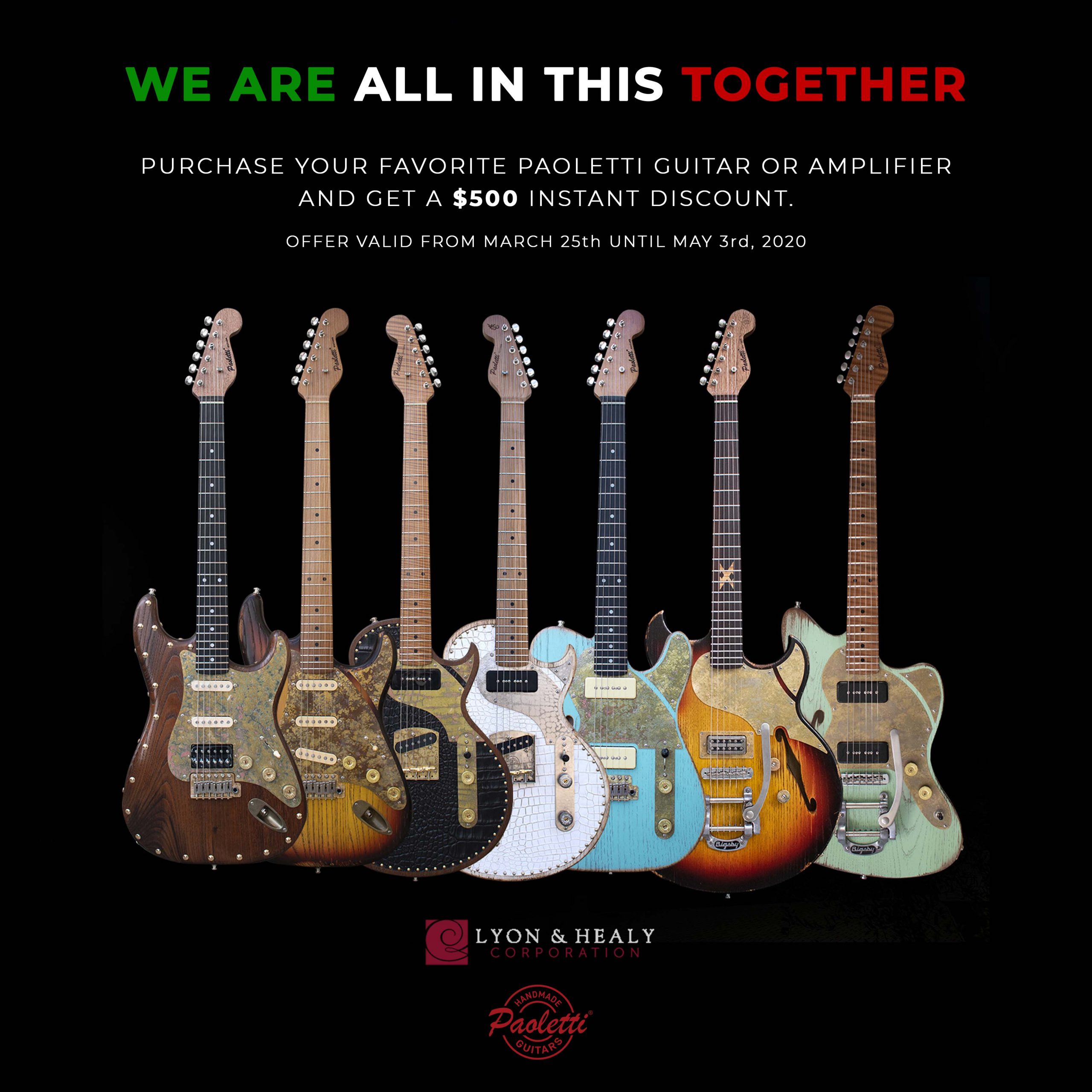 LYON & HEALY
Paoletti Guitars offered a $500 discount on any guitar or amp purchased in North America between April 7 and May 3. Ten percent of the proceeds of these specific sales were donated to the World Health Organization and its COVID-19 Solidarity Response Fund, which aids to ensure patients get the care they need and frontline workers get essential supplies and information, and to accelerate efforts to develop vaccines, tests and treatments. Lyon & Healy Corp. is the North American Distributor of Paoletti Guitars.
ROLAND
Roland partnered with Skoove to offer three months of free online piano lessons. Owners of qualifying Roland pianos will receive unlimited access to hundreds of songs and interactive courses they can access anytime on their computers, smartphones or tablets.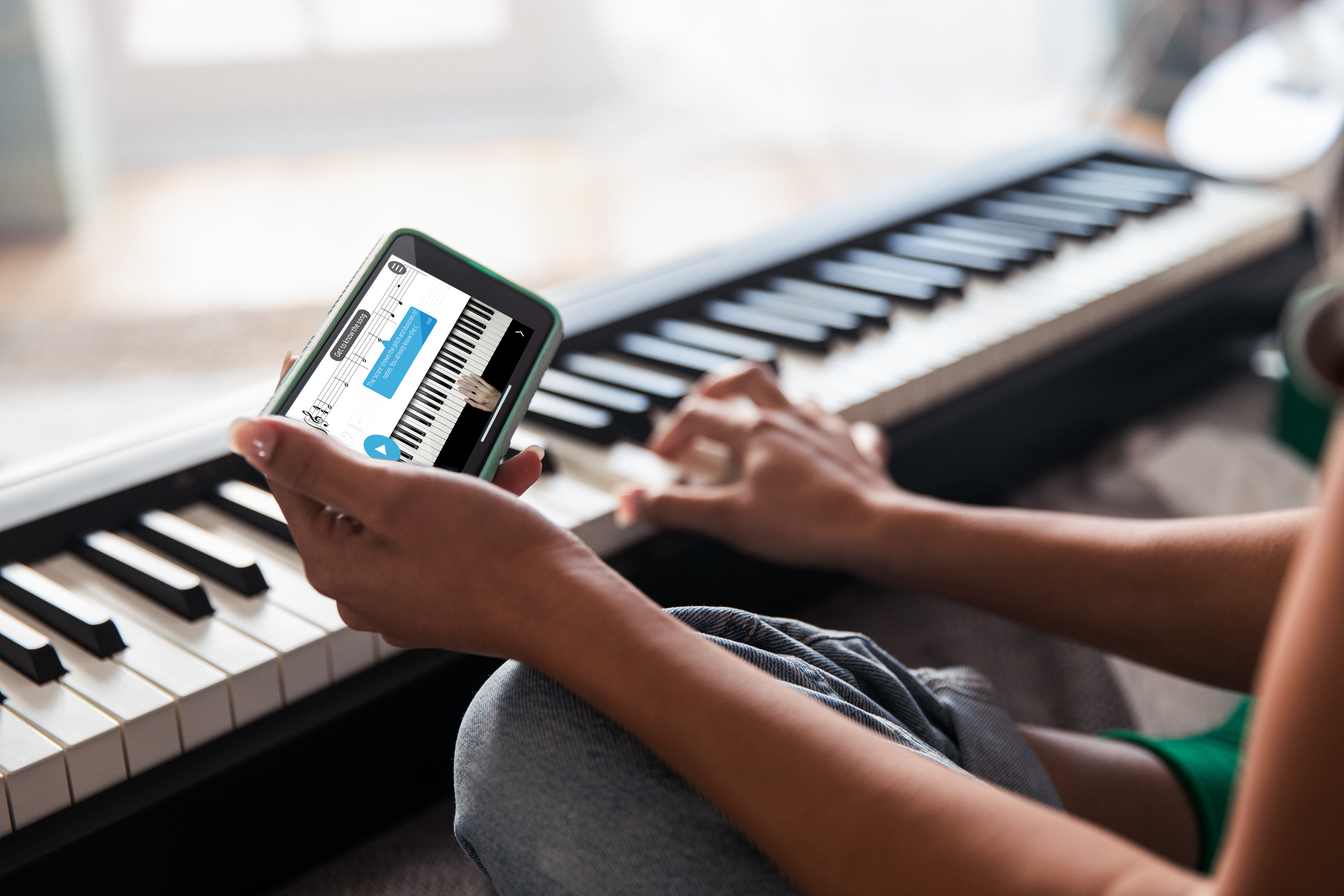 "At Roland, we've always believed in the power of music and the benefits that it brings," said Roland Americas vice president of marketing, Chris Halon. "And in these uncertain times, when we're advised to reduce contact with others, being able to sit at an instrument and play could help us more than we realize."
Skoove is the software developer behind interactive apps for learning piano, including the popular "Skoove: Learn Piano." Users learn how to play piano step by step, receive real-time feedback and can play some of yesterday and today's most popular songs. The platform is a great way for music teachers to work with students online and keep in contact with pupils from the comfort of their home.
ALFRED MUSIC
Alfred Music and MakeMusic, both part of the Peaksware Holdings LLC portfolio of companies, announced the offering of free Premium access to SmartMusic through June 30 to schools impacted by COVID-19 closures. Schools with current web-based subscriptions can also add to their educator and student seats to accommodate all students remotely.
With so many schools around the world making plans for distant learning instruction during COVID-19 closures, the last thing that Alfred Music and MakeMusic want is for teachers to be burdened with the extra stress that comes with a disruption to their classes. "What our communities are dealing with right now is obviously an extraordinary situation. We feel it is our obligation to offer help through our platform and educational content to those that help our communities every day as they navigate this new remote learning environment," said Johann Gouws, senior vice president, global marketing and sales.
To sign up for this free SmartMusic access for the rest of the school year, teachers — not students — should fill out a form and specify their needs, including country, email address, and the number of teachers and students requiring access. The school will then be set up with a SmartMusic platform that will allow educators to invite their students to join a class at the Premium Access level through the use of a class code. This means they will be able to receive and submit assignments teachers send them, get instant feedback on their performance, as well as explore the full SmartMusic library of content from more than 400 publishers.
For those not familiar with SmartMusic, student privacy is protected, is COPPA, FERPA, CCPA, and GDPR compliant, and is suitable for band, orchestra and choir students of all ages.
For more on Alfred Music's response to the COVID-19 pandemic, watch the Retailer's video chat with vice president of sales and marketing Alex Ordoñez at msr.io/alfred-music-covid-19.

FENDER
Playing an instrument offers both mental and physical health benefits like de-stressing, increased creativity and boosting the immune system. While concerts and shows are off the table for the time being, music lovers can still play their favorite songs and make some noise at home.
Fender offered new users a free three-month subscription to Fender Play, the complete online learning app for guitar, bass and ukulele. The platform uses instructor-guided videos to assist those embarking on their musical journey. From classics like Led Zeppelin to contemporary artists like Sia and Shawn Mendes, the Fender Play library allows users to pick their favorite genre and instrument of choice and start jamming. Whether it's dusting off an old guitar, learning a new skill or entertaining tiny hands, Fender hopes offering Fender Play for free will reinforce the positive benefits that music has on the mind.
To find out more about Fender's response to the coronavirus pandemic, check out the Retailer's interview with Tammy VanDonk, executive vice president of sales, Americas and EMEA, at msr.io/tammy-vandonk-fender-covid-19-response.
RED PANDA
Red Panda, a five-person boutique guitar pedal company in metro Detroit, partnered with Reverb and some of its favorite artists to release a charity album on Bandcamp featuring original songs using its Tensor "time warp" pedal. Artists included Tim Lefebvre (David Bowie), Nels Cline (Wilco), Kid Koala, Noveller and Henry Kaiser. The album and a limited run of holographic finish pedals raised money for Women of Banglatown, a women and girl's community arts organization serving the growing immigrant population in Hamtramck, Mich., whose mission is to provide a welcoming and culturallysensitive space for girls and young women within the community. Donations continue to come in through Bandcamp, and Red Panda have raised more than $1,700 for the organization so far.
POSITIVE GRID
Positive Grid, creator of the BIAS FX 2 desktop software, invited guitar and bass players to create with its BIAS FX Mobile application with a 90-day free full download. Users who downloaded the app through April 24 were able to sign up for a new ToneCloud account and utilize every feature offered in the BIAS FX Guitar Amp & Effects app at no charge for 90 days.
"It can be difficult for many musicians to remain creative and positive right now," said Robert McCullar, senior vice president of sales and marketing for Positive Grid.
"We want to create an opportunity for them to keep playing and stay connected to music." BIAS FX Mobile turns an iOS device into a guitar amps and effects processor built on the backbone of Positive Grid's pro-level software. Like the desktop version, the BIAS FX app also comes with a library full of realistic-sounding guitar and bass amps, effect pedals, and studio racks for players to create tones using only an iPhone or iPad. BIAS FX Mobile also seamlessly integrates with Positive Grid's BIAS AMP 2 Mobile and BIAS Pedal Mobile applications to let players dive deeper into limitless tone customization. Cross-platform ToneCloud access allows users to share and download thousands of custom presets, for easy mobile access to their favorite sounds.
MUSIC MEDIC
Music Medic announced a way to keep musicians employed by offering two months of saxophone lessons with purchase of a Wilmington Alto Sax. Anyone who purchased a The Wilmington Alto through May 15 received eight free weeks of saxophone lessons.
"MusicMedic is a company run by musicians for musicians and the technicians that keep them going. All of our musician friends were greatly impacted by COVID-19 and we're eager to help. One interesting thing that has happened during the pandemic is that there is a huge amount of wonderful players now teaching online, and students from anywhere in the world can connect with them and learn. This program brings awareness to this unique situation and helps support the music community and the meaningful bonds that it creates and the passions it inspires," said Curt Altarac, owner and founder of Music Medic.
YAMAHA CORP. OF AMERICA
Yamaha Corporation of America continues to uphold its long-standing tradition of giving back. Every year, Yamaha donates musical instruments and countless hours of volunteered time to local charities as a way of enforcing the company's mission to support humanitarian causes, and 2019 was no exception. For the better part of four years, Yamaha has proudly partnered with Mercy Ships, an international organization that uses hospital ships to provide valuable medical services to hundreds of adults and children in third-world countries. In January 2020, Mercy Ships purchased $10,000 worth of Yamaha products, which were sold to them at a significant discount, for a theater in their second floating hospital, Maiden Voyage. These Yamaha instruments will enrich the lives of the patients onboard, as well as the medical staff that works tirelessly to treat them.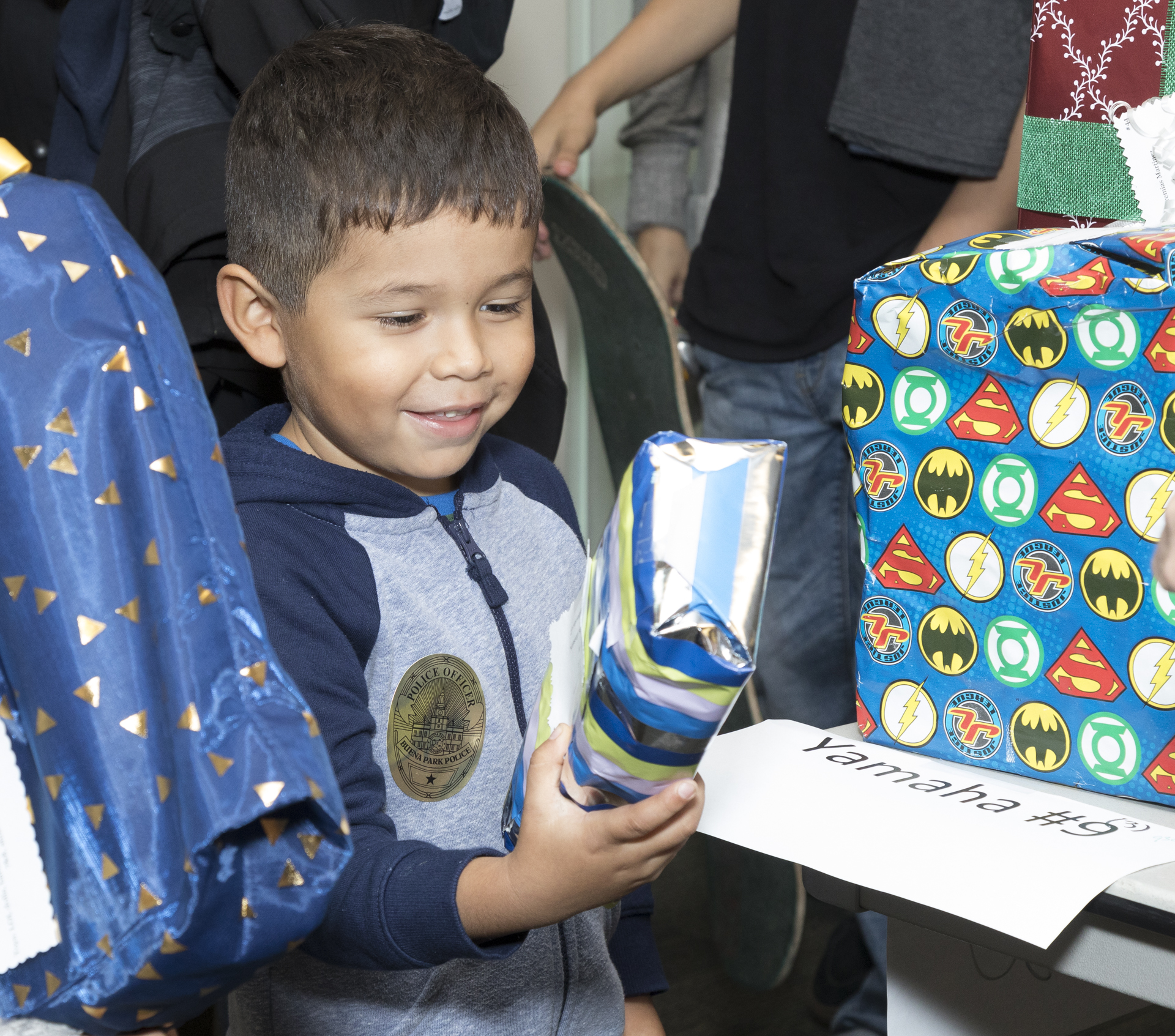 For the past eight years, Yamaha has supported Guitars 4 Vets (G4V), an organization that has been providing free Yamaha guitars, lessons and a forum for veterans with post traumatic stress disorder since 2007. "By supporting G4V over the years, Yamaha has helped the organization provide solace for U.S. veterans who suffer from PTSD and hopes to reduce the number of veteran suicides," the company stated. In 2019, Yamaha was the organization's presenting sponsor in support of its 100th chapter and donated 100 guitars to mark the occasion. In addition, Yamaha has donated guitars to the charity annually since 2012 and will continue to do so this year.
Also, Yamaha employees joined the Buena Park, Calif., community in giving children of low-income families a reason to smile this past holiday season with "Project Give a Christmas." Through the program, which is led by the Buena Park Police Department, Yamaha employees purchased and handed out gifts to 75 underprivileged children during a special holiday party.
David Jewell, partnerships and alliances manager at Yamaha, explained the importance of the company's contributions: "Whether we're supporting global organizations, or charities closer to home, giving back to underfunded communities is an integral part of our company's mission. It's a wonderful feeling to know that our musical instruments can lift the spirits of Mercy Ships patients from around the world and make a difference in the lives of students right in our backyard."
Yamaha has also partnered with the Buena Park Boys & Girls Club, the local chapter of the national organization that provides after-school care for young people. The company has donated hand percussion, among many other musical instruments, in support of their music programs as part of this effort.
Yamaha has worked closely with the Anaheim Elementary School District, sitting on its Creative Council since 2014, and has donated more than $20,000 worth of musical instruments and cash donations over the years. Through the company's support, the district reached its goal of achieving instrumental music classes in each of its 23 elementary schools with full-time music teachers and three floating music teachers. This year, Yamaha was honored by the district for its dedication, ensuring that every child in the district receives a quality music education.
The Retailer also spoke to Yamaha about its response to the COVID-19 pandemic. To watch our interview with Tom Sumner, president of Yamaha Corp., go to msr.io/yamaha-tom-sumner-covid-19-interview.
For more features from the Music & Sound Retailer, click here.