Fender Musical Instruments Corp. has launched Fender Play, a new video-based digital guitar lesson platform. It features hundreds of instructor-guided video lessons utilizing a song-driven, personalized learning path that enables even brand-new players to master chords and riffs in minutes. The platform is geared toward beginners, and is designed to make the early stages of learning to play guitar more accessible and rewarding, encouraging new players to stick with their lessons. Fender Play is the latest release from the company's Fender Digital division, which was established in 2015.
"Fender Play is a platform created to enable and produce the next generation of players," said Ethan Kaplan, General Manager of Fender Digital. "Ninety percent of people who pick up the guitar will drop out after one year, and we see Fender Play as a solution to that challenge. The more people play, and the longer they play, the more likely they are to commit; that's what Fender Play is designed to do: to keep players inspired and committed to making music." He continued, "Creating more highly-committed players is not only good for Fender, but for our retail partners. We see it serving as a supplement or practice tool for students outside of lessons—especially for those that need to squeeze in that late-night practice session."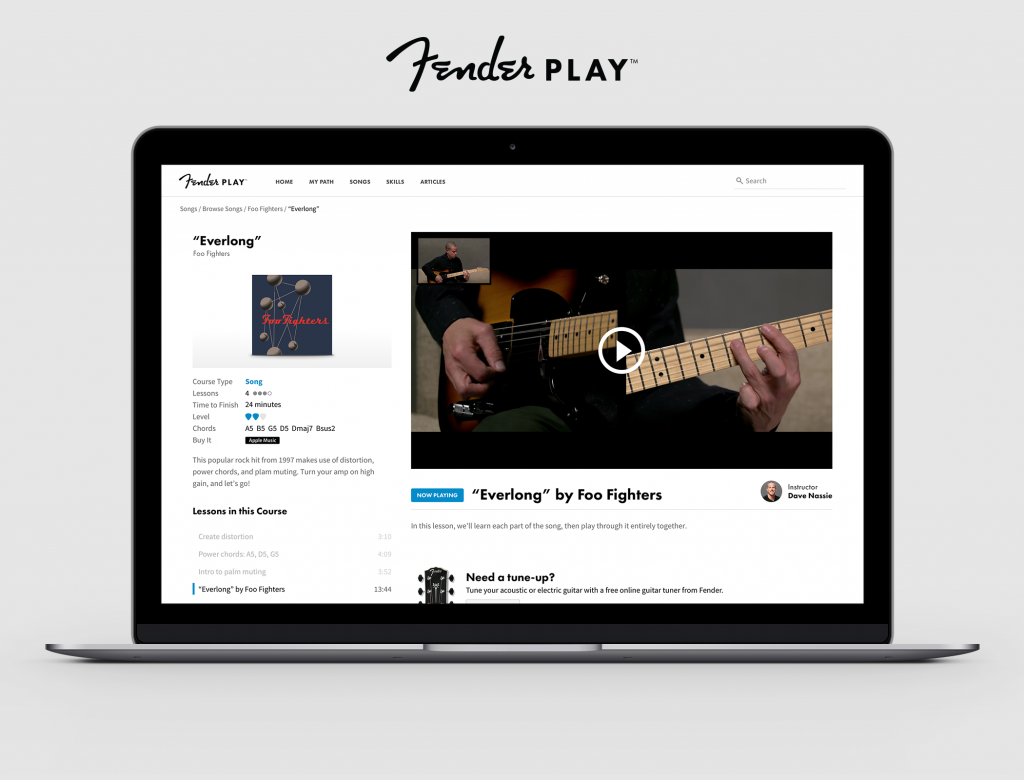 Upon signing up for Fender Play, users answer a variety of questions on preferred instrument and genre. Those responses guide the creation of a comprehensive, customized curriculum comprised of personal "learning paths." Courses in these paths focus on a song-based method, teaching foundational core techniques and riffs alongside lessons for recognizable hits from artists and bands such as U2, Shawn Mendes, The Rolling Stones, Foo Fighters, Meghan Trainor, Carrie Underwood and more. The program boasts a catalog of hundreds of songs arranged specifically for players at various skill levels. The curriculum was created with a panel of educational advisors from prestigious music programs, such as the Thornton School of Music at University of Southern California in Los Angeles and Musicians Institute in Hollywood. On an ongoing basis, PhDs and instructors from these institutions will oversee the creation of lessons, implement research-based pedagogy and apply solid instructional design to effectively promote muscle memory and retention.
"We believe Fender Play will be a huge industry game changer and a significant, sustainable business—not just for Fender, but for our retail partners," said Andy Mooney, CEO, Fender. "A free trial for Fender Play will be bundled with a variety of guitars, amplifiers and accessories designed for first-time players, adding incremental value for dealers. We'll also give our retail partners the opportunity to up-sell a subscription to Fender Play for every guitar and amp sold."
Fender also plans to continue to support Fender Play through the retail channel going forward. According to Mooney, "In 2018, Fender Digital will launch an instructor edition of Fender Play offering instructors' tools to work with students in person and online, to help instructors track student progress and decrease dropout. This will come with financial participation for dealers who opt in. Fender can then direct students who want to augment online learning with in-person lessons to instructors teaching at the dealer's store." Mooney added, "If both Fender and our dealers can together reduce abandonment by 10 percent, we can double the size of the guitar, amp and accessory market segments—which would be a major win for the industry."
Fender Play can be accessed via web browser, and is also available on the go with the Fender Play app for iPhone, which can be downloaded from the App Store (support for Android will be added at a later date). New players can sign up for a free, 30-day trial at play.fender.com, and can cancel anytime or continue their subscription for $19.99 per month. Fender Play is launching in the United States, United Kingdom and Canada, but can be accessed globally in English.
For more information about Fender Play, go to play.fender.com.