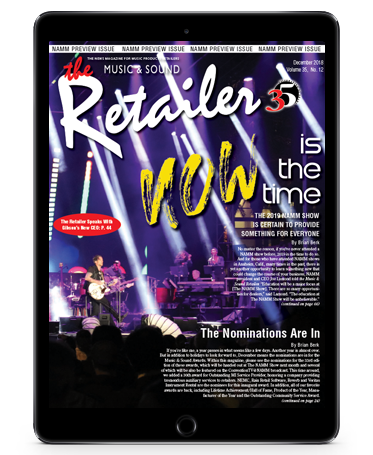 COVER STORIES
Learn every nominee for the Music & Sound Retailer's 33rd annual Music & Sound Awards. This year, we have 30 categories, and you can vote for winners now at msretailer.com/vote.
If you've never attended The NAMM Show before, now is the time to make it to Anaheim next month, explains Joe Lamond, president and CEO of NAMM. And we have plenty of the latest information for those who attend regularly as well.
FEATURES
The QRS-Connect offers a wide range of features that allows musicians to play, practice, record and share their music wherever the road may take them.
INTERVIEWS
James "JC" Curleigh joined Gibson Brands Inc. on Nov. 1. In this can't-miss interview, he talks about his philosophy, goals for the company and much more.
Stephen Schmidt, vice president of Casio's Electronic Musical Instruments Division, is a big fan of '70s-era foreign sports cars, and much more.
MISSION REPORT
We take a look back at 2018 with all 11 winners of MI Spy articles this month. Find out what these retailers did so well to win over MI Spy's heart.
COLUMNS
Chuck Surack, president and owner of Sweetwater Sound, Mynett Music & All Pro Sound, pens an opinion piece describing what he states are the "downsides to manufacturer direct sales."
Will Mason concludes 2018 by fi nishing off his discussion regarding how to hire the right people for your team. This month, he discusses "onboarding."
MI retailers are pulled in many directions regarding donation requests. But you can't give to every charity you deem worthy. Allen McBroom offers a game plan.
Gabriel O'Brien's third installment of his series on the importance of video offers five tips on how to create great video content.
Cordova, Tenn.-based Blues City Music never runs sales and offers flexible hours by appointment, creating a feeling of high-end exclusivity that is exactly what James L. Burke III, owner of Blues City Music, wants for customers visiting his business.
Some manufacturers, jobbers and retailers alike have reached a "tipping" point, but that doesn't mean you can't do anything about it, explains Dan Vedda.
BUZZ