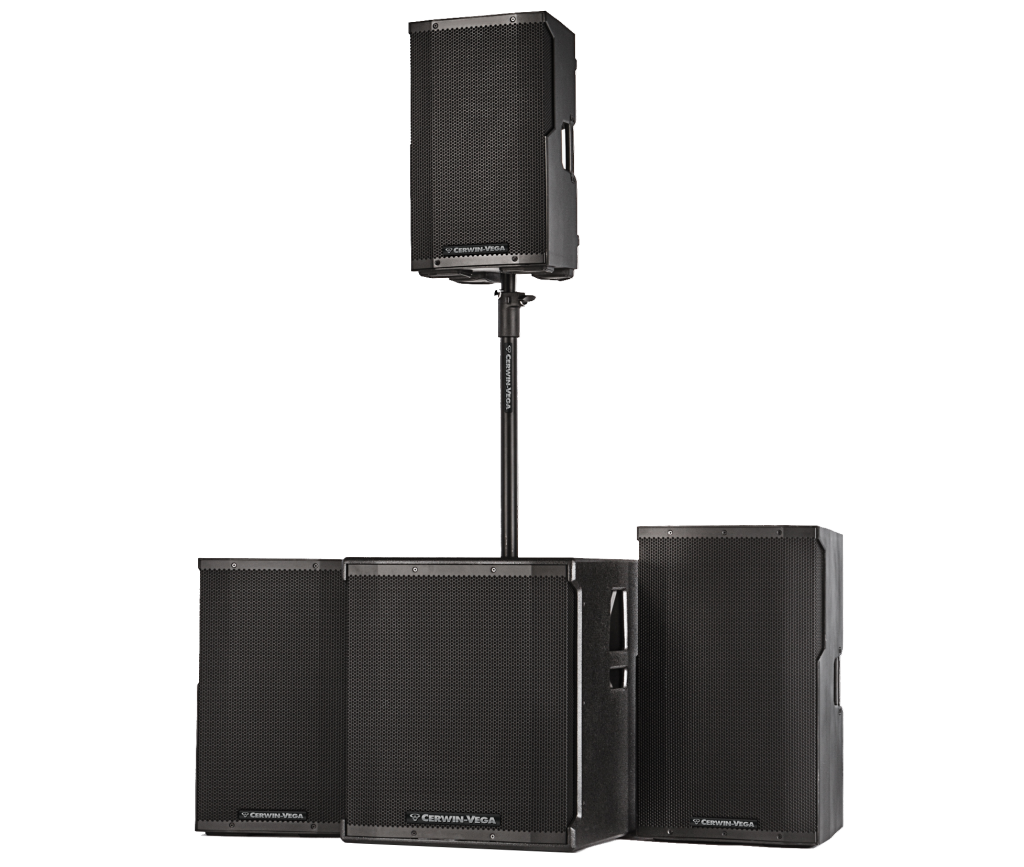 When it comes to loudspeaker design, simplicity is often the best policy. That's because, while everyone appreciates a great-sounding sound system, they don't necessarily want to do the hard work required to set one up. Rather, they want speakers that sound great, but are simple to transport, simple to install, simple to set up and simple to use.
Cerwin-Vega took this preference for simplicity, combined with a desire for high-quality sound, to heart when designing its new CVE Series of loudspeakers. The CVE Series tagline, "Technology Simplified," not only illustrates the power of simplicity as a selling point, it also exemplifies the central ethos behind the creation of this particular family of products: Users want both great sound and ease of use.
"There are so many speakers on the market with complicated displays and dial-knobs, or endless menus to scroll through," said Nils Karsten, director of market development for Gibson Pro Audio and Cerwin-Vega. "Especially in [the consumer] market, we found that users enjoy simplicity and ease of use. And even though the CVE Series is driven by advanced DSP [digital signal processing] and loaded with technology, the simplified, yet effective, control panel allows everybody a quick, efficient setup. The CVE Series also offers the performance and sound quality that Cerwin-Vega is known for, and that will make every party shake."
The CVE Series prioritizes ease of use, leveraging DSP technology and a streamlined user interface to enable even novice users to tailor the system to a variety of environments and applications. According to Cerwin-Vega's director of loudspeaker engineering, Craig Hockenberry, "The CVE Series is driven by advanced DSP. But its simple, effective control panel allows quick, efficient setup. Just push one button to tailor your sound to any environment."
Karsten added, "We wanted to offer easy access to the DSP and all of its features with the least amount of complexity, so the user interface is very smart. In addition, we decided to invest the money into greater performance and reliability, rather than into a display and encoder."
CVE Series models feature two combo XLR/TRS mic/line inputs, and they are compatible with Bluetooth wireless audio streaming. "We offer individual gain control on the two mixer inputs, and a separate volume control for the Bluetooth input," said Karsten. "That gives you all kinds of flexibility, for example, when using a mic and a guitar, and also streaming backing tracks via Bluetooth. You can even daisychain via the mixed output, or pass-through."
The CVE Series also offers five selectable sound settings: Live/PA, Club/DJ, Mix/Flat, Monitor and Voice. Karsten explained the applications for each of these settings. "Live/PA is for good vocal clarity, and good overall performance. It's my preferred setting. You really get every nuance of the audio at any level, and it sounds solid and really grown up," he said. "The Club/DJ setting offers the dynamic bass boost. It's very useful at the beginning of an evening, when music plays at a lower level. Mix/Flat mode is linear, and great for an FOH [front-of-house] engineer to start with a flat response. Monitor mode is made to cut off some frequencies that are enhanced through floor usage. And Voice is mainly a setting for microphone use without any backing tracks."
Karsten elaborated on the CVE Series' DSP capabilities, and how the DSP complements the selectable sound settings thanks to algorithms developed by the Cerwin-Vega engineering team that automatically adjust the system to the type of music being played and the system's sound pressure level. "CV engineers realized that there is a vast variety of music selections and levels that could be played at any given event, so they came up with a set of algorithms that will adapt the system to the type of music [being played] and the level it is being played at. This ensures the highest level of performance from the system in any scenario, whether you play at background level or you crank it," he explained.
And, for those times when you need to crank the system, CVE Series models feature Cerwin-Vega's "CV Loud Limiter" technology to prevent distortion. "The limiter is there to protect the system," said Karsten. "We trademarked one of our claims and taglines: 'Loud is beautiful…if it's clean.' That means we want to provide great sound, even at high levels. No matter what level you play the CVE, it will always sound balanced and clean."
Each CVE Series model is powered by a 1,000-watt Class D amplifier that works in tandem with the unit's DSP to improve clarity and reduce distortion, as well as helping to keep the overall weight of the system down and prevent it from overheating. "Traditional Class AB amps used to have lower THD [total harmonic distortion] than early Class D, but they are heavy due to the power supply and, in addition, are very inefficient. We decided to utilize modern D Class amps, as their efficiency is greater than 90 percent, and their power dissipation is very low," said Karsten. "In combination with our current platform and DSP, we achieve amazing clarity and very linear behavior. Altogether, we ensure very good transient response over all frequencies. We conducted extensive power and heat tests before releasing the CVE. Even at high outside ambient temperature, where some competitive amps went into standby, our amps still continued to perform."
The CVE Series comprises three full-range, two-way models that vary in the size of their woofers; models with 10-inch (CVE-10), 12-inch (CVE-12) and 15-inch (CVE-15) woofers are available. All speaker models feature polymer enclosures, as well as a one-inch compression driver coupled to a 90-degree high-frequency horn. An 18-inch subwoofer model (CVE-18s) is also available.
"With 124dB on our CVE-10, and the low end rolling off at 50Hz at -10dB, we offer impressive performance on the smallest model of the range," concluded Karsten. "I believe it is fair to consider running a party of 100 people with a pair of these 10-inch tops, especially when you can use the integrated DSP to your advantage. The CVE-12 runs down to 44Hz, at a peak of 126dB. Most times when [we were] doing demos [with the CVE-12], the listeners assumed that a separate subwoofer was engaged, and were surprised that it wasn't. Putting a pair of [CVE-12s] out for 150 people seems about right. Add the CVE-18s subwoofer, and you can make the earth shake at 26Hz, and easily make 250 people at any wedding party happy."
The MAP of the speaker models is $329 for the CVE-10, $399 for the CVE-12 and $499 for the CVE-15. MAP for the CVE-18s subwoofer is $699. All models are available now.