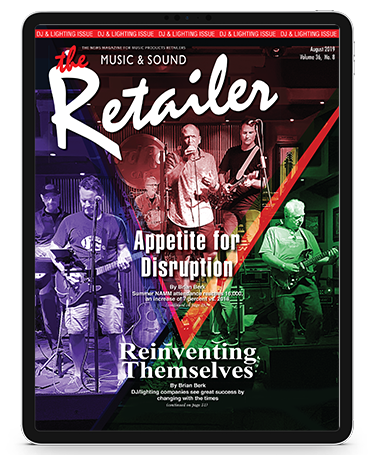 COVER STORIES
Summer NAMM attendance reaches 16,000, an increase of 7 percent vs. 2018.
DJ/lighting companies see great success by changing with the times.
FEATURES
Numark is certainly not just scratching the surface with its new Scratch mixer, which will be prominently displayed at this month's DJ Expo in Atlantic City.
INTERVIEWS
John Powell, president of Pioneer DJ Americas Inc., took on this role on April 1. Covering three pages, he offers tons of info about his new job, career and much more.
David Marsh, director of sales at Audix, has always been focused on this quote from Benjamin Disraeli: "One secret of success in life is for a man to be ready for his opportunity when it comes."
MISSION REPORT
MI Spy has his/her sights set on New York City to check out a drum set. Did the four stores visited hit the right beat?
COLUMNS
The sky is falling. Retail is doomed. Robert Christie has heard this before. He explains why retail is not dead, but it is changing.
Allen McBroom also discusses plenty of changes, but takes a different approach, discussing Greek philosophers, tariffs and more.
For anyone not in your store, a great way to increase sales is via great product photos. Gabriel O'Brien provides five tips on how to get the right outcome with your product photos.
Tamarac, Fla.-based All County Music was already a tremendous MI retailer. But what it did following the 2018 mass shooting at Marjory Stoneman Douglas High School will never be forgotten.
Could a "low-trust" internet society bode well for brick-and-mortar MI retailers?
BUZZ