Old Town School Music Store sits tucked away inside the former Hild Library, an eye-catching art deco building from the 1930s that housed a WPA-era Regional Branch of the Chicago Public Library.
Old Town School Music Store sits tucked away inside the former Hild Library, an eye-catching Art Deco building from the 1930s that housed a WPA-era Regional Branch of the Chicago Public Library. But once customers enter the giant marbled foyer and turn right at the greeter's desk, they are met with "a wall of glass that invites you into our intimate 1,000-square-foot sales floor," said Tim Joyce, the store's director of retail operations.
The store is part of the Old Town School of Folk Music, which has been fostering a love of music within the Chicago community since December 1957 and today offers hundreds of classes and workshops in music, dance and visual arts that serve approximately 6,600 students per week. Joyce works closely with the school, making sure the store is carrying the books, accessories and instruments their students need, but that's hardly the only customer base the Old Town School Music Store looks to serve.
"We have made a concerted effort to let the greater Chicago area, and the rest of the country, know that we are not just a store for students of the Old Town School, but a friendly place for anyone looking to start playing or take the next step," Joyce explained.
Joyce and his buying team make sure the store is stocked with a large selection of instruments, gear, and accessories for the folk and world music communities, including many items that aren't typically found in other Chicago music stores. "Whether it is vihuela strings, oud risha or hammers for a dulcimer, we pride ourselves on having the basics for local learners and players," he explained.
Old Town School Music Store
4544 N Lincoln Ave.
Chicago, IL 60625
(773) 751-3398
www.oldtownschool.org
Mon.-Sat. 11 a.m.-5 p.m.
Tim Joyce, Director of Retail Operations
The store also offers a robust rental program and a wide variety of repair services "ranging from a simple in-house restring and cleaning service to setup and major repair on stringed instruments and percussion done through local repair partners," Joyce explained.
Regardless of what the customer comes in looking for, or what level of playing ability they may have, Old Town School Music Store is specifically designed to feel welcoming to all. That is something of particular importance to Joyce, as he recalls his own experience navigating the music scene in his youth.
"As a kid and a college student, I was always both endlessly fascinated by and a little intimidated by music stores," said Joyce, who primarily played piano and guitar, in addition to being a self-described "home-recording nerd," before joining the store in 2001. "I think that plays a large part in my current desire to make sure customers always feel welcome and part of our community. When someone is new to this whole music thing, whether 13 or 83, we want to start them off with the most fun positive experience we can give them at the start of their music journey."
Part of what makes the Old Town School Music Store welcoming is its design. Joyce and the entire Old Town School Music Store team have thoughtfully created a space that is peppered with "unique seating areas for people to be able to sit and play," he explained.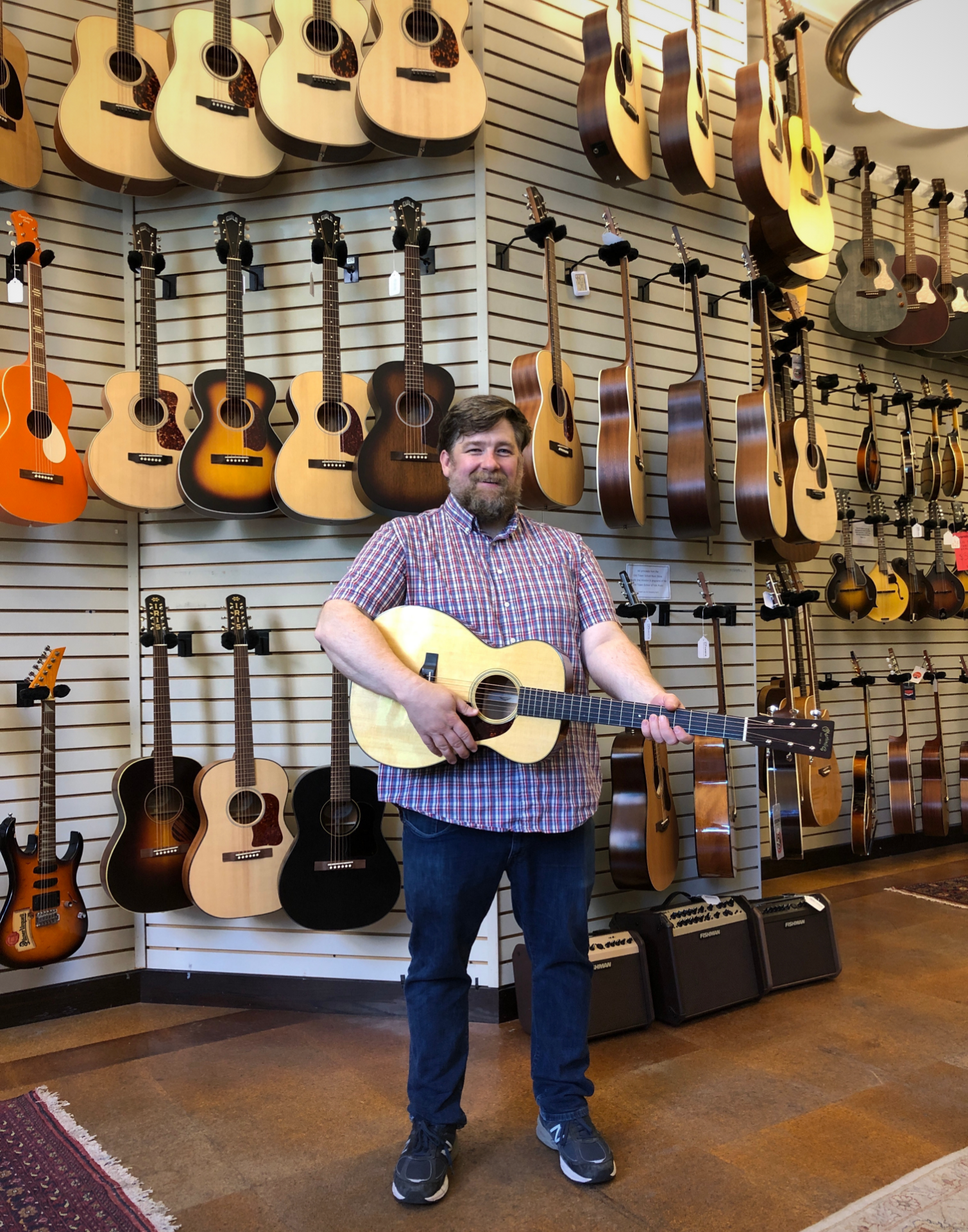 "The front of the store is open with low displays and two chairs and a coffee table, a great place to sit and pick or have a discussion with a classmate about which djembe sounds more resonant," Joyce continued. "You can try out a Pisgah on the rocking chair in banjo corner, or pull up a cajon that doubles as a stool to sit and try out an Eastman archtop with a Henriksen amp."
Another major component of the Old Town School Music Store experience is customer service. Currently, the store employs eight people, whom Joyce describes first and foremost as "friendly folks who are also knowledgeable musicians."
The fact that the store is part of a not-for-profit organization means that employees don't work on commission and they are able to really focus on the customers and their needs. "That takes some pressure out of the discussion for us and the customer," said Joyce. "We'd much rather counsel someone [who is] just deciding to learn guitar to rent an instrument and take a class than just sell them a guitar and send them on their way. We believe everyone is a musician, and our goal is to find the right solution for each customer's situation."
Joyce further encourages his staff to get into the mindset of their customers by doing what he did when first taking a role at the store: Join a group class in an instrument they don't know how to play.
"We are part of the largest community music school in the country, and that is our best training ground for new employees," said Joyce, whose own experience with the Old Town School of Folk Music has led to a love of the clawhammer banjo. "We have some of the best teaching artists in the country working here, and it is a chance to learn about the gear with a professional, but also a chance to see what it is like to be newbie surrounded by other people in the same boat. And it is an extremely fun way to learn about the school and how the store fits into the school community."
That community has been altered somewhat as a result of the ongoing COVID-19 pandemic. Students at the school have had to adjust to Zoom-based lessons, while customers' ability to browse, relax and play instruments within the store has been curtailed. Joyce and his team have taken on the challenge, not letting social distancing get in the way of good customer service.
"Not being able to touch and play an instrument before buying is definitely difficult from a customer perspective, especially when making a next-step instrument purchase," said Joyce, who communicates with customers via email, phone and video chat. "We are trying to do as much as possible to take the uncertainty out of these types of purchases for people by sending additional photos and audio samples, and getting in an online chat to do some A/B-ing. And sometimes, it is really just about reassuring people that they are making a good choice on a purchase.
"We're all learning how to navigate this new customer/retailer relationship, but for us, at its foundation, whether in person or over a digital medium, it is still all about listening, problem solving and teaching," Joyce concluded. "Despite the long calls and extra time, having a new customer give us a repeat call a week later for more advice about the banjo they just bought makes it all worth it."
To read more columns from the Music & Sound Retailer, click here.