No matter the reason, if you've never attended a NAMM show before, 2019 is the time to do so. And for those who have attended NAMM shows in Anaheim, Calif., many times in the past, there is yet another opportunity to learn something new that could change the course of your business, NAMM president and CEO Joe Lamond told the Music & Sound Retailer. "Education will be a major focus at [The NAMM Show]. There are so many opportunities for dealers," said Lamond. "The education at The NAMM Show will be unbelievable."
A second theme at next month's show will be opportunity, noted Lamond. "Opportunity for everybody to find their own potential," he said. "I'm really proud of the things we are doing to give more opportunities to women [for example]. Smart Women in Music and She Rocks are great examples. We are giving more scholarships than ever before to young women to come to the show that are business majors. I think we all have an opportunity to create more opportunity and access. I'm particularly proud of the fact there will be more room for young people to find their place in MI. I think the industry will benefit for years — if not decades — by us as an industry making it more welcome for everyone. That will be a big emphasis [at the upcoming show]."
It's hard to top the addition of ACC North, which added 200,000 square feet to The NAMM Show floor at the 2018 version of the event. But The 2019 NAMM Show will have plenty of new wrinkles as well. It all starts with pro audio and event technology, an area of MI enjoying robust growth. To help facilitate that growth, NAMM will host the Loudspeaker System Showcase, which will take place in the Arena inside the Anaheim Convention Center. "We will have rigs all set up," noted Lamond. "Throughout the entire show, there will be demos on these rigs; how to use them, highlighted equipment from companies and more."
As for who needs these products, it could be a school looking for a new PA system or a house of worship or a major festival or tour. "The Arena will be where you go to find the most innovative speaker setups and learn how to use them, what to install and more," said Lamond.
Quality Over Quantity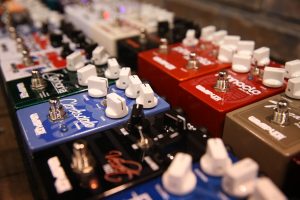 More than 115,000 people attended The 2018 NAMM Show, an attendance figure that would rival most any industry. Based upon attendee feedback, Lamond stated NAMM this year is placing a large emphasis on the quality of the attendance over the quantity of attendance. "This is an industry show. That's what separates it from a lot of the other things out there," he said. "We are taking a very focused look at the curated attendance. We are making sure it is really being focused on the industry. We are doing that by looking at badge allotments by companies and the partners we have, like AES and ESTA. The quality of attendance is way more important than quantity. If we wanted more people, we could just open it up [to the public]. But we don't think that would be good for the show. The retailers want to have access to the things they want to see without having to pass through a huge crowd to get to where they want to be. That's something that has come up often in our surveys. And exhibitors want to see a broad segment of the industry, including dealers, buyers, bloggers, public relations, mainstream media, specific media and they want to see key influencers like Stevie Wonder or [Dave Natale], the engineer for the Rolling Stones. We are putting together a broad [attendance] mix, but it's a curated mix."
As for the people who do walk through The NAMM Show doors, expect better traffic flows and signage, Lamond asserted. "We've made a lot of changes over the course of this year, including signage, traffic routing and perimeters," he said. "We will have a much more efficient system of moving people around the campus. We had to see how everyone chose to move around last year and where all the choke points were with the new hall [ACC North]. We have worked all those out. It will be much easier for people to move around compared to last year. We learned a lot and made a lot of changes."
Another large emphasis will be security, which is always a concern for any trade show operator. But this topic really hit home last year, due to domestic and international tragedies alike. Unfortunately, these tragedies have not stopped. But NAMM has a thorough, detailed game plan in an effort to keep everyone who attends The NAMM Show safe. "Everyone got home safely last year, and that is our continued goal," relayed Lamond. "We will do everything in our power to make sure it stays that way. … There are really smart people involved in this. Whether it's Homeland Security, the FBI, state police or fire departments, I am such a dedicated fan of the dedicated people in that field. Everything that happens, they learn from. We get the benefits from their best practices. We are lucky enough to work with these professionals at all levels. They are our guide in how to keep our event safe. We work with the very best people in the country to make sure The NAMM Show stays safe. They will be guiding us every step of the way."
Breakfast of Champions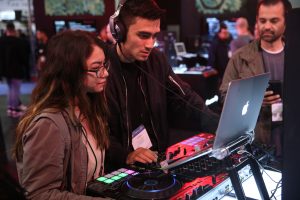 Many NAMM favorites will return next month, including the Breakfast of Champions on Jan. 24, when Lamond himself hosts a standing-room-only discussion about one or multiple hot-button industry topics. This is often added to an interview with a celebrity guest. Of course, Lamond can't reveal who the special guest will be next month, but he did offer up details on what will be discussed during the popular session that commences before the trade floor opens. Next month's theme will be "Be Originals," focusing on people who think differently than others, and the impact they have had on MI.
Breakfast of Champions will not be the only show highlight. The education sessions will actually commence the day before The NAMM Show opens on Jan. 23, with the "Retail Innovation Summit," hosted by Bob Phibbs, known as the Retail Doctor. "[The Summit] used to focus on sales and specific parts of retail," stated Lamond. "But we've now broadened that out, where it deserves the title of Innovation Summit. It will have everything related to retail — sales, marketing, tech, finance. Zach Phillips [NAMM's director of professional development] has done a tremendous job and gives a lot of dealers a reason to come to Anaheim a day early. It's an all-day deep dive into the issues of retail. I would highly encourage any retailer who is concerned about the future to be at the Innovation Summit."
Following up on the Breakfast of Champions, the breakfast sessions will continue on Friday, Jan. 25 with "Transforming the Music Industry: Trends, Game-Changers and Opportunities." Led by Daniel Burrus, futurist and innovation expert, this session will reveal the current and future trends guaranteed to shape the music products industry.
Saturday, Jan. 26's breakfast session, titled "How to Win in the Age of Disruption," features Scott Stratten, president of UnMarketing and best-selling business author, who will share strategies and stories from the eye of the disruption hurricane, drawing from not only his retail experience but also from what made him who he is today: a guy in the music business who got his start managing bands — and "survived to tell the tale."
And on Sunday, Jan. 27, the "Best in Show," a roundup of the biggest products, services and technologies displayed on the exhibit floor, returns.
All breakfast sessions will commence with an 8 a.m. first-come, first-served breakfast, followed by presentations from 8:30 a.m. to 9:30 a.m. All will take place at the Hilton Anaheim Hotel, Level 2, Pacific Ballrooms.
In addition to the breakfast sessions, plenty of education sessions will take place at the Anaheim Convention Center throughout the show day from 10:30 a.m. to 5:30 p.m. at the NAMM Idea Center, Level 1 Lobby (between Halls B and C). To see all NAMM University sessions, visit NAMM's website at namm.org/nammu.
That's Entertainment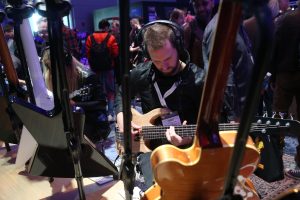 It wouldn't be a NAMM Show without entertainment. Once again, there will be plenty of performances and activities to choose from on the nights of Jan. 24, Jan. 25 and Jan. 26 at The NAMM Show. This includes the Grand Plaza, which will be active all three nights. A celebration of the NAMM Foundation will take place Thursday night and will be one of the events on this stage. The John Lennon Educational Bus celebration will take place Saturday night at the Grand Plaza.
Following on a highly successful move to right outside the Anaheim Convention Center in January, Yamaha's All-Star Concert will return to the same location on Jan. 25. Performers at this event have yet to be announced, but Yamaha's concerts are always a talk of the show, and last January, featured Melissa Etheridge, Michael McDonald and more.
And over at the House of Blues Anaheim on Jan. 25, She Rocks will host its seventh-annual event, honoring Macy Gray, Lisa Loeb, Nita Strauss and more.
As is always the case, this is just a small sampling of live events. Check back in our January issue for more on this topic, and view our ConventionTV@NAMM broadcast.
AES and ESTA Return
The Audio Engineering Society (AES) will also return for a second year at The NAMM Show to provide 165 educational sessions that are grouped into six different training academies. "I see more and more MI dealers involved in this event," said Lamond. "I have spoken to have a lot of retailers recently. I ask how the year has been going. Some are saying their brightest spots [on a sales basis] are installs and live sound. Installs and live sound are becoming real profitable parts of their business, especially in an age where many other parts of the business have become hyper competitive."
The Entertainment Services and Technology Association (ESTA) will also have its presence felt at The NAMM Show. "This may be new for several retailers, but you can go and learn about rigging, lighting, electrical, safety and everything else related to putting on a concert or other live events," Lamond said. "For retailers, it is a huge blue ocean of opportunity for a profitable business. But the key is, you have to do it right. You can't mess with it. You can't do it halfway. If you want to get involved in this area, these sessions are fantastic. Many of the sessions are certifications and many have government support to ensure they are up to date with the most recent safety practices. We are providing for free all the information to make sure retailers take on these tasks safely. This is especially great for combo dealers who are looking to grow."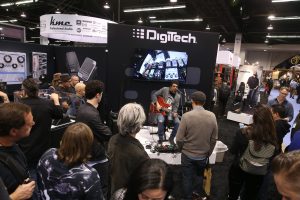 On the Fence?
Still deciding whether to attend The NAMM Show or not? Leaving the store and the expense of traveling are always obstacles. To get more information on why it makes sense to attend, we spoke to two independent MI retailers who initially did not attend The NAMM Show. Bel Air, Md.-based Joe Noto's Music Land was founded in 1971. Joe Noto owned and ran the store morning, noon and night until his unfortunate passing in 2015. He rarely attended The NAMM Show for the simple reason that he never left the store, said son Larry Noto.
"He wouldn't even leave the store to go to lunch," said Larry Noto, "let alone go to California."
According to Larry Noto, who was a marketing executive at the time of his father's passing, there was no succession plan at the time, but the family wanted to keep the store running.
"A rep who is a good friend of ours started telling me about NAMM," Larry Noto told the Retailer. "He told me there is a trade show where you meet with vendors, and [it] has educational sessions. My background was in Baltimore tourism for 15 years. I remember going to public relations shows and recalled that was how I learned the industry. I realized there are resources out there for those trying to run an independent music store. It was a moment of clarity for me. I said, Hey, maybe we can do this."
At the time Larry Noto started running the store in 2015, he acknowledged he didn't know the difference between a Strat and a Tele. "But I went to education sessions and met with vendors at NAMM," he said. "I learned about the ukulele craze. We had three ukuleles in the store at the time and now we have 40."
Larry Noto added attending The NAMM Show has been a game-changer for him. He has met other store owners at The NAMM Show, some of whom he still emails to ask questions.
He also was introduced to store design at the trade show. That paid off in a big way, as Music Land won the NAMM Top 100 "Best Store Turnaround" award, presented at Summer NAMM. "I didn't know anything about store design, and then I'm standing on a stage receiving an award for it. It's unbelievable," said Larry Noto.
Although attending The NAMM Show for more years than Larry Noto, Marshall Music President Jimmy Edwards initially did not attend because he considered it a luxury or a perk to do so. But now he goes every year. In fact, the operator of seven stores will have six associates at next month's show. Initially, when he did start attending the show, he thought traveling to southern California was a fun thing to do; not a development possibility.
"I wasn't even aware of the learning opportunities NAMM offers," Edwards said of his time before attending the show. "I was initially there as support staff to help buyers identify cool products."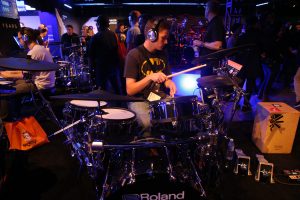 Today, the president of the Michigan-based retailer believes that The NAMM Show's educational sessions are among the top five reasons for his company's success. "It may even be in the top three," said Edwards. "Once I opened my eyes to all the various [educational] sessions, it really helped me a great deal. It's phenomenal what NAMM has done to create these great educational opportunities at the show. The NAMM Show has always been an opportunity for networking, but the educational sessions are really out of this world.
"Having somewhat limited training opportunities internally, I saw NAMM as an opportunity to grow," he added. "I can start to use big words [laughs]. I can start to talk about things going on in the industry."
Edwards noted there have been several practical ideas he has learned at The NAMM Show that he has successfully used at his business. He acknowledged not every idea will always work, but the ideas that have worked have benefitted the bottom line significantly.
"I think it's also critical at The NAMM Show to see and talk to people that are doing things better than you," Edwards concluded. "It's nice to pat yourself on the back if you are doing well. But I'm humble, and it's nice to know what we need to do better and strive to get there."
State of the Industry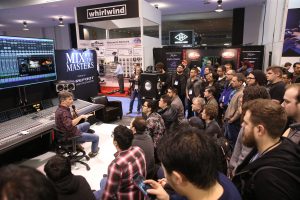 We couldn't let Lamond go without asking about the state of MI. So, to finish our discussion with NAMM's president and CEO, we asked Lamond to look back at the state of MI thus far this year, and to look ahead.
Not everything was perfect for the MI industry in 2018, he responded. But when we look back on 2018, it will definitely be considered a positive year for the industry. "There will probably be years in the future where we wish it will be 2018 again," he said. "This was not a bad year by any means. But yet, at the same time, some instrument [sales] were up, while others weren't. Generally, not every segment goes up or down at the same time. It's a moving bank of elevators."
One place of particular strength can be found in the accessories market, noted Lamond. "We seen a growth curve over the last 10 years," he said. "It's very important to point out, because it is a measure of music making itself. The more you play, the more you use accessories like strings and sticks. We've seen sales of accessories go up over the last 10 years, but sales were up more significantly in 2018. That's a big positive. People are placing value on music making. 2018 will be viewed as a good year for most of the industry."
Of course, this doesn't mean everything is great moving forward. The economy appeared more shaky as we entered the end of the year, and tariffs, if enacted, are certainly an unknown for retailers. But Lamond is optimistic looking forward.
"There certainly are economic shifts and things that will affect the larger economy," he responded. "But when we look at our world, we can look to music education in our country. I was talking to a school district in Cincinnati. Thanks to the new education bill that NAMM and its members were a really big part of, hundreds of thousands of new dollars are being spent on musical instruments in the school district this fall. I like where we are at with music education and the fundamental driver of our business, which is getting young kids starting to play music. My mantra is more to start and fewer to quit."
As far as tariffs, Lamond said plenty of things have been thrown at MI in the past, and it could have an effect on business. But as long as MI focuses on serving its customers, retailers can thrive. "We do need to monitor changes and adapt quickly," he said. "We may need to change our tactics and strategies. Adapt, adapt, adapt. I can't be tied up in headlines. The real job is taking care of your customers. Tariffs, politics and debt will play out."
Lamond concluded that if he were still working at Skip's Music, which he served in the past, he certainly would be cautious, however. "I would think about being prudent and put some savings aside and prepare for what might come next," he concluded. "I am cautious by nature and would look at every penny of expense. I would want to look at every fixed cost and be very prepared. Then, if nothing goes wrong, great. But if something goes wrong, you are ready and prepared for the storm."