Mike Risko Music has been a one-stop shop for musicians who want to listen, learn and play in the Ossining, N.Y., area since 2010, when the store grew out of a music school run by Mike and Miriam Risko. Miriam came on board in 1997, two years after Mike first opened his music school, and in the intervening years, the bond between its owners has continued to strengthen. In fact, they even got married in their shop.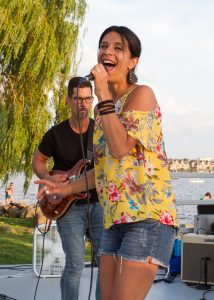 "We are probably the only owners in the industry who ever got married in their music school," said Miriam. "In 2000, we walked down the aisle we created between lesson studios one and two. Mike was teaching lessons in his tux just a few hours before we said 'I do.'"
The marriage and partnership between Mike and Miriam Risko form the backbone of their business as they complement and collaborate with each other to keep their store creative and going strong.
"Our business was built from a strong foundation and a love for our own music and wanting share it with others," Miriam stated. "Mike and I are strong business partners, as well as husband and wife. We complement each other well."
In addition to music, Miriam comes from a public relations and marketing background, and she handles much of the store's community outreach, including work with school districts, community organizations and business partnerships. "I believe in giving back, and it's a small community, so we try to do a lot of engaging things," she explained.
At the same time, Mike handles much of the ordering and day-to-day store operations. A self-professed "guitar nerd," he has been playing guitar for more than 30 years. "I started playing when I was 13, and now, at 51, I'm exactly the same way — geeking out about music, listening to music and getting into the new gear," said Mike. "It's a dream come true to be in a room with 150 guitars every day. It's in my blood, and the enthusiasm is contagious. Customers can feel it."
When selecting the gear to sell in his store, Mike tries to balance stocking boutique brands he believes in with larger companies whose products offer good margins. But the most important thing for him and Miriam is that they can stand behind each and every item they sell.
"Everything in this shop is something I believe in, whether it's a $1 item or a $1,000 item," said Mike. "If you don't believe in it, no one else will. The most important thing is to be real. People are smart, and they see through that stuff."
The Riskos have a band, where he plays guitar and she sings, and they make sure that the items they use on stage are reflected in their product offerings at the store.
"The fact that we are active in the music industry strengthens what we do," said Miriam. "For example, I just ordered an iPad mini to use for lyrics, and I found a great holder for it, so now we carry that in the store and I can tell the customers with passion why I love it."
The instruments serve as the main focal point of the store, which sports photos of student performers on the walls, in addition to some music-themed paintings. "The main art in our store is our instruments, though," said Mike, who described the store's aesthetic as industrial zen. "We took some cool design features like the shelves we built out of black gas pipe and sugar pine. That's where we put our effects pedals. I didn't want to have slatboard everywhere. It's boring. We wanted to be cool and hip and the type of store where I would want to shop."
Customers have to walk through the sales floor in order to reach the performance and education space in the rear of the store. Back there, you will find eight classrooms where 30 instructors teach private lessons and group classes, all designed and managed by the Riskos, as well as "a stage area so it feels like you can pick up an instrument and you're ready to perform," said Mike. "We want our customers to play these instruments, not just treat them as collectibles."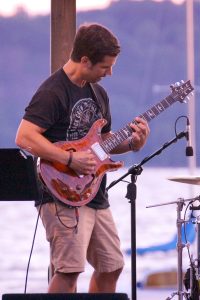 "Everything we do culminates in a performance opportunity," added Miriam, who founded and launched a musical theater program at the store in 2015. That program has grown from nine children in a show to close to 50. "Although it is theater, we want to keep it musically driven, so the emphasis is on music, and it has expanded our lesson program due to kids wanting to study voice to get better at their roles in the play.
"We want to offer a lot of opportunities to be engaged in music," she continued. "We are on a quiet street, so we want to be a destination and offer our customers everything they will need in one place."
Mike Risko Music is also working to expand its reach beyond the local community with the launch of a new ecommerce site and a "Zoom Room," where it can offer live video lessons. "It started with FaceTime lessons for students who couldn't make their lessons. It went so well that we put the room together," said Miriam.
Using this technology opened up some unexpected avenues for the store, such as allowing a beloved teacher to continue giving lessons even after moving to the West Coast, and they eventually plan to launch a video subscription series.
"These are forward-thinking ideas. We have to stay on top of things," concluded Mike. "I think, just like every industry, MI is exciting and it's moving forward. The companies that stay focused on changing with the times and going with the flow of technology and business trends will thrive. Those who sit in their brick-and-mortar store and don't engage will fail."