There were several boutique effects pedal companies on hand at NAMM, all of them hoping to ride effects pedals' recent wave of popularity. One of those companies, which stood out from the pack thanks to its strong branding, was Beetronics. The company's booth was home to booth hands decked out in beekeeping gear, and it featured eye-catching art that reimagined iconic rock stars as bumblebees.
Beetronics' Co-Founder, Filipe Pampuri, who started the family business with his brother, Daniel, his sister-in-law, Camila Teixeira, and his wife, Cristal Nogueira, shed some light on the company's unique branding. "We have this bee theme because my nickname growing up in Brazil was 'Abelha,' which means bee," Pampuri said. "Back in the day, I was just making pedals for myself, and I once wrote on a pedal 'Abelhatronics,' which became Beetronics." He continued, "We're pretty unconventional in every aspect of our brand. We make everything from scratch. We create our own enclosures. My wife is an architect, and she created all the 3D parts. Inside of the pedals, we have some really cool painted circuit boards (PCBs), shaped like bees and hives."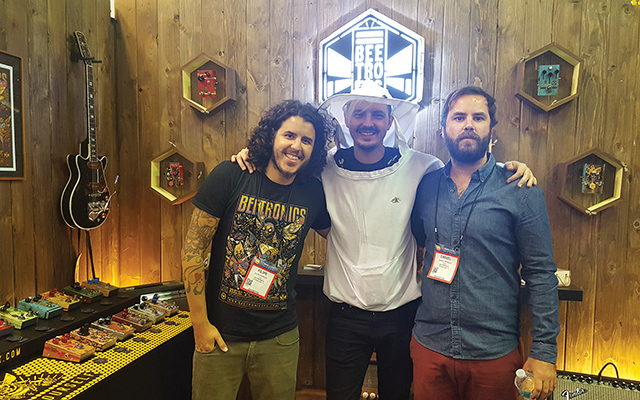 As far as Beetronics' product offerings go, "We launched the brand six months ago with the Octohive and the Whoctahell," Pampuri elaborated. "The Octohive is high-octave fuzz. It has a '70s vibe to it…a very Jimi Hendrix style like the Octavia Vibe. But it's a little more versatile. You can find tones from a very-high-gain fuzz to a low-gain kind of ring modulator vibe." He continued, "The Whoctahell is a whole different beast. It's a low-octave fuzz, square-wave octave. So, it's very gnarly; it acts super weird; and it has a mind of its own. It's very hard to control. And the pedal that we're launching here is the Overhive, which is a really round, medium-gain, smooth overdrive that's very warm and creamy. It's a pedal that will work on pretty much any rig. And you can push pedals, push amps, you can use it as an overdrive or you can use it as just a little boost. It's super cool." Beetronics also offers a line of Custom Series pedals that features unique, one-off designs.
According to Pampuri, the company's first appearance at the NAMM Show is just the start of big things to come. "We plan on launching probably four new pedals this year," he revealed. "We also have plans for our Custom Series to collaborate with artists from all over the world. Right now, our products are in 15 countries, and we're in a lot of online stores and physical stores in the U.S., as well. Within the next few months, we'll be expanding pretty much everywhere in Europe. And NAMM has been great exposure for us."
To read more of NAMM New Class 2017, click here.