String Swing's history dates back to 1983, when Paul Thieman and Anne Tainter were running a small dairy farm in Elroy, Wis. Thieman, who played guitar in a local band, envisioned a guitar hanger that would enable him to keep his guitar out of the case, properly supported and ready to play in a moment, yet safe from damage. But because there was no such product marketed for home use at the time, he made his own out of spare parts from around the farm. The invention worked perfectly, keeping his guitar accessible any time he wanted to work on a song. Three years later, when he and Tainter were going over their finances, they decided to make more guitar hangers and sell them commercially. In 1987, they founded String Swing, which produced not only the first mass-distributed guitar hanger, but more than 1,400 other stands, hanging devices and display modules for musical instruments of all types.
String Swing's most successful product is still its first: the CC01 Home and Studio Guitar Hanger. During its first year in business, after an initial trickle of distributor orders for the CC01, String Swing received its first "large order" of 30 units. Compared to the order quantities it receives now, that was very small, but that day was still a very exciting one for the company.
Music retailers, with their stocks of fretted instruments in need of wall display, quickly became some of String Swing's most enthusiastic customers. At about this time in the late '80s, slat wall was becoming a popular fixture for retailers, so String Swing began manufacturing guitar hangers to fit the slat wall. This was the start of a profitable back-and-forth between the company and its customers that continues to this day. Many String Swing original product designs were hand-crafted on the requests of music-industry dealers. It's not uncommon for retailers to call and ask, "Do you have this?" or "Can you make that?" And quite often, String Swing will say "yes."
This month, in honor of our Accessories, Bags and Cases issue, we spent "Five Minutes With" String Swing vice president Travis Thieman to get the latest on this segment of the industry. Enjoy.
The Music & Sound Retailer: Please tell us about String Swing, its history and what you provide displays for.
Travis Thieman: We are a U.S.-based manufacturer of displays for all things musical. Most of our designs were created for our own, or our customers', necessities. The first and most popular product has always been the wooden-block wall hanger for home use, model CC01.
The Retailer: Discuss how you first became involved in music and what you enjoy most about the industry.
Thieman: I was born into a musical family that started this company, and I love helping customers create beautiful displays in their stores and homes. I am still a musician, which I believe provides insight for the way that our company is operated.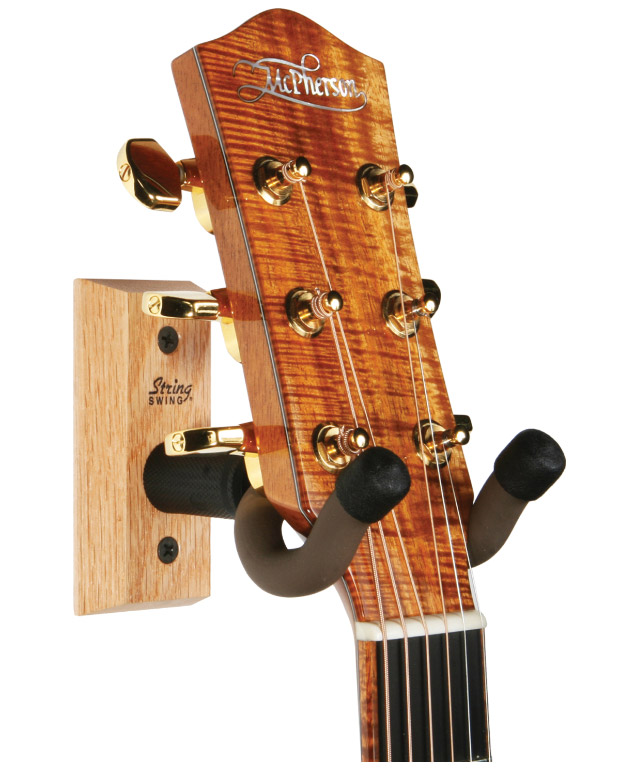 The Retailer: Tell us about your work experience and career.
Thieman: Outside of odd jobs in high school, I earned a marketing degree, and this is the only real job I have ever had. I have done almost every task that our company has to offer at some point of working here. I think that is helpful in understanding what I am asking our employees to come in here and do every day.
The Retailer: What is the best part about your job? Tell us about your job and who/what you are responsible for.
Thieman: The best part is seeing our company thrive. From our products to our employees and customer satisfaction, I love to see positive growth. I am responsible for the operations of our company. We have an excellent team in place, who take care of a lot of the day-to-day business. I tend to deal with the challenges presented by our changing industry, and creating an environment where new ideas can solve those challenges. I also oversee our in-house product development and refinement.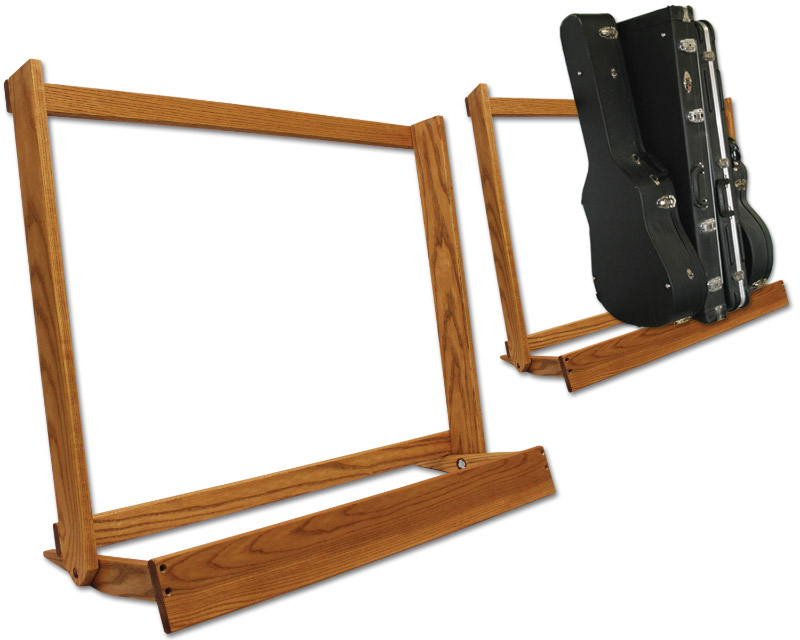 The Retailer: What separates String Swing from its competitors?
Thieman: We design, build and manufacture everything, outside of a few components, under one roof in the United States. The flexibility of being able to walk out of the front door of my office to the production floor in order to discuss a new product or design change is not something that you can put a dollar value on. Just as important as that, we care very much about the products we make and the customers that will use them.
The Retailer: You sell displays for many product segments of MI. Does the health of those segments directly affect your business? If so, what segments are doing especially well now, and how do you boost sales in areas that slump a bit?
Thieman: Our strongest sellers have always been wall-mounted guitar hangers for the end user. The other segments have always been, and most likely always will be, a modest supplement to that. We have never seen a great success in trying to pick up sales or market harder on a slow product segment. A great product is influenced by marketing, but you can never change if it is a real winner or not by marketing more, less or differently. We have had some of our best years when the economy is rated poorly. That may be reflected from the affordable nature of our accessories, but we have also had just as strong of growth when the economy is strong.
The Retailer: Do you have any advice for retailers when selling your products?
Thieman: If they don't already know it, keep them where customers can see them. I know that any brand will tell you that, but accessories like guitar hangers, strings, tuners and such are affordable enough that they can be bought on impulse, even if that's not why the customer came to the store. Also, check out some of the niche items that we have besides the standard guitar hangers. They may not move quite as fast, but are still profitable and worth putting on the shelf.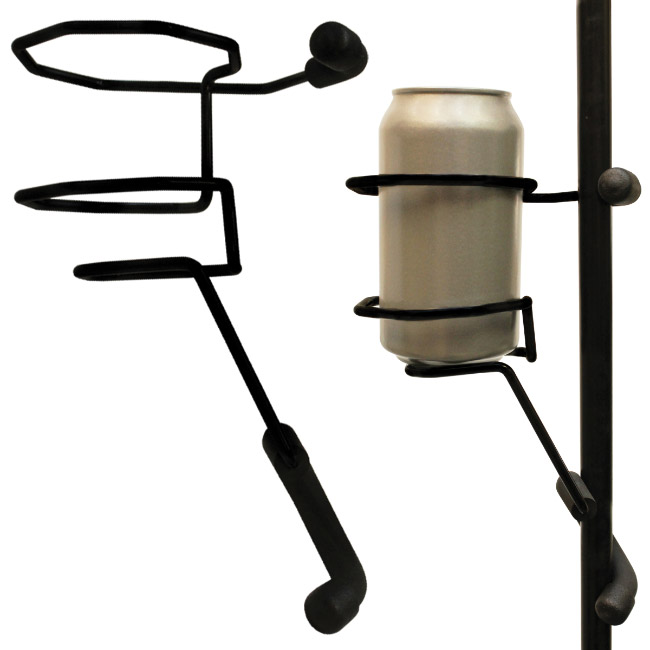 The Retailer: Please tell us about cool new products you have released recently.
Thieman: Our SH01 mic stand cup holder is starting to sell very well, and is getting great reviews from anyone that uses it. It is affordable, simple, effective, and will outperform and outlast the competition. It is a fun accessory for anyone that is on stage with a mic stand.
The Retailer: What can we expect from String Swing in the future?
Thieman: We are adapting to our changing industry and will continue to innovate new products that make life easier and instruments look better for music enthusiasts everywhere. We will always make our products right here in the U.S. and back them with a structural lifetime warranty.
---
---
String Swing Fends Off Counterfeit Products Sold on Amazon
String Swing has discovered, via a test buy, that counterfeit versions of certain of its products have been sold on Amazon.
"We purchased a guitar hanger that looks and feels a fair amount like a String Swing, but it's not," Travis Thieman, vice president of Ontario-Wis.-based String Swing, told the Music & Sound Retailer. "It came in a package that says String Swing and it says String Swing on it. Someone who didn't know the product well wouldn't think anything of it until they installed it or used it and realized it's not very good quality. The mounting hardware and components are not anywhere near as high a quality compared to our products. But at first look, it's a decent reflection [of our products]."
Thieman said any end users who received the product can contact String Swing, and it will be replaced with an authentic product. "I don't want anyone disappointed in our product at the end of the day, despite the cost to us," he said.
String Swing does not sell its products directly to Amazon, but end users can purchase these products via third-party sellers.
According to Thieman, String Swing has contacted Amazon, which has not been quick to resolve the issue. However, the online retailer is working on a new level of brand registry, expected to roll out shortly, that String Swing is "eager to take part in."
"But up until that point, anyone can go on [Amazon] and say I have one of those for sale, ship into the Prime system and sell it, regardless if it is authentic or not, until you can prove otherwise to Amazon, which can be quite a task."
Thieman relayed String Swing is not alone. Several other manufacturers, whether in MI or not, have also faced this issue. Counterfeiters clearly believe the financial upside outweighs the effort it takes to illegally copy a product.
"I'm not an expert in this, but what I understand is happening, and what I believe happened, with our product is someone can go to a website, such as Alibaba, and find a manufacturer in China, send them a sample of what you want, and if the company is willing to violate IP [intellectual property] rights, they make a product that's so close the lay person can't tell. You can source that product for a fraction of the cost [of] a legitimate dealer and then resell it at a much higher margin."
Thieman stressed that on the MI retailer end, he does not believe String Swing's legitimate dealer network has been affected at all. "I believe it's contained to the anonymity of third-party selling sites. … For MI retailers, the biggest thing to know is it has happened in the industry."
For end users, if the price is much cheaper than usual for a String Swing, or if the product is being sold by someone who just launched with zero feedback, a red flag should be raised, he added.
Thieman did say he at least takes some solace in the fact that counterfeiters must think highly enough of String Swing products to copy and sell them. "I guess that says something good about what we're doing," he concluded.