Peavey Electronics on Aug. 5 is kicking off Peavey Days at select Guitar Center stores across the nation, which will offer customers exclusive prizes, hands-on training from Peavey factory reps and hot deals on Peavey gear.
"Peavey Days go way beyond doorbusters by offering customers exclusive pricing on all Peavey products, plus giveaways that include gear, T-shirts and more, all event long. Whether a customer stops by their nearest participating Guitar Center in the morning or in the evening, they'll be able to take advantage of a special 20-percent-off discount on Peavey gear. In addition, each participating store will have an in-store drawing where one lucky customer will have their Peavey purchase reimbursed by the manufacturer," stated Peavey.
This event offers Peavey specialists the opportunity to interact with customers in person, providing them hands-on training with new equipment at select stores. In addition, Peavey artists will make appearances to demo products, giving customers the chance to learn about many products, including the recently introduced Dark Matter DM and RBN series of powered PA speakers.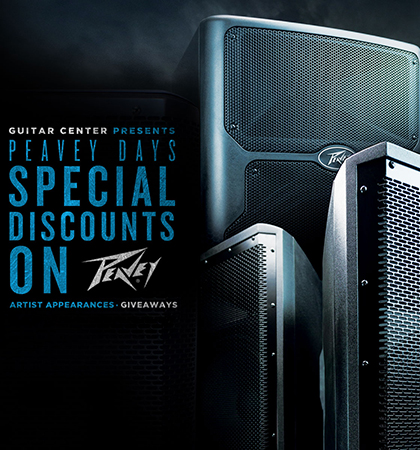 Participating locations include Atlanta; Central Chicago; Hallandale, Fla.; Houston and North Houston; New York City; New Orleans; Oklahoma City; Raleigh, N.C.; San Jose; and Sherman Oaks, Calif.