Every bass player wants big, rump-thumping sound. But, for touring musicians, achieving that kind of sound often means lugging around a bunch of heavy bass cabs. Drue "Boom Boom" Williams, Owner of Boom Bass Cabinets, and Co-Founder Brad Johnson knew there had to be a way to get the stage shaking without their backs breaking. "The whole concept behind Boom Bass Cabinets is both of us are bass players and working musicians," Williams said. "So, we were trying to figure out something that we could build that wouldn't break our backs, but would still keep that big sound. I'm also a carpenter by trade, so I put the two together."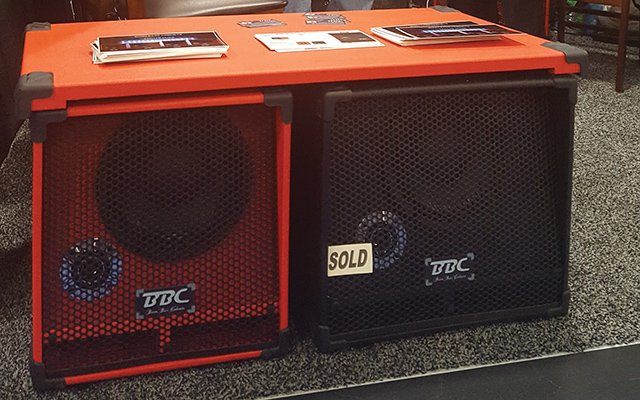 Williams also used his background in carpentry to devise a hardware-based solution to common problems that some bassists have with their stage sound. "A lot of times, bassists have to tilt the cabinet back or set it up on a chair, so the sound will come up at us," Williams explained. "So, while I was building these speaker cabinets, I came up with an idea of tilting back the baffle. Having a cabinet driver facing down allows the cabinet to get more low end on it, without having to have a lot of bass turned up on your gains. It also keeps the sound a little tighter." Johnson added, "We used a full-range driver for the bottom driver. So, the cabinet actually fires full-range sound out to the left, the right, forward and up. It gives you an ambient dispersion where you can't get away from the sound." There are four models in the Boom Bass Cabinets line, including a model designed for guitars. All models are available in a range of custom finishes.
Thanks to their unique design, Boom Bass Cabinets pack a lot of power into a small footprint. "Our cabinets range from 36 pounds to about 47 pounds for our biggest one," Williams confirmed. "They all put out between a range of 1,200 watts and 1,600 watts. And, they're all full-ohm loads. So, you're going to be able to get the most out of the amps that you use." He continued, "Most bassists carry two cabinets around, because they need them to get the punch, the feel and the body they want. With our cabinets, you only need one."
To read more of NAMM New Class 2017, click here.