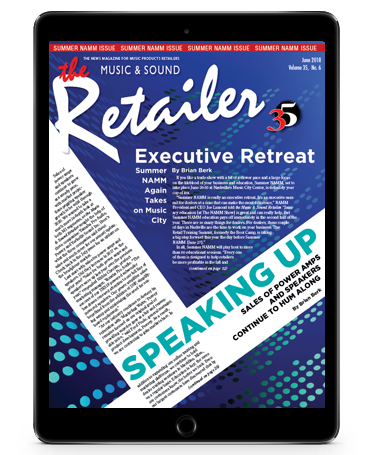 COVER STORIES
Summer NAMM comes a little earlier this year, from June 28 to June 30. We take a look a at what to expect in Nashville this year, with the help of NAMM president and CEO Joe Lamond.
Power amps and speakers continue to sell at a steady pace, with more growth expected. We take a close look at these segments with commentary from Yamaha Pro Audio, Peavey and Yorkville Sound Inc.
FEATURES
A look at products that will be highlighted at this month's show.
Fender goes out of this world with its Parallel Universe Collection.
In a special second Special to the Retailer, we feature Wallace Detroit Guitars, which has a unique relationship with Chevrolet.
INTERVIEW
Antonio Ferranti, president, Proel North America Inc., is the man behind the strong growth for both Proel and Dexibell in just one-plus years. We get the scoop, as well as taking a look at a special event the company hosted in Italy in April.
MISSION REPORT
Things are beginning to look up in the Phoenix region, with the Suns earning the No. 1 overall pick in the NBA Draft, and the baseball team looking strong. How was service at MI stores?
COLUMNS
Reverb.com has become one of the world's largest music gear websites, and one of the main people behind the success is Lynette Sage.
Handling online complaints — whether warranted or not — is one of the toughest things MI dealers have to face.
E-commerce has been a great boon for Dave Plunk, owner of Illinois' Music Makers.
Gabriel O'Brien reminisces about website design, dating back to GeoCities.
Will Mason tackles yet another important topic: making sure you don't hire the wrong people.
Anything that can make your store more of a destination is a great advantage. Dan Vedda discusses what synergies can work.
According to Ibanez, the secret to the Artwood Vintage range's old-school aesthetic and throwback tone is its Thermo Aging process.
Learning about Paul Reed Smith's mentors and great influences is fascinating enough. But he digs even deeper and answers plenty more of our questions.