There's good and bad when it comes to the state of the U.S. economy and the U.S. worker. The headline in the "good" column is the continued distance between today and the awful years in the first decade of this century. The U.S. economy is close to "full employment," according to Federal Reserve Chair Janet Yellen. It's hovered below five percent unemployment in recent months, with the economy continuing to add jobs.
A whopping 21 states have already implemented minimum-wage increases, or plan to do so this year. That is likely to help MI retailers or, at minimum, be neutral to sales. It's always good for retailers when lower-income workers, along with the affluent, have cash in their pockets.
However, there is some bad to be found. Average hourly earnings continue to trail cost-of-living adjustments. For example, rises in healthcare costs continue to be a problem. In January, average hourly earnings rose just three cents, and a paltry two-and-a-half percent on an annualized basis.
And, of course, the economic recovery from the depths of the recession that began in December 2007 has continued for about eight years, which is a very long time by historical standards. That means a new recession could rear its ugly head. However, of note, economists are not predicting a recession this year.
In light of the previously stated facts, we will consider whether customers are in the mood to take the plunge and buy guitars this year. How strong were guitar sales in 2016, and how are they looking thus far this year? To answer those questions and others, The Music & Sound Retailer consulted Jim DeStafney of Pensacola FL-based Blues Angel Music and Keith Grasso of La Plata MD-based Island Music Co.
Looking back on 2016, guitar sales faced a second straight year of weakness, as compared to a gangbusters 2014. However, 2016 was different from 2015, which saw all its weakness during the year-end holiday season. Twenty-sixteen saw strength and weakness at various times during the year.
According to Jim Hirschberg, President of MI SalesTrak, "The guitar market began 2016 with an up-and-down pattern, consisting of a strong month with year-on-year growth, followed by a slow month. But the trend turned more negative in the second half. Despite several months of solid gains, electrics finished the year down 0.3 percent, whereas acoustics dipped 3.1 percent versus 2015."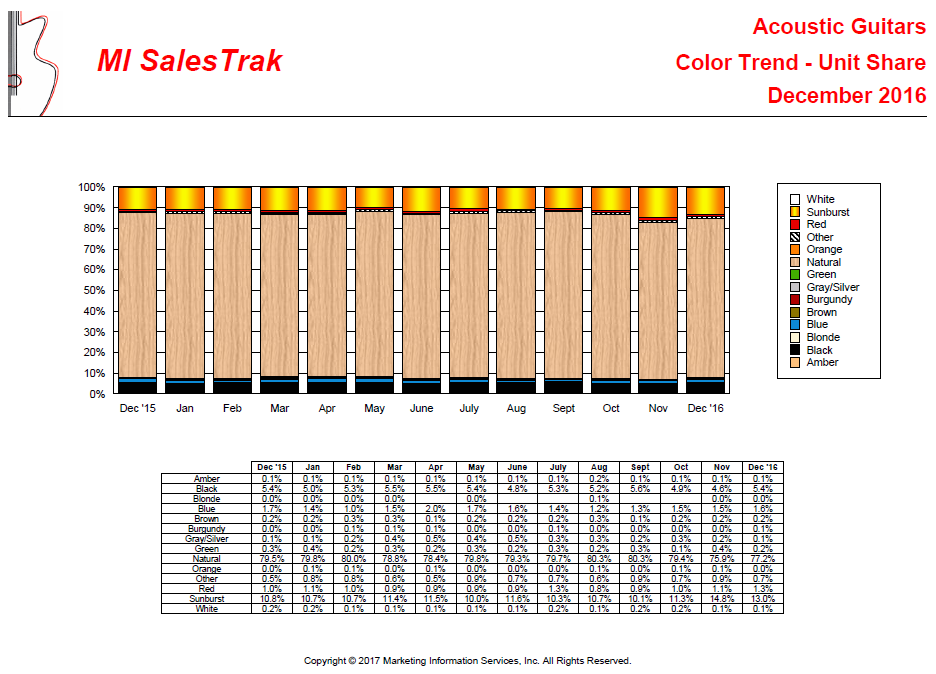 Acoustics are continuing to decline in terms of dollar share of sales, by guitar type. According to MI SalesTrak, acoustics made up one-fifth of the dollar share of guitar sales in 2016 versus 22.5 percent two years prior. However, there is definitely good news in the data for electric guitars, whose share continued to pick up. Electric guitars now make up 46.1 percent of the dollar share of guitars sold, as compared to 45.4 percent and 45.2 percent in 2015 and 2014, respectively, per MI SalesTrak.
Dollar share for acoustic-electrics was mostly flat, dropping a tenth of a percentage point to 33.5 percent in 2016. It's important to note, however, that acoustic-electric share is still substantially higher than the 32.6 percent share in 2014.
Looking at electric guitar color trends, sunburst-finished guitars held the number-one spot in terms of unit share for the second consecutive year, according to MI SalesTrak. Sunburst electrics outsold black-finished guitars during each month of 2016. The closest gap came in December, when 25.4 percent of the electric share went to sunburst, whereas 24 percent went to black-finished guitars. Throughout the year, red-finished electrics placed third in unit share, followed by white and blue, respectively.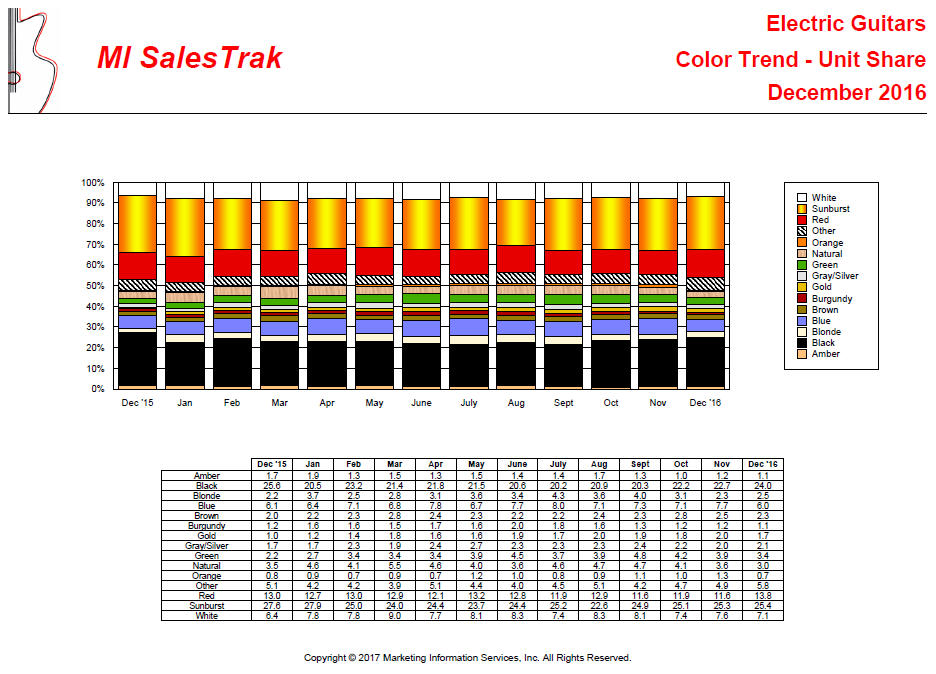 Switching gears to color trends for acoustics, nearly four out of every five acoustic guitars sold carried a natural finish. That has been a long-term trend. Like prior years, sunburst placed second, followed by black-finished guitars. All other colors registered as only small blips on the radar screen.
Natural-finished acoustic guitars had their strongest months relative to proportional share in August and September, when they carried an 80.3-percent share. Conversely, unit share was lowest for the natural finish in November (75.9 percent); this coincided with the strongest month for sunburst-finished guitars (14.8 percent).
Let's turn now to our retailer experts to get the in-the-trenches perspective. Despite data that shows acoustic guitar sales are declining slightly industry-wide, that's not the case at Island Music. According to Grasso, acoustic guitars are "the hottest trend" at his store. "In particular, the $500 to $2,000 price range," he said.
Acoustic-electrics are another strong point, Grasso noted. "Customers are opting for acoustic-electrics at the current price range. They also like the multiple options that type of guitar gives them, since our area has a lot of live music venues. They can plug into the PA system, or they can use their computer for home recording."
Overall, 2016 was a very successful year for Island Music Co. in terms of guitar sales. According to Grasso, "Sales of Taylor guitars, in particular the new 500 and 700 Series, remained very strong. And Fender sales were great in all categories." He added, "However, the guitar winner for 2016 was the gorgeous PRS CE 24 American-made guitar with the Paul Reed Smith quality flame maple top. With a MAP of $1,999.99, it was an easy sale."
Across the board, guitar sales were very close when comparing 2016 to 2015, DeStafney contended. "We had our best Christmas season ever, which gave us a slight increase over 2015's sales numbers," he revealed. "One category I'd like to comment on that was huge for us was ukuleles. We sold over 200 ukuleles in December. It's great for short-term business, and it's creating many future guitar players, as well. If you're a musical instrument retailer and you don't have a strong ukulele department, you might be missing the boat."
DeStafney has keenly observed several guitar trends. "In 2016 and early 2017, guitar effect pedal sales have continued to grow," he said. "I'm amazed at the longevity of the surge in single-function electric guitar pedals. We currently carry over 10 lines of guitar pedals. Average price per pedal is about $150." He continued, "For us, pedal lines are moving targets. There are established, previously 'hot' pedal lines that seem to fall out of favor. We seem to drop a line every two to three months, replacing it with another 'hot' line. I rely very strongly on my young staff of electric guitar players, who stay abreast of what the newest 'pedal du jour' is."
DeStafney continued, "Another guitar trend I see just now starting is the onboard effects systems for acoustic guitars. This trend presently consists of two products: the Yamaha TransAcoustic Guitar (onboard system) and the ToneWoodAmp (external system). Both of those systems utilize effects processors and transducers that 'excite' the back of the guitar and 'inject' the selected effects (delay, reverbs, chorus, etc.) into the sound box."
DeStafney elaborated further, saying, "This is exciting, because it's providing acoustic guitar players with some very fun 'toys' not previously available to them. If this trend continues, as onboard and external systems are put into the hands of more acoustic players, we'll see people playing more, being more creative, having more fun. And let there be no doubt about it: We are in the business of selling fun!"
Of course, there are always headwinds in MI. However, both DeStafney and Grasso are optimistic about the remainder of 2017. "Guitar sales, both for used and for new instruments, were very strong in the first two months of 2017," DeStafney affirmed. "We're doing very well with the PRS S2 Series, and the return of Gretsch guitars in our store is precipitating sales. In the first two months of 2017, our customers bought good-quality, American-made guitars. That's encouraging, and I'm very optimistic about 2017."
"I'm mildly concerned about the impact that the Lacey Act and CITES will have on our international sales of guitars made from rosewood and bubinga," DeStafney admitted. "Essentially, we have discontinued our overseas sales of all instruments that contain those woods. This won't have a huge effect, but it will result in the loss of some sales. We have some regular international customers who won't be buying from us this year. Hopefully, common sense will surface in Washington DC, and we'll see some amended legislation to reduce the significant impact to the MI industry."
DeStafney continued with another trend he's seen that has to be considered good news: higher-priced guitars are selling better. "To define my terms, 'higher priced' in my market is any guitar that's $800 to $3,000," he stated. "I've been surprised by how well those are selling. Now, I'm not saying they're flying out the door. But, we seem to be selling one or two a day in that price range…sometimes more. I can live with that." DeStafney added, "We also do a lot of trading on more expensive pieces. I love trading. It's a great revenue multiplier. Frankly, if you're not an active trader, your margins on many new guitars will be woefully inadequate."
Turning back to Grasso, he said he's always optimistic. "Thus far in 2017, both Taylor and Martin have been very strong," he affirmed. "There is a lot of buzz around the new Fender American Professional series of guitars. Also, PRS has redesigned its SE line, which always has a strong start."
Grasso's prevailing optimism is backed by a strong economy in the outskirts of the nation's capital. "Being outside of the Washington DC metro area, Baltimore MD and Annapolis MD, our economy remains very strong," he commented. "Some price points will always remain a struggle. When it comes to the higher-end products—around the $3,000 range—it's always a more difficult sale. We make sure to stay ahead with great customer service and salesmanship to keep the customer informed about higher-end products, as well as providing events to see, feel and play the guitars. And we have specialists available to answer questions."
The latest product launches from the NAMM Show this past January will definitely keep registers ringing throughout 2017. DeStafney joked that he's never seen so much rain at the annual Anaheim CA mega event; however, once inside, he eyed plenty of great products. "Taylor Guitars' introductions of the Academy Series—a line of lower-cost guitars—and the GS Mini Bass were impressive, and they'll introduce a new group of musicians to Taylor quality at very affordable prices," he enthused. "Taylor just keeps getting better."
DeStafney found plenty of other items he liked, as well. "Given the ever-increasing focus by the entire world on wood conservation, there has never been a better time to invest in alternative materials of guitar construction," he explained. "I was blown away by the new Rainsong Concert Hybrid Series, which mates a carbon fiber and glass body, with its extraordinary unidirectional carbon fiber soundboard, with a 12th-fret body/neck format. The samples I played at the NAMM Show exhibited all the tonal quality of a very high-quality wooden guitar. At the same time, the guitars are practically impervious to heat, cold and humidity. With an LR Baggs onboard pickup system, the price is only $1,500, including a nice case." DeStafney added, "I foresee more all-wood guitar companies 'branching out' (pun intended) to the carbon fiber guitar business. It only makes sense."
He continued, "I was also impressed with the Breedlove line of guitars, and I'm not a dealer of their product. The consistency of quality was superb, and it offered tremendous 'bang for the buck' across all price points." DeStafney added, "And, finally, a small, low-priced item that I've become a devotee of is Rock-Tips Liquid Callus Formula. This stuff is awesome! It's great for beginners just developing calluses, or old guys and gals like me with thinning skin, or any player who finds their fingertips sore. It's selling in our store now, and I use it myself."
"We, too, are very excited about the new Academy Series from Taylor," Grasso said. "They hit a new price point for Taylor." He added, "Ibanez has released the AEW Series acoustic guitars, and they look beautiful. We're also excited to broaden our accessory department with the new items from D'Addario, Fender and Ernie Ball."