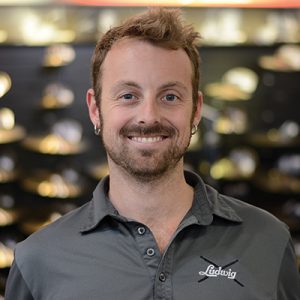 Deep in the heart of Columbia SC lies a music scene that Justin Sims described as "the best-kept secret in the country.
"The talent in this small city is incredible, and the community vibe that exists is unlike anything out there."
A major factor that contributes to the vibrancy of the Columbia music scene is Sims Music, which has been providing instrument sales, lessons and repairs to area residents since November 1979. That's when Justin's father, Jerry Sims, a graduate of Berklee College of Music with more than 10 years' experience playing and studying music, decided to open up a music store with his wife, Debbie.
To be more precise, according to Justin Sims, "It was a small teaching studio with a few guitars and some packs of strings on the wall." That has now grown into a 10,000-square-foot store with more than 700 guitars, 50 drum sets, 350 cymbals, and full keyboard, DJ and lighting departments. Sims Music has also greatly expanded its lessons programs over the years, partnering with Freeway Music in September 2015. Sims Music is now home to one of its five locations, which collectively serve more than 1,000 students.
"We were putting so much work into the retail side of things, but we wanted to get our lessons program back to where it used to be," Sims explained. "However, we didn't want to compete with our friends, who are the best in the business." He continued, "So, partnering with them has been the perfect relationship. We send customers to all their locations for lessons, and they send them back to us for their gear and repairs."
Through all of its growth, Sims Music has been able to survive and thrive thanks to two principal factors. First is the conservative buying strategy followed by Jerry Sims. "One of the most important lessons he learned in the early years was to keep finances under control," Sims noted, adding that his father had no business experience prior to opening the store. "He learned not to be pressured by companies into spending money on things/products he didn't believe in. With smart buying, he could run the business free of debt, which would allow him to grow in ways he felt necessary and important."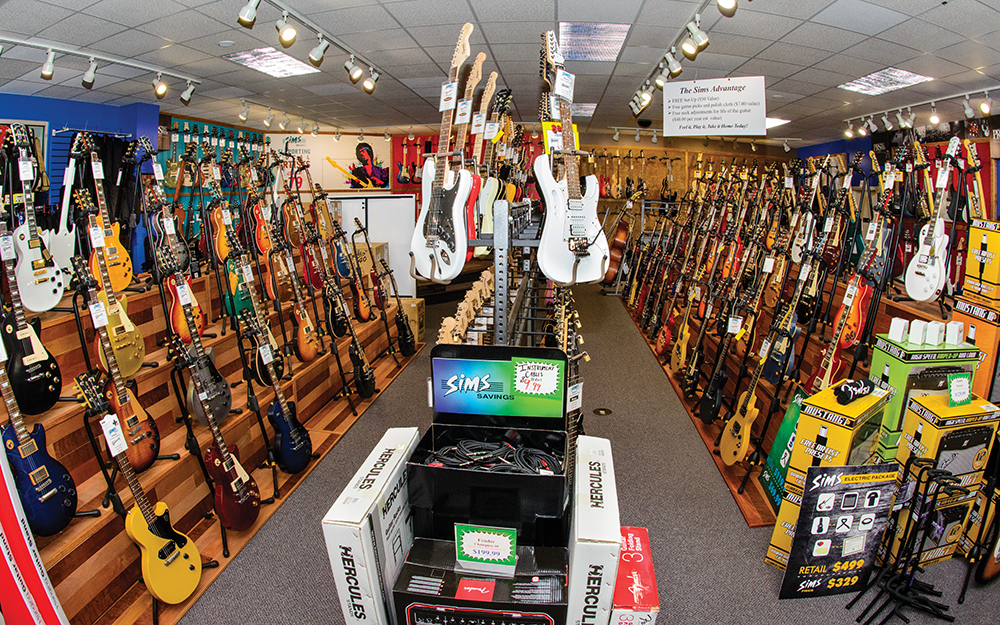 Second is a reputation for honesty and exceptional customer service. According to Sims, "Dad has always had a very honest and respectable reputation around town and in the music business. I've always respected that about him so much, and I've tried to treat everyone and every situation just as he does. By doing so, customers will always trust my family and our store."
Sims Music currently has 10 employees, including Justin Sims, who was named Manager in 2015 after working at the store for five years.
"I never wanted to be the Owner's son, who came in and tried to run the place, and I didn't have any intentions of it becoming my career," he explained. "However, it didn't take long for me to completely fall in love with the job."
Sims is a relatively new addition to the store, as most of the staff has been with Sims Music for more than 20 years. Not only is that level of tenure impressive, but it also creates a sense of familiarity for longtime customers, of whom there are many. "Every week, I have someone tell me that my dad sold them their first guitar or drum set 30 or so years ago," Sims said. "Our local customers, who have shopped with us for over 30 years, will always be our top priority."
The Columbia community also remains a top priority for Sims Music, as the store holds many in-store events, as well as sponsoring community events that enhance the lives of musicians in the area. One of the biggest and most popular is Customer Appreciation Day, which takes place at the beginning of summertime. Now in its sixth year, according to Sims, "It's an all-around party and the community loves it. We have a huge stage out front with Columbia's best bands. There are special sales; reps come and represent products; we raffle gear for charity; the Gibson tour bus comes out; and there's free food and swag for everyone!"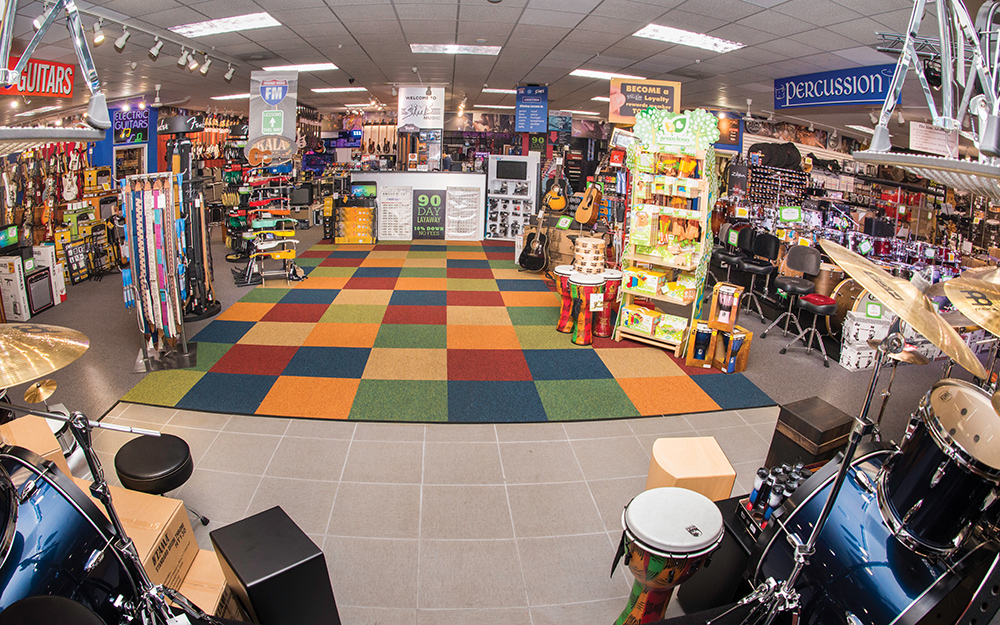 Since taking on the role of Manager, Sims has worked hard to build and strengthen ties to the community. He handles all the social media and marketing for the store, including an e-mail newsletter that reaches thousands of customers. Plus, he helped to spearhead the Sims Music loyalty program, which, he said, "keeps in touch with all of our customers and lets them know where they stand with achieving special discounts based on their loyalty."
One of Sims' major focuses is to use his relative youth to connect with
Columbia's next generation of music makers. He makes a point of reaching out to Sims Music's younger customers and students, so they can fall in love with music, as well. He explained, "We don't care if these young kids come in and can't buy expensive gear. We know they're a major part in the music scene and the community, and we want to support them and their families as much as we can."
Looking ahead, Sims hopes to expand the store's online presence this year, although not at the expense of its focus on the local market. He hopes to keep the business going strong so that, one day, his children will hear about how customers remember buying their first instrument at Sims Music decades prior, just as he frequently does.
"Like I said, I never intended to take over the family business," he admitted. "But, now, I'm absolutely in love with the job. The worst part of my day is when I clock out and have to head home." He concluded, "I strive to grow up to have the knowledge and reputation that my dad carries, and I hope, down the road, to pass it on to my children."