Canal Sound & Light
319 Canal St.
New York NY 10013
Jeffrey Kwan, Owner
Deep in the heart of New York's lower Manhattan sits Canal Sound & Light, a retail destination for DJs, professional installers, and restaurant and bar owners in the Tri-State Area, and for anyone else in need of event production or equipment rental services.
The store has deep roots in the community, dating back to 1977. That's when Jeffrey Kwan's father, a Chinese immigrant, opened Canal Hi-Fi. "We sold TVs, home stereos, the Walkman and things like that," Kwan said. He first began to work at the store in 2003, following a four-year stint as a programmer at Microsoft.
The focus shifted more toward pro audio and live sound in the early 1990s, when Kwan's father—who met Kwan's mother when she worked as a Customer Liaison at the store—bought out his other five partners and decided to realign the store's goals with his own passion for sound. However, Kwan noted, up until recently, the store still sold some home audio products. "But we have tightened our focus," he explained. "As a New Yorker living here, you can't keep all that stuff. If you're not selling it, you have to be constantly purging."
Today, the store, which is located in a building that was purchased three years ago, offers a wide selection of powered and passive speakers, lights, mixers, production gear, speaker parts, microphones, cables and all kinds of accessories in its approximately 2,000 square feet of retail space (along with 5,000 square feet of warehouse space).
"We have more than 60 speakers to test, including installation speakers for restaurants and hotels," Kwan confirmed. "And then, our ceilings are full of more than 60 lights, including 25 moving heads."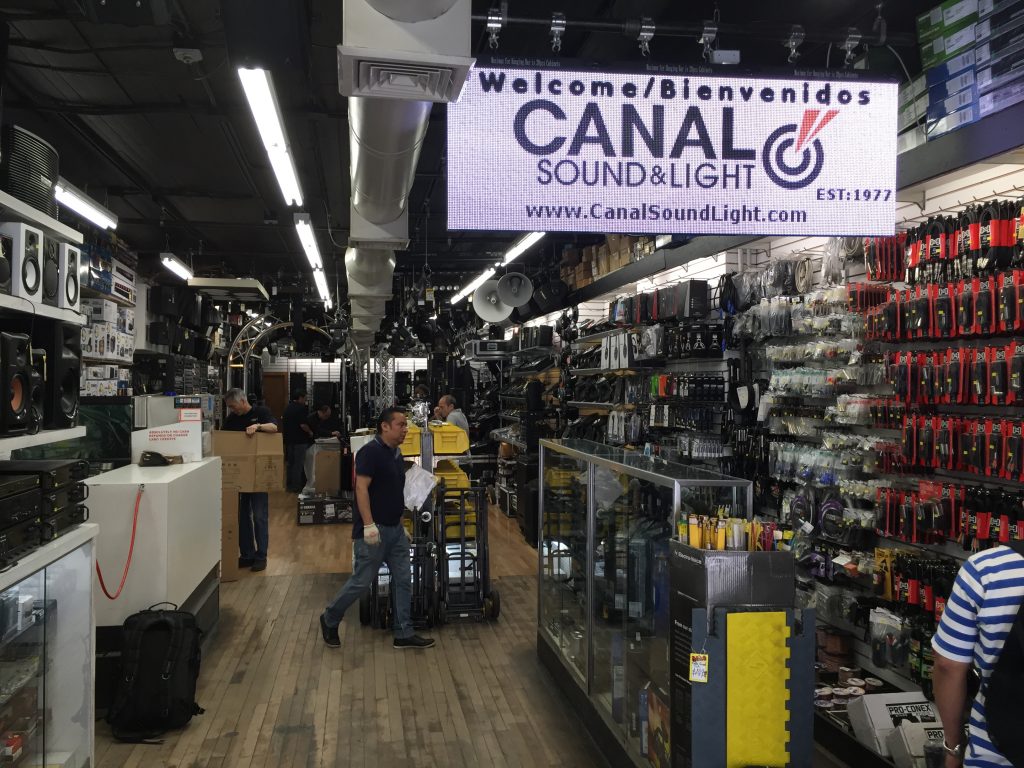 One thing customers will notice when they walk in is that the store is fully interactive. "The lights and speakers are on switches, and everything is plugged in," Kwan explained. "You can plug in your smartphone and test out the sound." He recently installed a video wall in the store to keep pushing the envelope. "With that, we'll be able to show our digital signage and DJ products," Kwan remarked.
Being a New York City-based store has its benefits. Kwan noted, "Manufacturers want to reach the New York City market. So, that makes us attractive to them." The location also puts Canal Sound & Light in the center of incredible foot traffic, as multiple subway lines are nearby. "Being in New York, we have a lot of opportunities for people to walk in and host in-store events and demonstrations," Kwan said, adding, "But people like to shop on their phones now. Foot traffic has gone down, and that's a permanent change in consumer behavior."
So, although in-store sales—and, to a lesser extent, Internet sales—are an important part of Canal Sound & Light's business, a good portion of its efforts goes into its production, rental and installation businesses.
"Seven or eight years ago, we started doing more outside installations," Kwan explained. "We used to set up a rack for customers and tell them how to install it; now, we do it ourselves." Customers can come in and simply rent a speaker, or they can hire Kwan and his staff—there are 10 full-time employees, as well as a team of freelance technicians who help with nighttime projects—to do production work for corporate events, galas, concerts and other occasions.
"We need to work with the markets that offer the greatest margins," Kwan contended. "We roll up our sleeves and use our technical and creative skills to do additional things and offer packages, and people like it. We have a delivery service, a set-up service and an operating service." Canal currently operates seven live music shows per week at various nightclubs and bars.
His hard-working, no-job-is-too-small approach is something that Kwan credits to his parents, who are still active at the store. Over their years of growing the business, they instilled a strong work ethic in their son, and in the entire staff.
"My parents help to keep the business grounded, and they give us a good internal motor to work hard," Kwan stated. "Most of the staff is long term, which I attribute to my parents caring about their employees like they are an extended family. And, they have a passion for the gear."
Kwan said, in fact, that one staff member has been with Canal Sound & Light for more than 30 years, whereas most others have been employed at the store for somewhere between five and 10 years. Having a loyal, well-trained staff is also helpful because they have had a lot of experience using the gear. That deep product knowledge helps boost sales.
"We don't just sell the gear; we also use it," Kwan declared. "So, we can sell with confidence, because we've seen how these pieces perform in the field." He relies on manufacturer support, as well as himself, to train the staff. Having a tech background from his time at Microsoft is something that has been invaluable, as the products Kwan stocks and works with continue to become more advanced.
"Retail was different before I came in; everything was in catalogs," he said. "Nowadays, the technology is so cool. You're able to do things wirelessly off an app. So, now, customers are smart, and they want to know more than just the specs. They want to see how things integrate."
However, even having come from the tech world and the social media generation, Kwan still shares his parents' love for the business of face-to-face customer service. "I like being in front of people," he said. "We don't hide behind chat boxes, phones or online stores. So, our style is a little bit of a throwback, with the new technology mixed in."
Looking to the future, Kwan is happy with the store's current trajectory, and he doesn't anticipate making many changes. He's happy to continue the culture of service, knowledge and community that permeates Canal Sound & Light.
"We're a diverse group of immigrants," Kwan said. "We're a multilingual group that can deal with all kinds of people from different backgrounds. I'm very proud of our team."