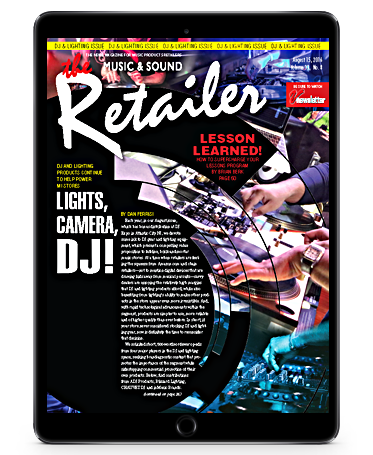 COVER STORIES
For many MI retailers, the unfortunate fact is that simply selling musical instruments isn't enough to survive and thrive. That conundrum has led to the creation of the "add-on sales opportunity." Given that consumers must train to become proficient when playing an instrument, MI retailers' best add-on sales opportunity might be to offer lessons.
At a time when retailers are feeling the squeeze from Amazon.com and chain retailers, savvy dealers are enjoying the relatively high margins that DJ and lighting products afford, while also benefiting from lighting's unique ability to make other products appear even more irresistible. We present mini op-eds that articulate the value proposition.
Interview
D'Addario & Co., Inc., is renowned within the music products space for catering to its dealers. Speaking to company CEO Jim D'Addario this month, we learn the processes he's put in place to ensure products are of high quality, in stock and ready to ship. He also discusses the virtues of family-owned and -run businesses.
Mission Report
New Orleans LA is one of the most spirited cities in the U.S. One of the major reasons for that is its rich musical heritage. That's why The Chief directed our ever-faithful MI Spy to visit The Big Easy this month, instructing the super sleuth to scope out acoustic guitars. The mission report is enclosed.
Features
Columns
Donovan Bankhead shares some of the things that he's learned and dealt with as Springfield Music has grown from a single location to a company with five locations. His tips are sure to help minimize your "growing pains."
Vince Nettuno had a longstanding love of, and appreciation for, guitars, having been a player since age 17. However, the idea of opening Crossroads Guitar Shop didn't come to him until 2006.
It's important to back up your fellow staff members and to make sure they're getting the support and resources they need, as well as to accept criticism and suggestions willingly.
What are you doing to help the teachers in your store become more effective? Based on conversations with several teachers, David Hall's assembled a checklist that addresses what they're looking for from retailers, so that they can do a better job.
At the beginning of June, Kleiner-Perkins partner Mary Meeker released the 2016 version of her Internet Trends Report. Dan Vedda dives deep into the data, picking out the information that's salient to our market.
With instruments that range from $300 to $1,000, Teton Guitars is, arguably, the brand for working musicians. Its latest creation, which is already generating considerable excitement, is the Arm Rest Series.