It's November, and before you sit down for your Thanksgiving meal, it's time to shine a really bright light (we're talking long-burning, powerful LED bulbs) on the perhaps unheralded and definitely lesser-publicized products in this issue. Here, you will find plenty of products you may not have thought about recently, but that definitely deserve a spotlight.
What is a lesser-publicized product? Honestly, the answer can vary, but for the most part, we look for non-mainstream products that are not directly housed under the four headings that receive their own billing throughout the year in the pages of the Music & Sound Retailer: guitars, drums, pro audio, and DJ and lighting. Enjoy this feature with some turkey and stuffing, if you so choose.
Dawn of a New Era
Yamaha has entered a new category. The company introduced Venova, a "casual wind instrument" that's compact, lightweight and fun. Offering a pleasing tone and recorder-style fingering, it's perfect for taking to the beach, on a camping trip, to a barbecue — virtually anywhere, according to Yamaha. The Venova features a unique branched-pipe structure that gives it a bright and rich timbre with plenty of volume. Its ABS resin body is smaller, lighter and more durable than conventional wind instruments. It's even water-washable and easy to clean.
Ear to Ear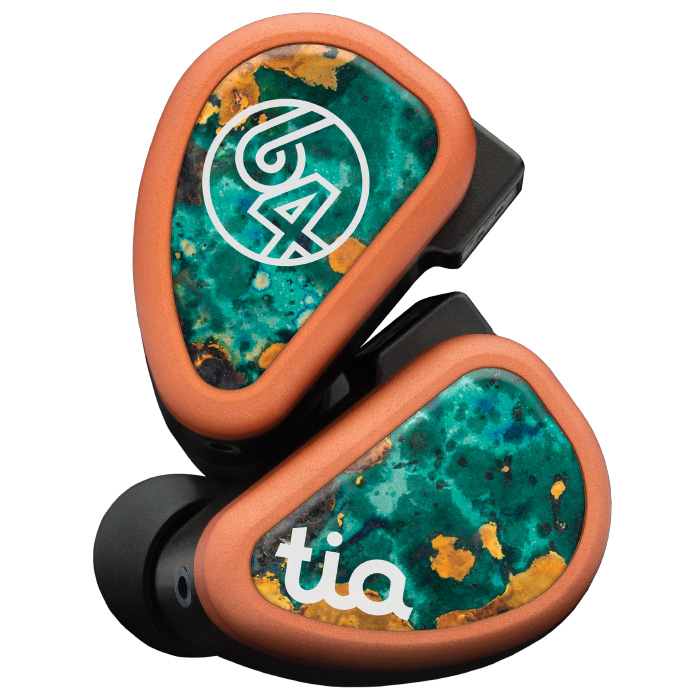 64 Audio offers the tia Fourté, U18t Tzar and A18t Tzar, which features proprietary tia drivers, the tia single-bore and the tia acoustic chambers. According to the company, the tia driver stands apart as an open, balanced armature design that produces sound with a direct-radiating, fully unobstructed diaphragm. Coupled with this new driver is a single, large bore that provides an extremely short path between the driver and the ear. This bore acts as a natural sound-shaping chamber, tuning the tia driver without sound tubes that are used in conventional in-ear monitors.
Off the Bench
Pianos and keyboards are certainly not lesser publicized, but accessories for them can be. The Roland RPB 100, 200, 300, 400 and 500 piano bench series are new additions to Roland's premium accessories line. The six new bench styles (including the RPB-220 with plush velour cushion) range in price from U.S. $99.99 to $199.99 street. The RPB-300, a height-adjustable piano bench ideal for use with pianos and keyboards, is constructed from solid wood for durability, and features a cushioned seat top for comfort. It comes in either white or black satin finishes and is also available in a duet size.
The Goose Is Loose

Tech 21's MIDI Mongoose is a simple way to control gear on stage, in the studio, and on DJ decks for sound and lighting, too. It eliminates the intimidation of trying to decipher an encyclopedia-sized manual just to change a program. The MIDI Mongoose is the next generation of its predecessor, the MIDI Moose. It offers additional capabilities in a significantly smaller footprint, measuring just 11.5 inches in length by 2.5 inches width by 1.25 inches in height. There are two independent inputs for continuous controllers to facilitate use with your other MIDI equipment, as well as a seven-pin phantom-power jack.
Uphold the Law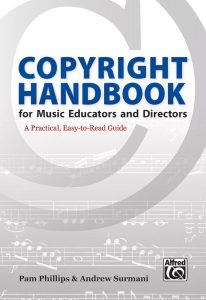 Here's something that's definitely lesser publicized: copyright law. Alfred Music released "Copyright Handbook for Music Educators and Directors," which provides a concise overview of the key aspects of copyright law that affect music educators and directors in the U.S. The book was designed to provide answers to the most common questions raised by educators and directors. According to the company, this resource makes it easy to find specific answers by utilizing a user-friendly question-and-answer format, and a thorough glossary of terms and an extensive index are included for ease of use. Not meant to replace legal counsel, the "Copyright Handbook" is a starting point for music educators and directors with questions concerning copyright.
Quartet of Mics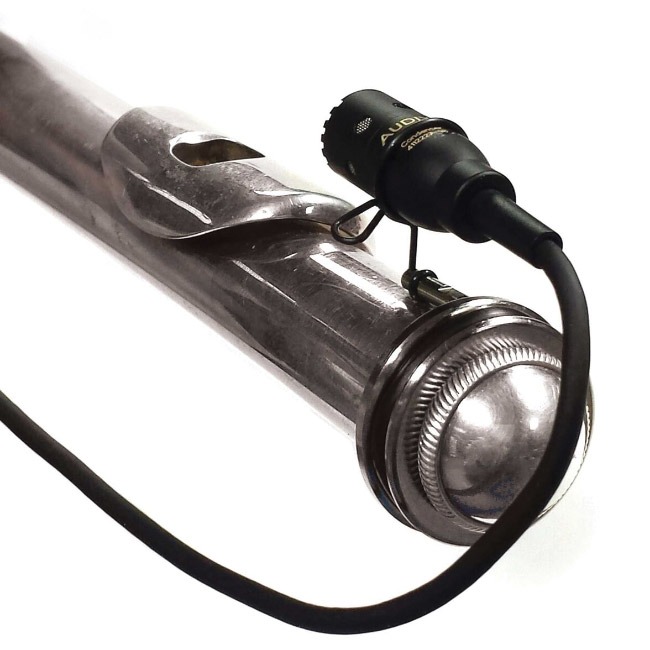 Audix has four products under the lesser-publicized category. The FireBall V is designed for harmonicas (both diatonic and chromatic) and beatbox, and has the added feature of a volume control knob, a cardioid pickup pattern for isolation and feedback control, and is equipped with a VLM diaphragm for natural sound reproduction with exceptional transient response. The CabGrabber and CabGrabber XL for Cajon are tension-fit microphone holders that clamp onto most combo amps or cabinets between eight inches and 14 inches, or 14 inches to 20 inches, respectively. They can be used with any microphone weighing up to 16 ounces. The ADX20ip for trombone, trumpet, sax and accordion is a miniature condenser microphone, applicable for professional stage and studio applications. This microphone is primarily used for mic'ing most reed and brass instruments. And the ADX10FL is characterized with a uniformly controlled cardioid polar pattern, helping to isolate the area or section being mic'd from other instruments or vocals on stage. With a range and accurate frequency range of 50 hertz to 18 kilohertz, the ADX10FL is lightweight, low profile and will provide natural sound with exceptional transient response.
Shake It Up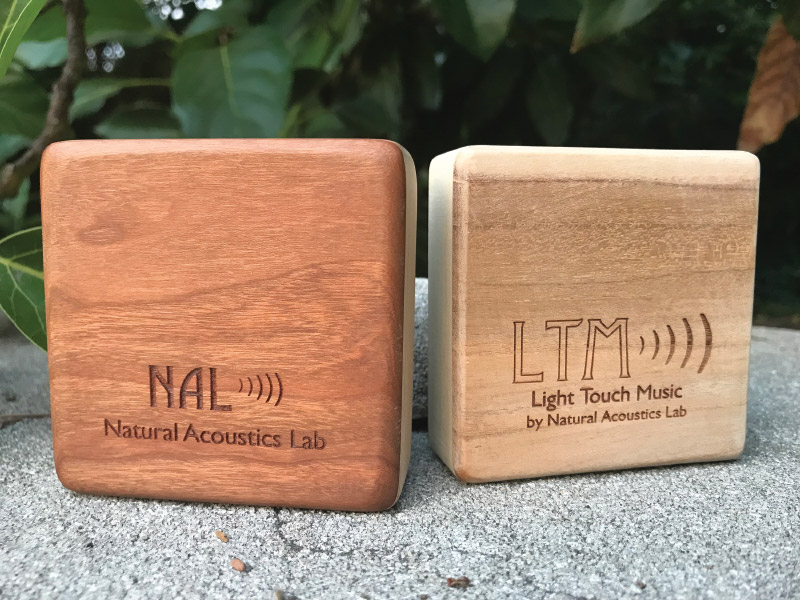 Natural Acoustics Lab offers the NAL box shakers, percussion instruments that speak five languages. Purple Heart: sharp, zip, snap, quick. Lacewood: pop, power, cutting, present. Cherry: full-toned, round, wide, expansive. Walnut: intimate, warm, embracing, deep. And, with the introduction of the Light Touch Music brand, box shakers are now handcrafted in teak wood: woody, natural, playful and sweet. Each shaker has edges and corners so perfectly rounded that it becomes one with the hand, stated the company. The wood's natural grain gives each its own distinctive look.
South of the Border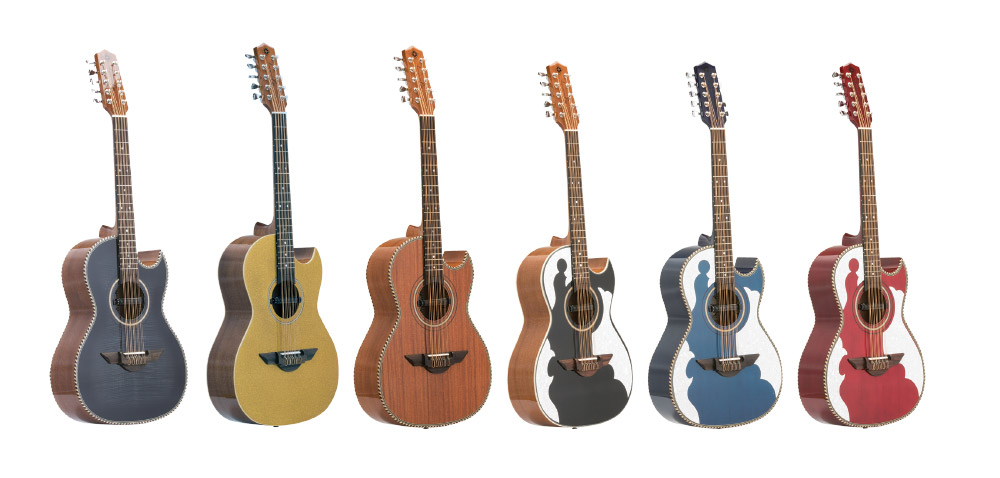 H. Jimenez bajo quintos are designed from the inside out, utilizing the collaboration of master luthier "Layo" Jimenez. The resulting H. Jimenez instruments are designed to have style, tone and playability, availability and affordability. H. Jimenez offers a range of products that are perfect for Mariachi students or for gigging musicians who are part of the growing Norteño, Conjunto or Tex-Mex music scene. The new H. Jimenez "Colección Palomazo" bajo quinto series consists of six new acoustic-electric bajo quintos in a variety of colors and wood options. The new bajo quinto colors include All-Natural Mahogany, Trans Red and Trans Blue, Black top, Black Fade flame maple top and a bold Gold Sparkle top.
Welcome to the USA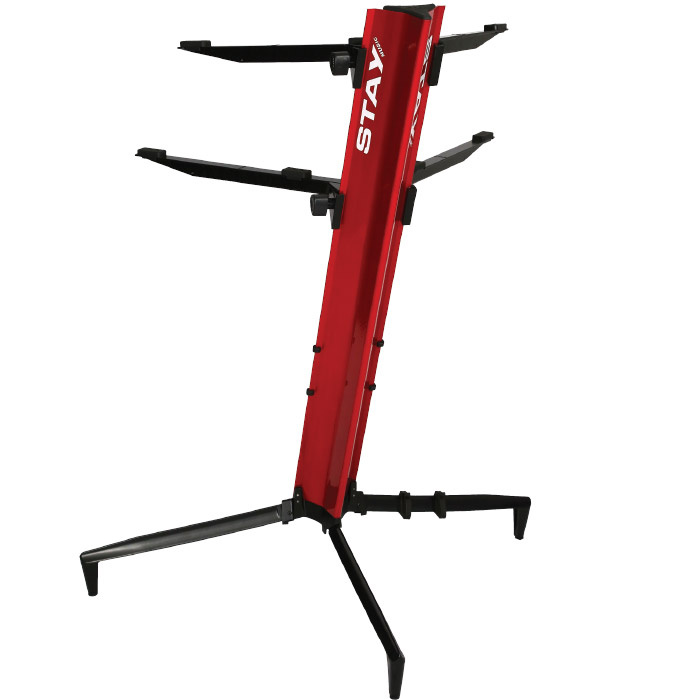 Now available in the United States alongside its Piano and Slim series, Brazilian accessory company Stay's Tower series is designed to offer keyboardists a reliable, innovative solution that addresses a number of requests with column stands. Made from ultra-strong extruded aluminum, Tower weighs nearly half of what the leading column stand does, yet supports comparable weight easily, according to the company. Support legs are curved to lift the stand off the floor, allowing pedal placement wherever the player desires — even under the stand.
Feel the Rhythm
BOSS introduced the DR-01S Rhythm Partner, a new instrument that provides percussion backing for acoustic guitarists and other acoustic musicians. The DR-01S features a powerful integrated sound system, and comes equipped with ready-to-play rhythm patterns that complement unplugged acoustic instruments. The DR-01S is a unique product specifically designed for acoustic music. The DR-01S contains a wide variety of organic acoustic sounds derived from high-end products, and is equipped with a sophisticated audio system designed to produce big, full sound from a small footprint.
I've Got the Power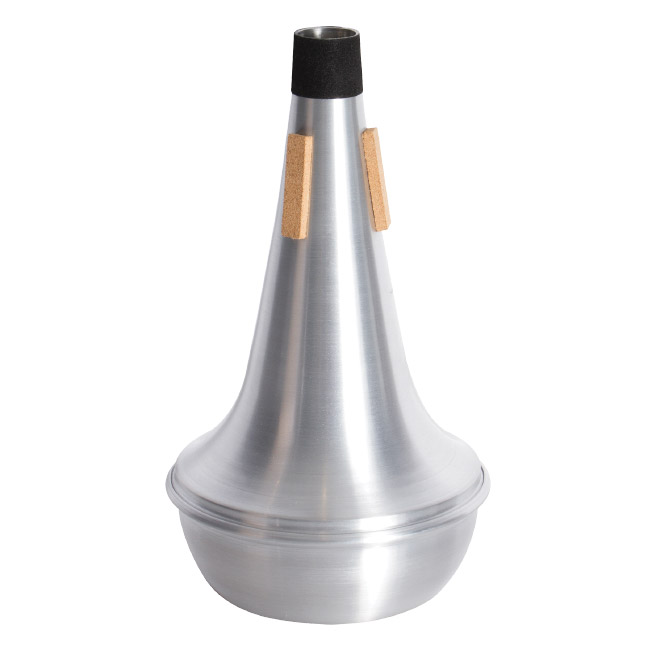 On-Stage, the musical instrument accessories division of The Music People, offers the TBM7000 Straight Trombone Mute. Designed for professionals as well as students, the affordable, pitch-neutral, spun-aluminum TBM7000 features a natural-cork gasket for a precise bell fit that attenuates volume while preserving accurate intonation. "Mutes give trombonists the power to customize the moment," said On-Stage product line manager Chris Senter. "But the fit, finish and feel have to be exact, which is why we developed the TBM7000."
Reading Is Fundamental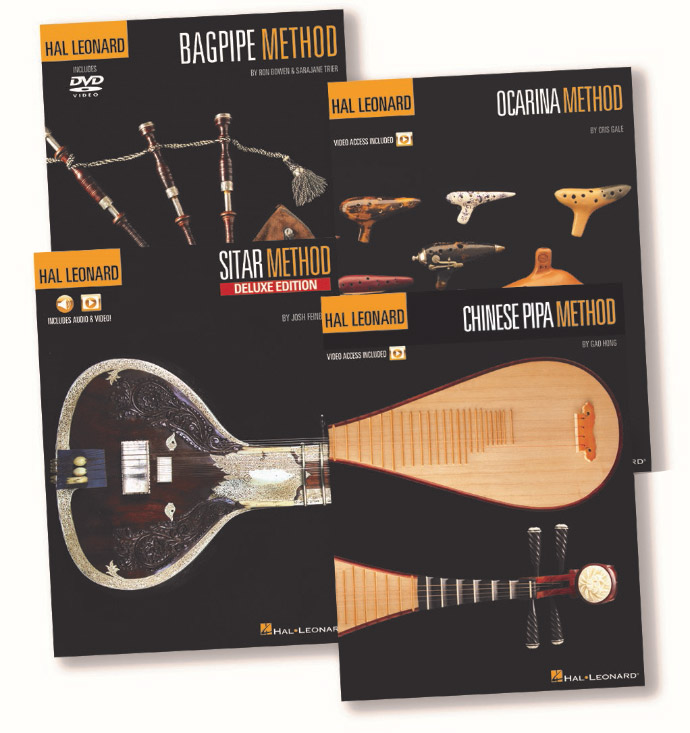 Of course, Hal Leonard has published dozens of method books over the years. Regarding lesser-publicized instruments, Hal Leonard offers Bagpipe, Chinese Pipa, Irish Bouzouki, Ocarina, Oud, Sitar, Cajon, Djembe, Steelpan and Handbell Method books. The books are all authored by experts in the particular field, and most feature demonstration and/or accompaniment audio or video to assist learning. Although designed to be used with a professional instructor, motivated students could use the books to teach themselves.
A Perfect Match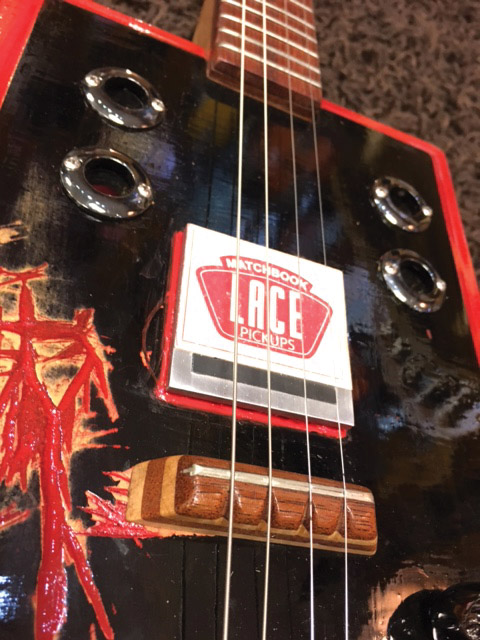 Lace Music Products offers a specifically designed pickup for cigar-box guitar players. Called the Matchbook, the pickup is based on the patented Lace magnetic design, featuring a "current-driven" design. This design eliminates 60-cycle hum, and reduces the traditional magnet copper-coil wire by 95 percent. No battery, or other electronics, are needed. Designed to resemble a full-size, average matchbook, it utilizes magnets. The Matchbook pickup is easy to install and weighs less than two ounces, according to the company.
Best Way to Test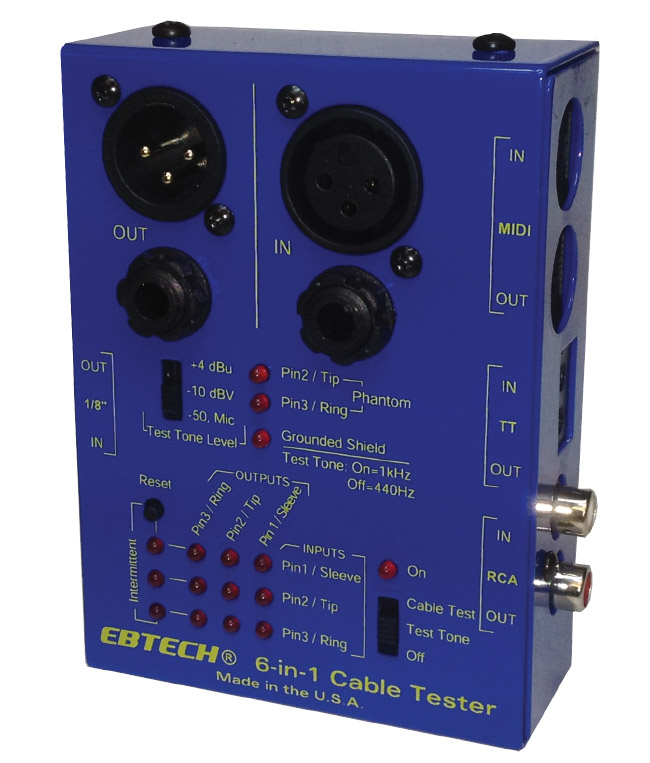 The Ebtech 6-in-1 Cable Tester performs six jobs. Intermittent Detect and Display: An LED grid shows problem wires and the type of problem, and LED display shows intermittent defects by freezing LED until the reset button is pressed; Installed Cable Testing: Using a shorting jack on one end and Cable Tester on the other, you can check cables installed in walls; Cable Wiring Display: LED grid shows how a cable is wired; Test Tone Generator: generates a tone at -50/Mic, -10dBv or +4dBu from any output; Phantom Power Detect: indicates when five volts or more are detected on Pin 2/Tip or Pin 3/Ring; and Grounded Shield Detector: The Cable Tester can check XLR, 1/4-inch (TS or TRS), RCA/Phono, 1/8-inch, TT and 3-Pin MIDI.
Foam Party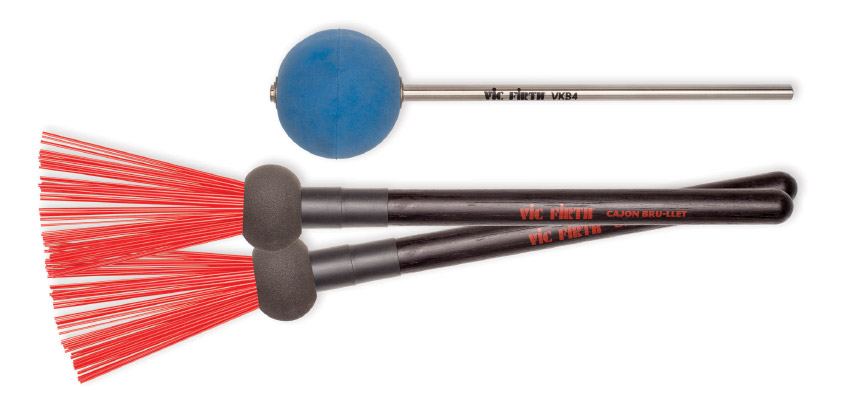 Vic Firth Co. added two new products for the cajon. The
Cajon Bru-llet marries elements of a brush and a mallet to translate both slap and bass tones to the cajon. It features a hickory shaft with medium-stiff plastic bristles and a 1.5-inch mallet head made from XLPE foam. The VKB4 is a spherical foam rubber head that produces a warm, full bass tone on cajon with just the right amount of attack, stated the company. The VKB4 can also be used with a bass drum, as well.
Dot the 'I's and Cross the 'T's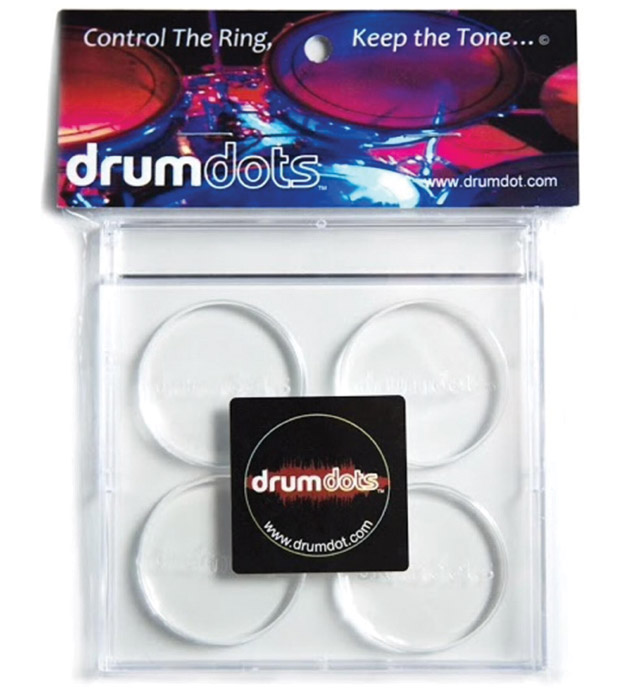 drumdots is a drum dampener engineered and tested to control the over-ring without sacrificing the natural tone of drums. The product is made of a polymer that "sticks" without being "sticky," according to the company. This allows the drumhead to vibrate more like an "open" drum at the crucial strike moment, when the tone is created. drumdots come in two sizes, original and mini, for endless versatility and control. They can be used on any drumhead, coated and uncoated, cymbal and cowbell in any position, even upside-down and vertical.
In the Bag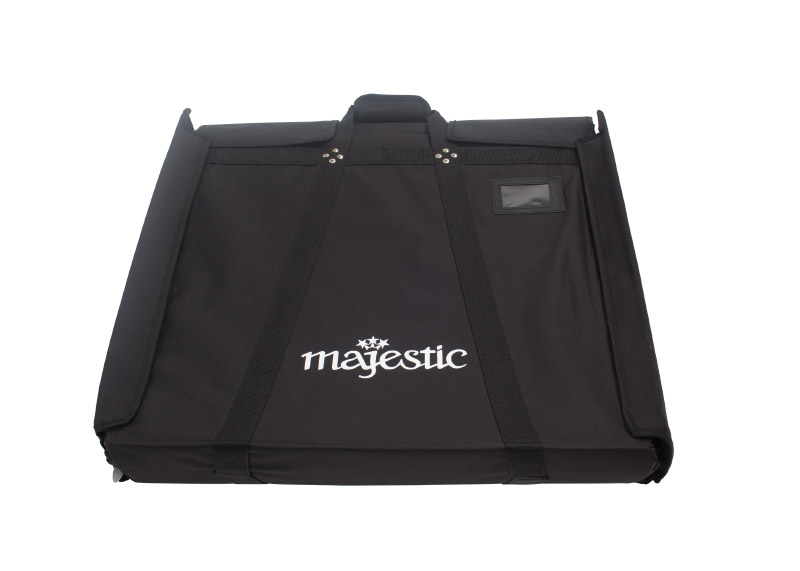 The Majestic Universal Carrying Bag insures the transport of the most valuable part of an instrument from place to place with ease and convenience. The padded nylon construction and the foldable design ensure that the tone bars of an instrument are transported safely, protected from scratches, dents and the elements. A single bag works for any xylophone or vibraphone, and most marimbas require two bags.
Carbon Footprint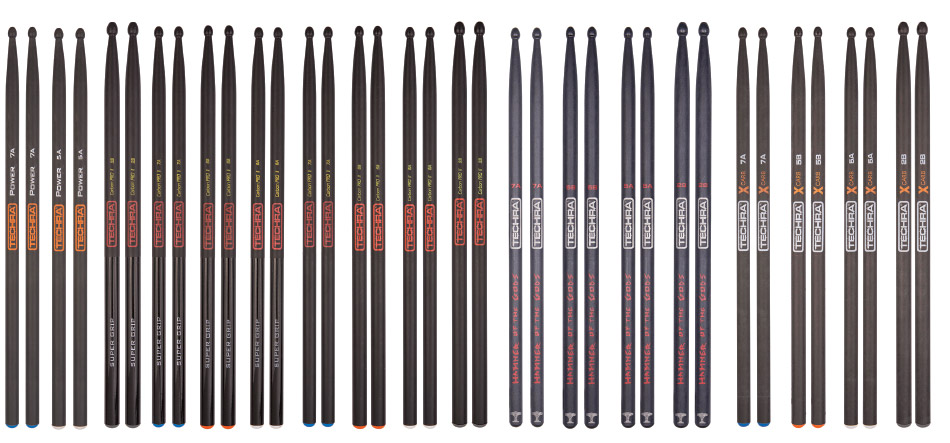 Drumsticks certainly make the pages of the Music & Sound Retailer often. However, carbon-fiber drumsticks are not something you hear about often. Techra drumsticks are 100-percent recyclable, and, according to the company, boast strength and durability, with perfect balance and weight. With this in mind, Techra offers six lines of Italian-made drumsticks: the XCARB, a light, fast, but still powerful, drumstick for fine and precise playing; The Hammer of the Gods, powerful and durable and dedicated to hard hitters and heavy metal; Carbon PRO, suitable for any kind of music from jazz to pop and rock; Carbon PRO Super Grip, where the handle has a rubber covering to enhance the grip and avoid any slippery effect; E-Rhythm, a low-noise drumstick for electronic drums and warm-ups; and Power, a compromise among sound, durability and price.